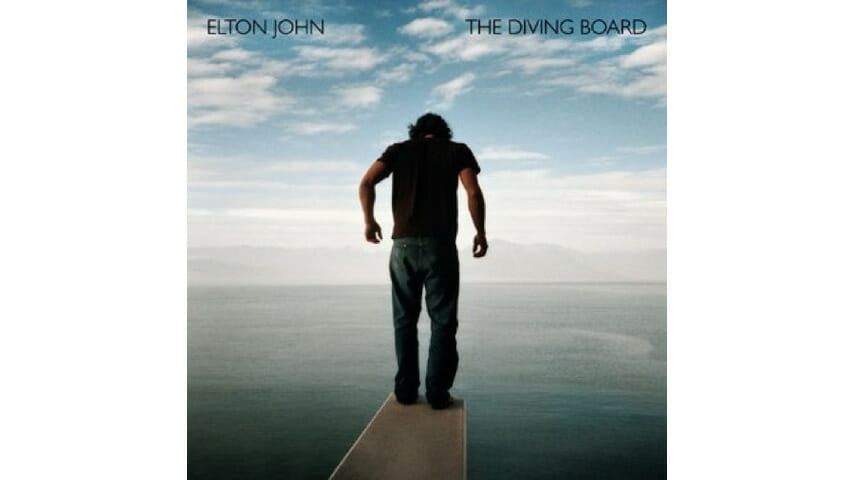 The Diving Board isn't love at first listen. It quietly opens itself after several spins, unveiling a complex, winking toe-tapper of an album. Elton John throws a laugh-it-off free-for-all rager. And you're invited.
Slow-burner "The New Fever Waltz" sounds like a softened game of Madlibs gone romantic, begging for a deeper association. "Can't Stay Alone Tonight" swaggers a slightly insulting booty call at 3 a.m. amidst a mortality reality check ("You're the diner in my rearview / A cup of coffee getting cold"). Bonnets fly in "A Town Called Jubilee," surging with a choir backing Elton's jovial holler. "Take This Dirty Water" employs the choir again, this time with a swinging happy-hour vibe.
He is all over the place—lucky the whole joint is a vibrant one. But we haven't even gotten to the best part.
"My Quicksand" is full of surprises the same way a batty oldster in a waiting room might be. Originally my least favorite on the album, I now can't wait to include it on all this season's mix CDs. The song laboriously stretches past the five-minute mark, breaking off in spurts during which Elton recreates popular ringtones on his piano (Jazzy Cat, "Dance Of The Sugar Plum Fairy" [really]). Part of me wonders if Elton is mocking his popularity, indulging literally whatever trace of an idea crosses his brilliant mind because at least one million people will automatically toss the album in with the purchase of their fourth PSL this month at Starbucks, regardless.
But that's just it. Who gripes about those wild inklings Elton might ignite? The man cut his teeth decades ago and now it seems he's just having fun. Fun records happen from that, too. And guess what? It does sound good while sipping a hot drink with a calorie count that should cover half your day's total. Sometimes being snooty is not worth the stress.