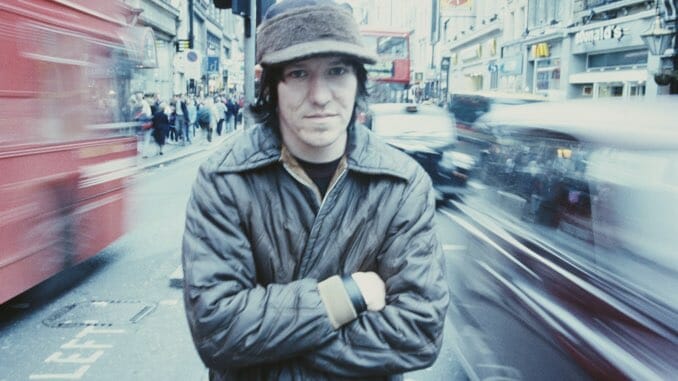 This story originally appeared in Issue #8 of Paste Magazine in Feb/Mar of 2004, republished in celebration of Paste's 20th Anniversary.



For those of us who knew him only through his songs, the unwelcome news of Elliott Smith's suicide on the morning of October 21, 2003, might not have been completely shocking; anyone who listened closely to his lyrics tended to worry about him. His self-destructive patterns were nearly as legendary as his profound melodic and lyrical gifts—with rumors of rehab, forgotten lyrics at shows, and repeated album delays further mirroring his achingly sensitive body of work. Sickeningly, a tragic death seemed the most likely coda to his tormented oeuvre. But for those who knew him personally—those who had watched him struggle toward finding a better place in life—the news came as much more of a surprise.
"In a way, I think Elliott Smith dying, for me—I had the same reaction as seeing the World Trade Towers falling. Just that sense of 'Oh my God, I didn't think that was possible,'" explains Blake Sennett, a member of the group Rilo Kiley, which was among the first generation of indie rockers to grow up with Smith's music as a formative presence. "He was­—or still is—one of the great pillars of the music I like to think of myself contributing to," Sennet continues, showing the impact Smith's passing had on those who saw the 34-year-old as standard-bearer for a movement toward openly
vulnerable songwriting—an artist who cemented a legacy in only five albums. "He definitely was doing so well … he seemed to be in good spirits."
As such, if there was a time to finally breathe easy, the golden, lazy month of October seemed to be it. Recent interviews had depicted an Elliott Smith reputedly clean and optimistic, readying the release of From a Basement on the Hill, his first album since 2000's Figure 8, and a double disc that held the promise of being his most ambitious work to date. "It's always a shock," says Dave Pajo, former Zwan guitarist and current driving force behind Papa M, "but at the same time, he wanted to be on good terms with everyone and to have them know him when he was on his feet, to remember him not when he had hit rock bottom. But that's occasionally when something like this happens, because he'd sort of made his amends with everyone, too."
Such sentiments were echoed many times in the hours following Smith's suicide. The profound sense of loss brought on by his death generated a profound sense of loss, as the tears of family and friends in his hometown of Portland, Ore., the tributes of musicians across the world, and the statements of label reps on both sides of the Atlantic attested. Within two weeks he was being remembered en masse at a sold-out memorial concert in Los Angeles, where artists from Beck to Beth Orton to Lou Barlow joined to remember him in spirit and song, the proceeds going to the charity for abused children started by Smith. For a man who'd been perennially below the average music buyer's eye level—having made his most memorable public appearance awkwardly saluting the Grammy's home audience at Celina Dion's side1998 this was an amazing amount of attention, something Smith most likely wouldn't have been at ease with had he been alive to receive it.
"I think that's what really made him uncomfortable, all the attention he got," explains Jim Putnam, leader of experimental country-rockers the Radar Brothers, another band that played at Smith's tribute. "Because he was kind of guarded in a way, he was really sensitive, and it was difficult for him to be the center of attention. He never talked like he was doing something great. All the times I hung out with him, he never talked himself up."
Of course, Smith had more than earned the right to lay a stone at the altar of his legacy, as few if any songwriters in the last 25 years have married melody and lyric, humanity and pain, so brilliantly. He was John Lennon without the optimism, unable to escape the naked vulnerability of Plastic Ono Band; George Harrison turning his spiritual search inward, finding solace only in extrapolating his pain; and Nick Drake, heartfelt and sensitive but unable to rally enough self-confidence to be so romantic. If Beck spent the '90s expanding the boundaries of what a singer-songwriter could be, Elliott Smith was realizing how much potential remained within the traditional boundaries of the form. But attempting to discover who Elliott Smith really was—sorting through the layers of musician, man and myth—only muddies the waters surrounding a musician whose artistic direction couldn't have been clearer.
For Pete Krebs—a singer-songwriter who worked odd jobs with Smith and cut his artistic teeth on the same Portland indie rock scene that nurtured Smith and his first band, the unjustly overlooked Heatmiser—the Elliott Smith legend began to take shape early. "Even back then, he would play a show or break out a new tune and it was pretty earth-shattering, because it was so far and above everything else that was going on there that everybody learned really fast what he was capable of doing.
"My awareness of him was kind of before he went to New York and L.A. When he [left, he] changed a lot, in a number of ways," Krebs adds, drawing a tentative distinction between the person he knew and the one with whom he lost touch. "The Elliott that I knew was always a really witty, funny person that was always self-effacing and not egotistical at all. He was just a really nice guy to be around because he was really humble and interested in what you were doing and what you were talking about. He was just a really good friend. He had really good taste in music, but wasn't the type who would ever show off. He would just do these random things, and it was like, 'I didn't know you could play the piano.' And he'd go, 'Oh yeah, I played a little bit when I was a kid.' And then a couple of months later, you'd see him sitting at a piano, and you'd walk over and he was playing this Rachmaninoff piece or something … He was always surprising us."
And while those who knew him can remember him quite differently, the uniting thread is always the innate ease with which he produced his art. No stranger to ornate songcraft himself, Putnam says of Smith's lyrical and rhythmic phrasing, "It's so melodic and pleasing that you wouldn't immediately say, 'Oh, this is complex.' Because they are pop songs in a way. But if you start dissecting them, you realize there is something pretty complex going on in there."
Just as he came across as the brooding genius to some and the wry joker to others, his music communicates personally with each listener. "There's just a lot of depth to it. He understands how to write a simple song, too, which to me is always the hardest thing," explains Pajo, for whom the difficulty of Smith's death can be heard in the way his speech wanders between present and past tense. "And he could do it in a way that was really effective. He understood music definitely, and he used it in a way that most people try to achieve, but in a way that almost seemed effortless."
The struggle Smith had finding happiness in life was equally balanced by the ease he had expressing himself musically, touching something strangely universal in the process.
Says Pajo of what made Smith such a unique talent, "Magical songs played by a guy who played guitar so well and sang so beautifully and earnestly … I felt like I related with him. I felt like he articulated so many things that we can't put into words ourselves."
That deeply personal integrity—especially with indie rock moving more toward irony and caricature and popular music toward juvenile aggression and endlessly replicated teen divas—rang out startlingly for those listening for a voice of honesty in an era of excess. The heart of Smith's music was timeless.
"He was really sensitive to the way music sounded … He was like one of those savants that just got it. He understood how music was," says Krebs. "He didn't have that obstruction of trying to figure it out, because he already had it figured out. The technical aspect of what instrument to use or what notes do you play on it—that seemed to come really naturally, and that left him without a distraction. And he was able to engage his songwriting that much more. He was already a deeply sensitive person … that's the thing about really sensitive people, sometimes they can engage it in a healthy way, and sometimes they can't pull their punches even a little bit. He was able to access that side of himself, and really in that way—because he was so representative of his generation or a pretty broad group of people with similar backgrounds—he was awash in this mishmash of exploding culture, but with a punk sensibility under it all. For a generation without a center, he was able to articulate what it's like to be that way. And the people that really responded to it, responded really deeply and emotionally because he gave a voice to them."
Still, the question remains as to how to most appropriately remember an artist of such grace. "There will be people who will check him out because of his death, but I think it will plateau after awhile, and in the future, there's going to be some kind of revival," explains Krebs, measuring his words carefully. "I think that his music will come into its own even more. And at that point, his work will overshadow his death, but there is also the unfortunate point of his death becoming mythologized and adding to what I'd term a negative appreciation, to have someone lionize him as a troubled, drug-addict genius. There's nobody around here [in Portland] who has that point of view, but we don't really have control over his legacy, either."
"I think it will be an interesting part of the story, like someone like Nick Drake," says Pajo of Smith's early death. "I don't think people will listen to his music because of that, though. There was a write-up in the L.A. Weekly where someone wrote about Elliott being really aware of a 'rock star death.' They almost posed the idea that it was a career move in some way, and it really pissed me off. Really made me angry."
Here, again, the tendency to make Smith a martyr à la Kurt Cobain is more than a little enticing for those who want to see him as a representing a tragic life of postmodern angst and directionless ennui.
"I do think that there will be a group of people who will read all kinds of stuff into his lyrics, hopefully not in a way that justifies what he did," continues Krebs, unwilling to romanticize his friend's death. "It's horrible. It's a self-fulfilling prophecy in a lot of ways, and it destroys a lot of people's lives. I'd hate to see this happen again when the next Elliott comes around. I really don't see that it did the world any good to have Elliott die the way he did."
Still, with such a deeply personal body of work, where every line groans with humanity, there is danger inherent in reinterpreting the product of a life where songs often seem like individual sentences in a suicide note.
"I hope not. If you look at his work, it kind of makes sense. It definitely seems like it's part of the package, maybe, as sad as it is." admits Putnam, turning considerably more pensive when asked to reflect on Smith's death as an extension of his work. "He definitely was in a lot of pain."
At moments he transcended that pain—moments far from the stage or recording studio, where his generosity and modesty became his defining characteristics.
"I expected him to be a lot more shy—withdrawn, and hard to access," says Sennett, a musician whom Smith didn't hesitate to take under his wing, giving the younger songwriter a few impromptu lessons in performance. "But the guy I met, I got to know as this really sweet and generous soul. He didn't wear the misery that is in his songs on his sleeve at all. He wanted people to feel good and be happy. If misery loves company, he certainly didn't want miserable company. He wanted to make people happy. He's the kind of guy who, if he saw you pick up a record in a record store, would ask you if you wanted it because he was going to buy it for you. … I guess I expected him to be more like one of these savant-ish people who are real withdrawn, because I've met those types, but he was just this really sweet guy. Just a normal, really sweet guy."