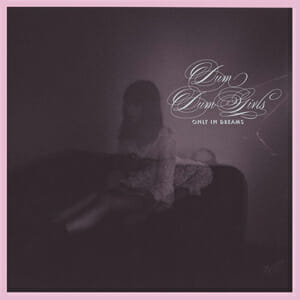 In the past, songwriter and frontwoman Kristin Gundred (aka Dee Dee) has described her band's sound as "blissed-out buzz saw." And as far as band sound descriptions go, this was a pretty good one. Her early recordings, which led to and are included on Dum Dum Girls' well-received 2010 Sub Pop release I Will Be, are fuzzy, reverb-soaked rock 'n' roll blasts—aggressive and dirty, while being warm and, well, blissed-out.
However, on Only in Dreams—the band's second full-length on the revered label—Gundred and whoever she's playing with these days have decided to pull back the buzz saw and turn up the bliss, making a record so immensely listenable that its almost frustrating.
The band comes out swinging on album-opener "Always Looking" as Gundred powerfully affirms the impact of finding love over yelped backing vocals and thundering drums. With its echoed, swamp-boogie guitar riff and blanket of noise, it's the most DDG-sounding track of the bunch. The following nine, ranging from punchy to sprawling, are heart-on-their sleeve nods to the group's various influences.
"Bedroom Eyes" is a pitch-perfect pop song that recalls The La's "There She Goes," and "Coming Down" is a not-so-subtle tribute to Mazzy Star's "Fade Into You." In fact, the ubiquitous girl group comparisons and '60s references that have shadowed Dum Dum Girls since the group's inception don't apply here nearly as much as they did in the past. With its catchy feel, somber tone and abundance of distorted guitar, if any decade gets cited when talking about Only in Dreams, it's going to be the '90s.
Lyrically speaking, Gundred isn't exploring any themes that haven't already been covered at length. Love lost or found ("In My Head"), existential crises and wanting to party ("Caught in One") are pretty well-treaded rock 'n' roll territory, but that doesn't make the stuttered guitar of "Just a Creep" hit any less hard or the sugar-coated hooks of "Wasted Away" and "Heartbeat" any less satisfying. Similarly, the band isn't reinventing the wheel as a musical outfit. They've determined that there is already a pretty good wheel to play with, and done so with excellent results.
Whether it's the negative stigma that comes these days with being labeled "lo-fi," or the frustration of being lumped in with their throwback contemporaries like Vivian Girls and Best Coast that inspired the group to turn it up a notch in terms of both the songs and the production, who knows. But whatever the reason may be, with Only in Dreams, Dum Dum Girls have raised the bar.