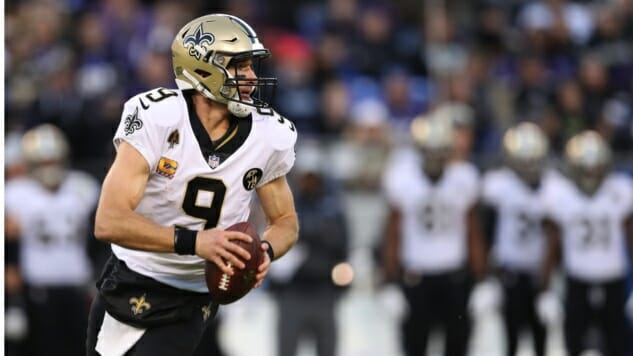 Drew Brees is a Golden God. Okay, a Black-and-Golden God. He enters Week 9 of the NFL season with an all-time record of 72,435 passing yards. And his 502 passing touchdowns are just 38 behind all-time leader Peyton Manning. With every completion, he breaks another record. His passing is like nothing seen before—innovative, aggressive, swaggering, rousing and raucous. He drives his fans into an orgasmic ecstasy. But outside of the screaming masses, Brees leaves many others cold, believing his records lack substance and his greatness is vastly overstated.
Despite his smashing success, Brees is never lifted above his current and former contemporaries. Tom Brady is The Beatles of quarterbacks. But in the debate of greatness, The Rolling Stones is not Brees but Peyton Manning. Most people are Brady people. There are some Peyton people. Brees is not even referenced in the debate. So if quarterbacks were rock icons, Brees is Led Zeppelin.
Brees has distanced himself from Tom Brady in yards and likely will pass both Brady and Manning in touchdowns. It's similar to how Zeppelin broke records set by The Beatles and were easily the most popular act of the 1970s. They, more than anyone, defined stadium rock.
Brees similarly defined modern football and the emergence of the passing game as an unstoppable force, throwing for 5,000 or more yards five times, compared to four for every other quarterback in history combined.
And while Zeppelin didn't win a Grammy during the life of the band, Brees has incredibly never been named the NFL's Most Valuable Player.
Brees, short for a quarterback at just six-feet tall, was punished for his size by being selected behind no-names like David Terrell, Gerard Warren, Jamal Reynolds and Damione Lewis in the NFL Draft
Similarly, the critics had the knives out for Led Zeppelin from the outset, trashing their stature of all things, as in this super-sarcastic Rolling Stone review of Led Zeppelin II by John Mendelsohn:
"And who can deny that Jimmy Page is the absolute number-one heaviest white blues guitarist between 5'4? and 5'8? in the world?? Shit, man, on this album he further demonstrates that he could absolutely fucking shut down any white bluesman alive, and with one fucking hand tied behind his back too."
Like the criticism of Zeppelin, the knocks on Brees seem downright bizarre. From his pre-draft scouting report: Brees "lacks accuracy and touch on his long throws…."
Wut? Brees soon beat an Olympic archer in a bullseye contest for cryin' out loud. Witness.
What's next, saying Robert Plant can't sing? Oh, wait…. Here's Rolling Stone again on Led Zeppelin I: "Plant's strained and unconvincing shouting… He may be as foppish as Rod Stewart, but he's nowhere near so exciting, especially in the higher registers…."
I guess Jimmy Page can't play guitar, either. Rolling Stone in the Houses of the Holy review, "Page has no 'spontaneity' and his playing is 'self-indulgent' resulting in a 'Limp Blimp.'
As his career went on, Brees's records were discounted due to playing indoors, not producing enough wins even after a Super Bowl victory and being the product of modern excess. Instead of being canonized for his accomplishments, he's was bashed as overpaid and overrated.
Brees needed to be defended by native sons Actually more than we can say about Zeppelin
But the world finally caught up with Zeppelin. And it's catching up with Brees now.
The band finally won a Grammy in 2014. That came after the Recording Academy seemed to feel embarrassed about slighting them for decades by awarding them a "Lifetime Achievement Award" in 2005—after only 300 million record sales. While no member of Zeppelin has ever been knighted, an honor bestowed on Tom Jones and Cliff Richard, Rolling Stone at least has rechristened their catalog
From "weak" and "unimaginative" to this: "Jimmy Page's guitar pounces from the speakers, fat with menace; John Bonham's kick drum swings with anvil force; Robert Plant rambles on about the perils of manhood. Hard rock would never be the same."
Decades after the death of drummer John Bonham resulted in their breakup, Zeppelin is now hailed by some as not just arguably the most successful rock band of all time, but the greatest one, too
Reviews of Brees are being revised in real time while his career is still in progress. He's moved from overrated to The Most Underrated Player Ever.
Insiders and coaches who once rolled their collective eyes at his statistics now say he's the perfect quarterback. Even his biggest knock relative to Brady, his won-loss record, is being laid mostly at the feet of his historically inept defenses.
But it's still too soon, apparently, to all the way to saying that Drew Brees not only has been the most productive quarterback in NFL history, but also The Greatest one, too.
Check back in about 2040.