#InMyFeelings Challenge Incites Warning From National Transportation Safety Board
Photos by Ethan Miller/Getty
Music
News
Drake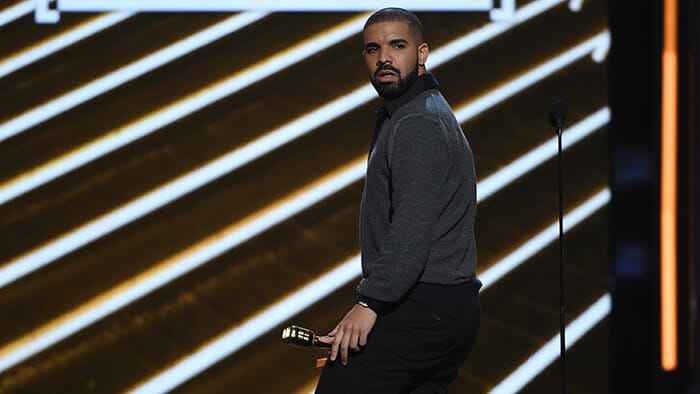 Keke, forget about whether or not you love Drake—are you practicing transportation safety?
If you're confused about who Keke (Kiki?) is, then congratulations! Somehow you've evaded Drake's seemingly inescapable single, "In My Feelings," from his new double album Scorpion. The song has topped the Billboard Top 100 for the second week in a row, partly due to the #InMyFeelings challenge that's been making its way around social media channels.
If you're still not sure what's going on—have you been vacationing on a remote island, perhaps? We'll break it down for you: the track begins with, "Trap / TrapMoneyBenny / This shit got me in my feelings / Gotta be real with it, yup," and then the beat drops and the challenge starts. While Drake is asking Keke if she loves him, challenge participants hop out of their cars and dance. The dance craze started when social media personality Shiggy posted a video of himself doing the choreographed dance (posted below for your reference), but fans have started taking it further by hopping out of moving cars and even into traffic in the hopes of gaining viral stardom.
It didn't take long for people to catch on. Celebrities like Ciara, Odell Beckham Jr., Millie Bobby Brown and Noah Schnapp have all shared their takes on the dance. Apparently not enough people know that jumping out of a moving car isn't safe in the slightest and, now, the National Transportation Safety Board, the federal agency monitoring highway, railroad and aviation incidents, has something to say about it. The agency tweeted that they want you to stop participating in the #InMyFeelings Challenge, because it's dangerous and they don't want you to die.
"We have some thoughts about the #InMyFeelings challenge. #Distraction in any mode is dangerous & can be deadly. Whether you are a #driver, #pilot, or #operator, focus on safely operating your vehicle," NTSB tweeted in response to an article published by The Blast. Now listen to the government and get back in your cars, dummies.
We have some thoughts about the #InMyFeelings challenge. #Distraction in any mode is dangerous & can be deadly. Whether you are a #driver, #pilot, or #operator, focus on safely operating your vehicle. Read more on this #NTSBmwl issue: https://t.co/b9D0IwNemV#MWLMondayhttps://t.co/vt6oFTbDsj

— NTSB (@NTSB) July 23, 2018