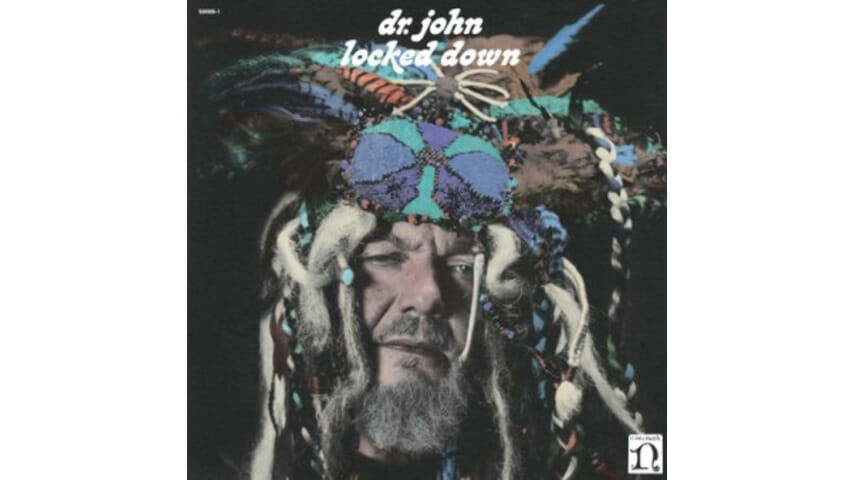 To live and breathe in the sketchiest part of the Quarter…to hustle and flow, to let go…to get saved and find a funky kind of salvation… It is the life and witness of one Malcolm Rebennack, a New Orleans hipster who did his apprenticeship as Professor Longhair's wingman, lurking and prowling, eventually emerging as the gris-gris and gumbo swamp soulmaster Dr. John.
It's an otherworldly vibe the one known as the Night Tripper conjures, equal parts jazz, humidity, shifting rhythms and percussion blasts, squawking horns and a voice that's nails in a blender, a gritty howl and a bit of carny sideshow confession. In Locked Down's liner notes, Gabe Soria reveals just what the good Doctor plies: the almost lost art of Tricknology.
Teaming with The Black Keys' Dan Auerbach, who brought atmospherics, buzzy guitars and quicksand grooves that pull you in, this is 21st century mojo essentialized.
Indeed, Max Weissenfeldt on drums, Leon Michele on keyboards, Nick Moyshon on electric and upright bass and Brian Olive on guitar bring a creative foment to John's ripped dispatches from the street.
"Let's all just pray on it right now," intones Rebennack in a stopdown midway through "Revolution," the darting song that's equally state of the world and reckoning. A Zombies-invoking Farfisa swirls up, followed by some horn embellishments—and the narcotic effect kicks in.
Even tiny details evoke a slightly worn steaminess. An old-fashioned Victrola snippet melts into the sauntering swagger of "Big Shot," a lurching bit of bravado and proposition, d'amour and badda bing.
A guitar filigree here and a resonant downstroke there provide shape and a framework for the vocals to climb, drape and repel against. When the moment of transformation comes—the percolating "Kingdom of Izness," slinking keyboards and waves of "ahhhh" and "ooooh" from the always soulful McCrary Sisters—the listener's carried on the shoulders of a real-life paradigm shift.
Sanctification isn't always about the bells and whistles. The ride-out is a four-song climax. Moving from languid call-out of an underminer in "You Lie" that descends into a rolling horn pivot and vocal incantation to what almost sounds like speaking in tongues over a largely instrumental interlude ("Ellegua") that's blaxploitation flutes and ghetto-steppin' churn, the Fender Rhodes keyboard signature of "My Children, My Angels" offers explanation, apology and elevation from a man to his own tribute.
That triumph is capped with a barnyard guitar flourish that releases into "God Sure Is Good," a wash of loose-gripped gospel witness. A sweeping confession of sanctification, embrace and glory, this is deliverance personified.