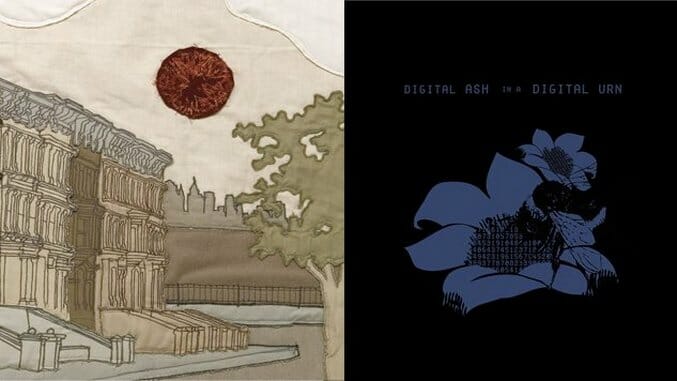 Four years have passed since Rhode Island roots rockers Deer Tick unveiled their fifth album, Negativity. But before anyone can accuse them of slacking, the band returns today with not just one, but two full-length studio efforts, imaginatively titled Vol. 1 and Vol. 2. Of course, Deer Tick aren't the only act to have inadvertently burned a hole in their most ardent fans' pockets. From cult drone rockers to chart-topping rappers, here's a look at 10 acts who released two entirely separate records on the very same day.
10. Islands, Should I Remain, Here at Sea? and Taste
Ten years after first showcasing their hook-laden brand of indie-rock on Return to the Sea, Canadian outfit Islands did indeed do just that for a spiritual, and questioning, sequel. It perhaps explains why Should I Remain, Here at Sea? sounds strangely familiar, something which even frontman Nick Thorburn appears to acknowledge on opener "Back Into It" (Those songs we used to sing / We haven't sung them in so long / I'll sing one with you now"). Also released through their own Manqué label on May 13, 2016, Taste is a much more adventurous listen, adding space age synths and electronic bleeps into the mix on twelve vibrant tracks which drew comparisons with French dance-rock maestros Phoenix.
9. Juliana Hatfield, Juliana's Pony: Total System Failure and Beautiful Creature
Around the time of its release in 2000, Juliana Hatfield described Juliana's Pony: Total System Failure (by far the most abrasive of the two records she put out) as, "A not-at-all attractive reaction to the ugly side of humanity, specifically American culture." Tune-free, aimless and entirely unnecessary were just some of the more succinct terms other less charitable listeners used instead. Formerly of Blake Babies, Some Girls and The Lemonheads, the alt-rock journeywoman has always been a rather contradictory figure, and nowhere was this more apparent than on these dual releases. While Juliana's Pony appeared designed to confuse and confront, Beautiful Creature was a relatively simple, introspective and melodic affair which gained some of the most glowing reviews of Hatfield's career.
Check out Juliana Hatfield's Paste Studio Session from April 2017 here.
8. Bright Eyes, I'm Wide Awake, It's Morning and Digital Ash in a Digital Urn
Bright Eyes' Conor Oberst certainly took full advantage of the two albums/same day concept. Home to his signature hit ("The First Day of My Life"), I'm Wide Away, It's Morning saw the singer-songwriter embrace his more typical country-folk sound to enchanting effect, with none other than Emmylou Harris providing harmonies on three tracks. The electronic noodlings of Digital Ash in a Digital Urn, meanwhile, were more akin to Kid A-era Radiohead, with Yeah Yeah Yeahs' Nick Zinner, Azure Ray's Maria Taylor and Tilly and the Wall's Nick White just some of the hipster-friendly providing support. Of course, it was the more conventional record which elevated Oberst to cult hero status, but its wonderfully weird companion remains the more intriguing.
7. Elvis Costello, The Delivery Man and Il Sogno
The Delivery Man is credited to Elvis Costello and The Imposters, while Il Sogno sees Costello take sole billing. But for all intents and purposes, both records are the work of the same bespectacled singer-songwriter. Based on a conceptual story intended for Johnny Cash, The Delivery Man is an impassioned blend of alt-country and roots rock featuring guest appearances from the seemingly ubiquitous Emmylou Harris and Lucinda Williams. Il Sogno, meanwhile, is an ambitious ballet score composed for an Italian dance company's loose adaptation of A Midsummer Night's Dream. Thankfully Costello proved to be far more convincing than fellow pop icon-turned-occasional composer Paul McCartney, but it's The Delivery Man which is widely regarded as the late-Costello classic.
6. Bruce Springsteen, Human Touch and Lucky Town
Bruce Springsteen had put out a double album, The River, in 1980, but opted for a different approach in 1992, separating the folksier, more reflective output of Lucky Town from the relatively generic love songs of Human Touch. His first new material since the E Street Band disbanded was met with contrasting responses. The former was widely praised for its personal outlook, with songs exploring his life-post divorce ("Better Days") and the birth of his son ("Living Proof"). However, in a 2012 poll the latter was voted fans' least favourite Springsteen album, and The Boss himself has admitted that writing such happy songs wasn't his forte. Nevertheless, both records still managed to peak at No. 2 and 3, respectively, in the U.S., while Human Touch's title track remains one of his final few Top 20 hits.
5. Guns N' Roses, Use Your Illusion and Use Your Illusion II
Having conquered the world with the unashamedly sleazy glam rock of Appetite for Destruction, Guns N' Roses subscribed to the bigger-is-better theory for its follow-up. Sunset Strip's finest didn't just drop two single discs on September 17, 1991—they also ensured that each one ran as close as possible to their maximum playing time. Indeed, fans who bought both Use Your Illusion volumes had a whopping 30 tracks to get through, with songs like "Estranged" and "November Rain" approaching the 10-minute mark. Despite spawning the bigger hit ("November Rain"), Vol.1 had to settle for second place on the Billboard 200 behind Vol.2, although both records eventually achieved sales of more than five million copies. In contrast to this prolific phase, it then took another 17 years for Axl Rose and co. to record another album of original material.
4. Nelly, Suit and Sweat
St. Louis's finest hip-hop export, Nelly, also achieved an impressive 1-2 on the U.S. album charts with Suit and Sweat in 2005. Featuring samples of New Romantics Spandau Ballet, doo-wop veterans The Del-Vikings and classic girl group LaBelle, not to mention a strangely pioneering country/hip-hop collaboration with Tim McGraw, the former record proved to be the unlikely victor. Indeed, even guest appearances from Missy Elliott and Christina Aguilera couldn't save the latter more energetic and uptempo affair from finishing a distant second. However, the only No. 1 hit from the whole project ("Grillz") came from Sweatsuit, a compilation of the two releases featuring four new tracks.
3. Tom Waits, Blood Money and Alice
Forget the double whammy of Guns N' Roses and Nelly, Tom Waits achieved a far trickier feat of reaching No. 32 and No. 33 in the same week with two brand new albums back in May 2002. And these were no ordinary albums either: Both were co-written with wife Kathleen Brennan specifically for stage productions by dramatist Robert Wilson. The suitably grim Blood Money provided the soundtrack to Woyzeck, the influential Georg Büchner play about a soldier driven to lunacy by various bizarre army experiments. While the equally macabre Alice—which first appeared in bootleg form thanks to some opportunistic car thieves —was penned for a brand-new tale based on Lewis Carroll's Alice in Wonderland. The former charted higher, by the narrowest of margins, although both are considered his finest latter-day work.
2. Boris, Urban Dance and Warpath and Asia
Japanese sludge metal outfit Boris might not be the most familiar name on this list, but it would be impossible not to include them The experimental trio released two albums on the same day in 2006 (the second and third volumes of The Thing Which Overlooked Solomon) before going one better and dropping three on May 2, 2015. Renowned for their ridiculously long song structures—1996 debut Absolutego consists of just one 65-minute track—the band's triple-pronged attack only features twelve numbers in total, but still clocks in well over the two-hour mark. Only two feature any vocals or drums ("Surrender," "Endless"), with the rest of Urban Dance, Warpath and Asia serving up more of the instrumental drone music for which Atsuo, Wata and Takeshi are known.
1. Billy Childish and Thee Milkshakes, 20 Rock & Roll Hits of the '50s & '60s and Nothing Can Stop These Men and They Came They Saw They Conquered and Thee Knights of Trashe
Every other act on this list appears positively workshy compared to painter, photographer, poet and singer-songwriter Billy Childish. The impossibly prolific cult figure released not just two, but an incredible four albums on the same day in 1984 with his backing band Thee Milkshakes. Alongside a covers collection featuring renditions of early rock 'n' roll hits such as "Peggy Sue" and "Money (That's What I Want)," the group also dropped three albums of original garage rock material. Of course, it's quite possible that sales of the four records combined struggled to reach even triple figures. But it's unlikely Childish and co. cared; the stunt was actually carried out in a bid to commit commercial suicide.