Listen to Dire Straits Perform "Sultans of Swing" on Their First U.S. Tour in 1979
On March 6, 1979, the would-be Hall of Famers had just wrapped recording of their second album.
Photo: Getty Images
Music
Features
Dire Straits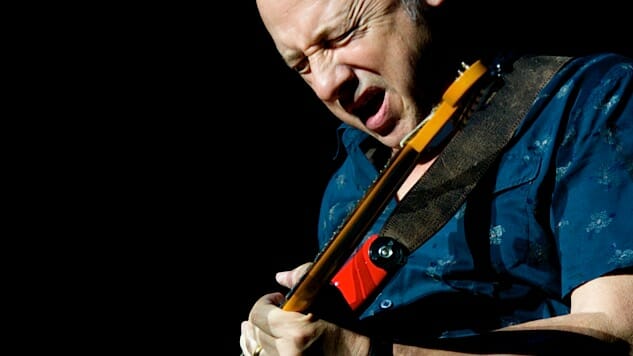 Did you know that Paste owns the world's largest collection of live music recordings? It's true! And what's even crazier, it's all free—hundreds of thousands of exclusive songs, concerts and videos that you can listen to and watch right here at Paste.com, from Dizzy Gillespie to The Kinks to Public Enemy to HAIM. Every day, we'll dig through the archive for the coolest recording we have from that date in history. Search and enjoy!
Dire Straits will be among the inductees when the Rock and Roll Hall of Fame welcomes its class of 2018 next month, alongside a somewhat eclectic crew: Bon Jovi, The Cars, Nina Simone, The Moody Blues and Sister Rosetta Tharpe. It's been a long road to Cleveland for Mark Knopfler and Co., who started out 40 years ago in London with no money and a five-song demo tape that included "Sultans of Swing." Mark, his brother David Knopfler, bassist John Illsley and drummer Pick Withers garnered acclaim around London before releasing their eponymous debut album in late 1978. Although "Sultans" didn't become a hit until it was re-released in 1979, it was a classic, with a lithe guitar lead that became instantly recognizable and a Dylan-esque narrative about a low-level jazz band struggling to make ends meet. The song reached the top 10 on both the UK and the U.S. charts and helped drive sales of the album, which also became a hit. Four decades later, "Sultans of Swing" arguably stands as the band's crowning achievement.
On March 6, 1979, Dire Straits were in the midst of their first North American tour behind the success of "Sultans of Swing," having just completed the recording of their second album, Communiqué, Listen to a cool, clean "Sultans of Swing" in this rare recording from the Tower Theatre in Philadelphia.