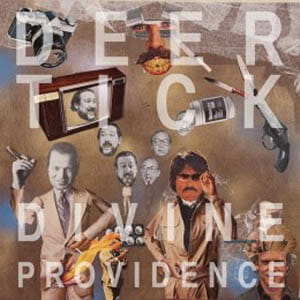 John McCauley's career in music has been fixed on a path of steady evolution ever since the release of Deer Tick's studio debut War Elephant in 2007. With each subsequent record, his band has risen to the self-imposed challenge to outdo themselves—to do something they haven't done before. Following last year's brooding Black Dirt Sessions comes Divine Providence, a double-shot, rough-and-tumble rock 'n' roll record that only McCauley and company could craft.
Deer Tick's fourth LP immediately sets itself apart from its meditative predecessor with the upbeat album opener. "I've got a lust for life," McCauley sings in "The Bump," and you can tell just by the sound of his voice that he's serious. "We're full grown men, but we act like kids," he explains a little later in the tune. "We'll face the music next time we roll in." Well, the boys are back, and it's time to party.
The frontman has stated that with Divine Providence, the band set out to capture their live sound on record. If you've ever been to a Deer Tick show, you know exactly what that sounds like, and if you haven't, you could probably guess. Loud, raw, gritty? Check. Sometimes silly, often earnest lyrics ripping from whiskey-soaked vocal chords? Got that, too. Everything one would come to expect from the band that lovingly performed an entire set in tribute to their grunge heroes under the moniker "Deervana" is represented on the record.
However, Divine Providence isn't all fun and games. After the booze-hound anthem, "Let's All Go to the Bar," the record takes on a more serious tone with "Clownin' Around." The song is notable, first of all, for containing some of the most introspective lyrics on the album, despite the attitude the title suggests, which is actually less about laughs and more about putting up a façade ("I take cover behind my white face paint / While I battle my bitter father's ghost"). Aside from that, it also shows us that this isn't just the John McCauley show either. "Clownin' Around" is the first Deer Tick track to lend its lead vocals to another member of the band, and it certainly isn't the last. Three songs total on the record feature lead vocals from either guitarist Ian O'Neil or drummer Dennis Ryan. But while these songs provide an interesting change of pace, the absence of McCauley's trademark growl makes the tracks feel like they belong to an entirely different band. It becomes immediately apparent how integral the frontman's voice is to the Deer Tick sound once it is removed.
"Something to Brag About" brings the record back into a world of debaucherous revelry. "Johnny's got a bottle of wine!" McCauley announces at the top of his lungs. "No one is gonna make it to work on time." Rock 'n' roll guitar solos drive the festivities along while the crash of the trash can cymbals are sure to keep your feet moving. The band sounds almost as if they are playing in an old college buddy's living room, and you can practically smell the beer and cigarette smoke in the air.
The album finishes strong with "Electric," a beautiful ballad complete with swirling strings, and the record's lead single, "Miss K." The latter seems to encapsulate everything that makes Deer Tick appealing. It's a little silly, maybe a tad bit inappropriate and subtly sweet.
The slightly more rambunctious flare that permeates the album is what helps set it apart from the rest of the band's catalog. Divine Providence may not be the band's most mature record, that would be The Black Dirt Sessions, and it may not be their most polished work, that would be Born on a Flag Day. Instead, it gracefully falls somewhere in between. It's a freewheelin' LP that features all of what we've come to know and love about Deer Tick without feeling like a rehash. On the contrary, Divine Providence is a celebration of music by a band who likes nothing more than to have a good time—and what is more respectable than that?