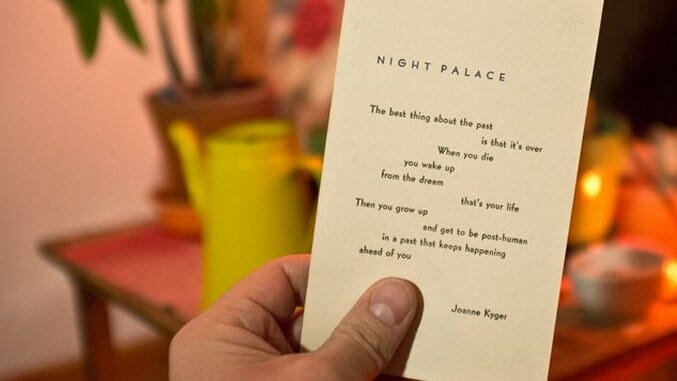 Musicians are nothing if not adept at transmuting their most negative feelings into art. Luckily for us as listeners, having someone else process such raw, unfiltered emotions often makes it easier and more cathartic when we endure similar experiences. In particular, the older we get, the more real the loss of a loved one becomes—whether from causes that seem natural, or, in the case of the following records, suddenly snatched away with no warning. Not only do we have to contend with someone important not being there anymore, but then, there's that sudden realization of the fragility of human life that can seem so arbitrarily snuffed out at any moment. These 10 albums written following the loss of someone important help ease the pain, turning grief into something beautiful.
1. Arcade Fire, Funeral
One of the most acclaimed albums of the 21st century didn't come from a place of happiness. The album got its name from four band members losing family members near or during its recording—vocalist Reginé Chassagne's grandmother in June 2003, frontman Win Butler and his brother William Butler's grandfather in February 2004, and guitarist Richard Reed Perry's aunt in April 2004. While the songs were written before these deaths, having to commute between the recording studio and the funeral parlor had an effect on the recording sessions. Even then, many of the songs were based around loss: "Une Année Sans Lumière" references the deaths caused by Haitian dictator "Baby Doc" Duvalier, who forced Chassagne's Haitian parents to flee their homeland, and "In the Backseat" is written from the perspective of her deceased mother. Part of this album's lasting appeal, however, is that the band chose not to go the route of making crushingly depressing music, but rather channeling their losses into something different entirely. It's occasionally celebratory, but with an undercurrent of mourning; it's not happy, but also not particularly sad. In that sense, while Funeral is a fitting title, it might be more fitting to compare it to a close circle of friends or family meeting after the funeral to toast to a recently departed's memory.
2. Eels, Electro-Shock Blues
While Eels frontman Mark Oliver Everett was never known for writing happy songs, his 1998 record Electro-Shock Blues is particularly infamous in this regard. The album was written in response to Mark's sister Elizabeth committing suicide and his mother's terminal lung cancer, and follows their decline in mental and physical health from multiple perspectives. Everett himself uses the opportunity to reflect on the fact that, with the death of his father from a heart attack 16 years prior, he is suddenly the only surviving member of his family. It's definitely a bleak collection of songs, but the most important song on the album is the final one: "P.S. You Rock My World" describes Everett finally moving on from his recent losses with the words "Everyone is dying, but maybe it's time to live."
3. The Flaming Lips, The Soft Bulletin
In 1997, Wayne Coyne's father died of cancer, which had claimed his mother a few years earlier. Rather than give into despair, he made an uplifting and beautiful pop album about death that was hailed by some critics as the Pet Sounds of the '90s. Even now, the inspiration behind The Soft Bulletin isn't known by many who rank it as one of their favourite albums of all time. Yet, The Soft Bulletin isn't an album about struggling with death, but, in the spirit of the Flaming Lips' anti-nihilistic viewpoint, happily accepting that it exists and nothing will ever change that. In an interview written 13 years after The Soft Bulletin was released, Coyne said that "After my father died I realised I didn't know if I wanted to keep knowing how brutal the world can be. The Soft Bulletin is a quest. It's saying 'I think life is more beautiful than it is horrible,' but I don't really believe that. I think the world is more horrible than it is beautiful. But we have to make it beautiful." And that itself is beautiful.
4. Mount Eerie, A Crow Looked at Me
Some artists take to elaborate metaphors to communicate their loss, abuse, addiction or depression. However, singer-songwriter Phil Elverum felt no such instinct after his wife Geneviève Castrée passed away from cancer in July 2016. Instead, Mount Eerie released A Crow Looked at Me earlier this year, an album devoid of such euphemisms. Elverum's new reality is blunt and bleak, and he offers straightforward retellings of taking out the garbage, checking the mail and the minutia involved in raising their infant daughter by himself. As a result, A Crow Looked at Me is a heartbreaking work detailing a daughter without a mother and a husband without a wife and best friend.
5. The Mountain Goats, The Sunset Tree
It's here that the definition of this list's title may be subjective. While the album was written in response to death of singer-songwriter John Darnielle's stepfather Mike Noonan, it would be a stretch to call him "loved." The 2005 Mountain Goats LP documents singer Darnielle's traumatic youth in a broken home as a result of Noonan's own years of abuse. For most of the record, Darnielle sings about his powerlessness and fear from the perspective of his younger self, but the final track catches up to the present to show Darnielle's reaction to Noonan's death. After the news broke, the first memory that came to him was not of the years of violence and neglect, but the one fond memory he has of when Noonan took him out to a racetrack to watch horses. It is still difficult to say that Noonan was loved, but it would be equally hard to say that he wasn't important.
6. Neil Young, Tonight's the Night
In the months before Tonight's the Night was written in 1975, two of Young's closest friends, Crazy Horse guitarist Danny Whitten and roadie Bruce Berry, died of drug overdoses. Young's grief can be felt even without listening to the album: included with the original vinyl release is a message that simply states, "I'm sorry. You don't know these people. This means nothing to you," as well as a letter to a character named Waterface that Young referred to as, "a suicide note without the suicide." The title track even mentions Berry directly by name as well Young's reaction to his death, and the album doesn't let up from there. According to Young's father, there was an original version of Tonight's the Night that's even more unrelenting, and although it's been over 40 years since its release, Young still plans to bring it out someday.
7. Nick Cave & the Bad Seeds, Skeleton Tree
The story behind Skeleton Tree isn't as straightforward as a loss and a release. During the recording sessions after most of the album had been written, Nick Cave's 15 year-old son Arthur died from an accidental fall off a cliff. Cave amended and improvised the lyrics in subsequent recording sessions to be about his grief, and rather than be questioned about his son's death over and over by the media, he gave insight into the album's recording process and context by filming a documentary called One More Time With Feeling. During the album's most intense moments, Cave doesn't sing passionately so much as express his sadness on the brink of tears over music. If A Crow Looked at Me showed that music about grief doesn't have to be written in obscure metaphors, Skeleton Tree showed that music about grief doesn't have to be written explicitly at all.
8. Panda Bear, Young Prayer
Although Young Prayer was written before Noah Lennox received mainstream recognition both in his solo career and as a member of Animal Collective, it's easily his most personal album. The sparse collection of untitled songs was written as a gift to Lennox's father as he was dying. In fact, the finished version of the album was recorded in the room that he died in. Most of the lyrics are indecipherable on first listen, but upon closer inspection, they express Lennox's gratitude towards his father in the purest way possible. Even now, Young Prayer is not one of Lennox's most well-received albums due to its lack of melody and instrumentation, but since it wasn't written for us, it doesn't really matter.
9. Sufjan Stevens, Carrie & Lowell
This is another case of the definition of "loved one" being stretched: Carrie & Lowell was inspired by the 2012 death of Stevens' mother Carrie, who abandoned him when he was a year old and suffered from depression, schizophrenia and substance abuse. The album was produced by musician and Stevens's friend Thomas Bartlett, who recently lost his brother to cancer, and recording it helped both of them come to terms with their losses. Like The Sunset Tree, it's not entirely a tribute, as it bluntly deals with some of the more turbulent aspects of Stevens' relationship with his mother. However, Stevens does explicitly forgive his mother in the first track, using the rest of the album to reverse engineer that decision and wrestle with why. It may a cliché to call the grieving process a personal journey, but by musically documenting his attempts to answer that question, Stevens not only tells his own personal journey, but that of many others.
10. Touché Amoré, Stage Four
The other albums on this list can definitely be described as dark, but when separated from their contexts, usually aren't so intense. That's not the case with Touché Amoré's 2016 album Stage Four, which was written about the vocalist Jeremy Bolm's mother fight with cancer. Bolm clearly struggles with survivor's guilt on the record. Like Carrie & Lowell, Stage Four follows Bolm's journey to answer that elusive question of why, one that most people face in their lives, as well.