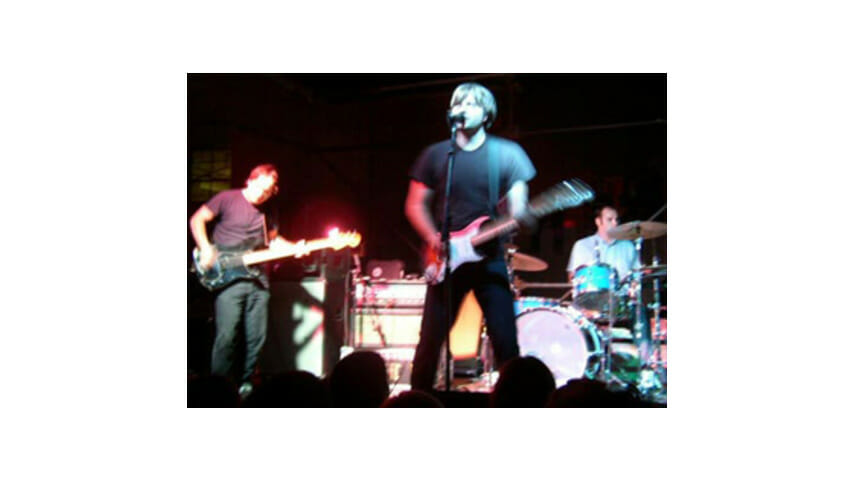 Whether it's their continued willingness to experiment both musically and lyrically, or the captivating voice of frontman Ben Gibbard, Seattle indie rockers Death Cab for Cutie are finding success on their own terms. At the end of last year, hardly a rock critic's list could be found that didn't include at least Death Cab's latest, Transatlaticism, if not Give Up, the first full-length release from Gibbard's electronic side project, The Postal Service. Aided by this critical acclaim as well as comparatively strong album sales, Death Cab embarked on its largest headlining tour to date in April. The extensive tour has the band making the rounds in Europe and Japan, as well as co-headlining a U.S. tour with fellow up-and-comer Ben Kweller until mid May.
Despite the ever-increasing media attention and the pressures of a major tour, Death Cab, took time during a tour stop to speak with students at Calvin College in Grand Rapids, Mich. The band members discussed their work, carrying themselves throughout the day with the humility one would hope for in a band of self-proclaimed "sensitive sweater-wearers" who pen lyrics like, "When you feel embarrassed then I'll be your pride / When you need directions then I'll be the guide / For all time."
The Grand Rapids show began with new single "The New Year," the lead track from Transatlanticism. In much of Gibbard's writing, he's not satisfied to recount clichéd phrases; instead he paints pictures of alienation and loss (which are often mistaken for cynicism):
"So this is the New Year and I don't feel any different / The clanking of crystal explosions off in the distance / So this is the New Year and I have no resolution / Its self-assigned penance for problems with easy solutions / So everybody put your best suit or dress on / Let's make believe that we are wealthy for just this once"
This is by no means the first Death Cab song that presents a complex portrait of relationships and human life—Gibbard has been walking the lyrical line between understanding and confusion, beauty and brokenness since the group arrived in 1997. He's written everything from a dreamy, poetic re-telling of the Atlantic Ocean's creation to painfully honest descriptions of broken relationships. One such "broken" song was a musical highpoint during the band's performance. As Gibbard sang the lyrics the new "Tiny Vessels," he gave an account of the conflicted position relationships can find themselves in:
"This is the moment that you know / That you told her that you loved her but you don't / You touch her skin and then you think / That she is beautiful, but she don't mean a thing to me
So one last touch and then you'll go / And we'll pretend it meant something so much more / But it was vile and it was cheap / And you are beautiful but you don't mean a thing to me"
The song is striking as much for the bleak image it presents as for the unapologetic attitude of its protagonist.
As interviews with the band attest, Transatlanticism is the band's most collaborative effort to date, which is apparent live as well. On stage, as on the record, the frenzied timekeeping of new drummer Jason McGerr and the intense bass lines of founding member Nicholas Harmer complement the layered guitar and keyboard work of Gibbard and lead guitarist (and production mastermind) Christopher Walla. One of Death Cab's most distinctive traits is that, in concert, they rely on these keyboards and other instrumentation in addition to guitar to complete the sound, often switching instruments mid-song to musically fill-in the images Gibbard's haunting voice conjures up. Though the band had to struggle through some sound problems at the concert's start, the subtleties of its unique approach were by no means lost in the large room.
As Death Cab built to the high point of its set with the slow-burning title track "Transatlanticism," the audience stood riveted as Walla played his trademark Gibson hollow-body and Gibbard alternated between keyboard and guitar parts all the way to the song's climactic conclusion: "I need you so much closer." The band then brought the energy level even higher with a brilliantly inventive cover of Bjork's "All Is Full of Love" that saw McGerr and Harmer churn through a rhythm that left them both visibly exhausted and the audience thrilled.
Death Cab's meticulous approach to instrumentation and complicated themes continuously sets it apart—as does the band's expanding sound, innovative side projects, and honest and poignant lyrics.