Daytrotter's 100 Best Songs of 2017
The Heartland hub for live music recorded more than 550 artists this year. Here's the best of what they saw and heard.
Illustration: Johnnie Cluney
Music
Features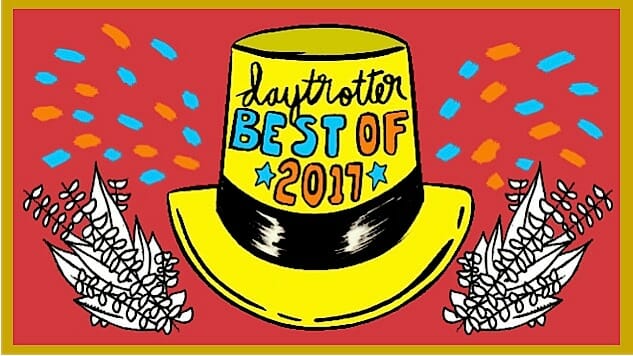 In case you didn't know it, the music pulse of the Heartland beats in Iowa, where Paste's sister publication, Daytrotter, records hundreds of musicians every year in its Davenport audio and video studios. From MGMT to The War on Drugs, Ed Sheeran to Carly Simon, the best and brightest have been making stops in Davenport for more than a decade to put their sounds on tape—more than 7,000 in all. It's where young bands go to be discovered, emerging stars go to build momentum, and Hall of Famers go to reconnect. And 2017 was one of the busiest years the operation has ever seen. So busy, in fact, that when the team convened to choose their favorite recording sessions of the past 12 months, they wound up splitting the bounty into genres just to ease the load.
For the past couple weeks, Daytrotter has been unveiling its favorite individual performances of 2017 in soul and R&B, rock, psych rock, pop, indie, and folk/Americana. Now, they've released their 100 best songs of 2017 and, in keeping with their giving spirit, created a playlist for you to access it.
You can find Daytrotter's 100 best songs of 2017, with artists including Margo Price, Marcus King, Beach Slang, Modern English and Built to Spill's Doug Martsch, here, via Paste.com.
"Daytrotter released more than 550 sessions this year, so picking the top 100 songs was no easy feat," said Paige Underwood, Daytrotter's director of social media and marketing.
After much deliberation, the team ultimately settled on Twain's "Little Dog Mind" as their no. 1 song of the year. The folk singer-songwriter, who released his second full-length album, Rare Feeling, in October, "invokes true Americana spirit, and his songs are instant classics," said Daytrotter illustrator Johnnie Cluney.
When you host as much music as Daytrotter does, trends inevitably begin to emerge. "In 2017, we noticed a heavy '60s revival (and trust us, we're not complaining)," Underwood said. "Whether the influence was found in the many psych rock bands we recorded this year, or the indie-folk singer-songwriters, it was very apparent to us that the '60s sound had found its place once again."
The trend was evident in pupil-dilating performances by Post Animal, Boogarins, Frankie and the Witch Fingers, The Golden Fleece, Mr. Elevator and others. "Bands, noted session engineer Ian Harris, "are separating themselves further from restricting genres and getting more attuned with their experimental side. In 2018, we anticipate more artists to take that same leap into their own mindset of songwriting."
Whatever those mindsets are in 2018, Dayrotter will be there to capture them and commit them to tape. The site's 100 Best Songs of 2017 are streaming now at Paste.com/Daytrotter. Daytrotter members can also download all 100 songs to keep beginning next week. You can sign up for membership here, and until Dec. 31, one-year gift memberships are only $20. Gift one to a friend (or treat yourself) to gain access to the site's bottomless session downloads, playlists and favorites.