Exclusive: Dawes Launch Passwords Site, Share New Single "Never Gonna Say Goodbye"
Photos by Magdalena Wosinska, Matt Jacoby
Music
News
Dawes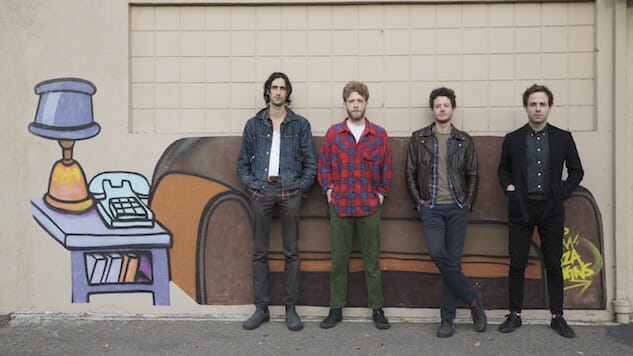 If you've ever dreamed of being Sherlock Holmes, then fetch your trench coat and magnifying glass, because beginning today (June 7), Dawes are giving you a chance to play sleuth. The band is peppering hints throughout the Internet to allow listeners to unlock content (i.e. new songs and videos) via their new interactive site, launching today, and we've got the exclusive first clue.
Dawes have shared a new single, "Never Gonna Say Goodbye," with an accompanying lyric video, but, much like logging into your roommate's Spotify premium account, you're going to need a password to listen. Each of these passwords is made up of musical notes that, in sequence, represent various musical refrains from the band's catalog.
You can listen to the band's new track and explore other materials from Dawes' forthcoming album Passwords, out June 22, on their nifty new interactive site right here, which houses the "Dawes Passwords Machine." The code to listen to "Never Gonna Say Goodbye" is D6 D1 C5 C5 D6 D1 D6, but you're going to have to do the rest of the unlocking on your own.
Here's what the band had to say about the rare and anomalous Dawes Passwords Machine:
Salvaged from an undisclosed NASA graveyard, the 'Dawes Passwords Machine' (DP-1 for short) was designed out of necessity. Having become more and more suspect of leaks within the mighty pipeline that is the "internet," Dawes, led by Chief engineer Wylie Gelber, decided to take matters into their own hands. "The machine is really quite simple," Gelber said in a sit down with Encryption Quarterly, "The Passwords come in… But they DON'T come out." With a startling starting price of $8700.00 USD, the DP-1 may seem excessive to most, but, as we here at Dawes always say: "you can't put a price on nonsense!"
Dawes have already shared two singles from Passwords, the synth-riddled "Living In The Future" and the more mellow "Crack The Case." Each track has an accompanying video—you can watch those here and here, respectively. The California-based rockers also have a North American tour kicking off in August. In addition to their headlining "Evening With Dawes" shows where they'll play two separate sets, Dawes are also opening for Jeff Lynne's Electric Light Orchestra at several shows, including one at Madison Square Garden. You can find all those dates right here.
Again, Passwords is out June 22, but there's much spelunking to be done on the new Passwords interactive site in the meantime—remember, the sequence for "Never Gonna Say Goodbye" is D6 D1 C5 C5 D6 D1 D6. You can also preorder the record and watch the retro album trailer here.
Down below, watch a teaser for Dawes' "Never Gonna Say Goodbye" lyric video and while you're at it, watch the band perform in the Paste offices circa 2011.