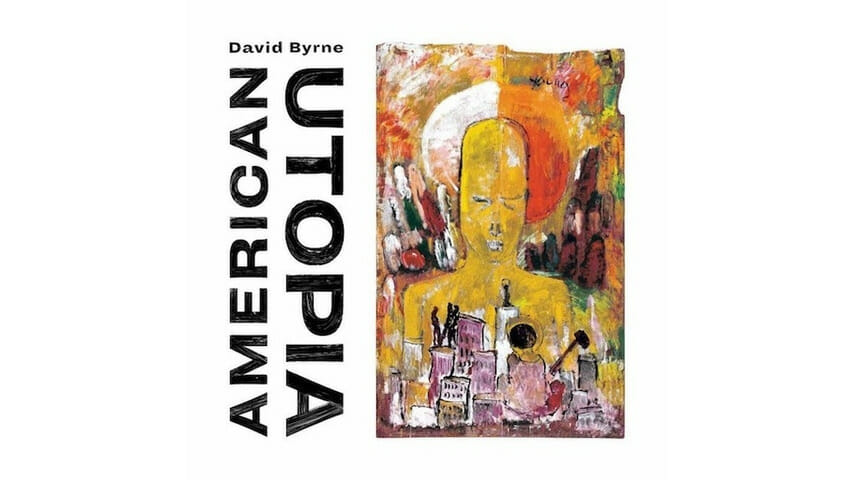 In the cosmology of David Byrne, the Almighty resembles an aged rooster, bullets wreak unthinking destruction with a certain bleak poetry and dogs pretty much have it made. They're all reference points on American Utopia, Byrne's first new solo album since 2004.
In the intervening years, Byrne, 65, released collaborative LPs with Brian Eno and St. Vincent, respectively; wrote musicals about Imelda Marcos (with Fatboy Slim) and Joan of Arc, respectively; scored the 2011 movie This Must Be the Place; explored his interest in color guards with a pair of live events that resulted in the 2016 documentary Contemporary Color; and published three books. That's enough for an entire career, and we haven't even mentioned Talking Heads.
Fortunately, Byrne has too restless a creative drive to slow down, and he's as inquisitive and eclectic as ever on American Utopia. The title would seem sarcastic coming from anyone else, given current events, but Byrne is in earnest. In fact, perhaps the most striking thing about these 10 new songs is the sense of cockeyed optimism that pervades them (and a thematically related blog, Reasons to Be Cheerful).
Byrne writes in the liner notes that he was inspired in part by outsider artists, who often focus their work on visions for a better world. That, writes Byrne, "is exactly what this record is about." So when he proclaims that "every day is a miracle" on a standout song by that title, he means it, even as he veers off into lyrics imagining how the afterlife would look to poultry, or confidently describing the media consumption habits of elephants (spoiler: they don't read newspapers). No matter: the refrain is so upbeat and joyous, over a gently pulsing reggeatón beat, that Byrne could spend the rest of the song shouting out GPS coordinates for his favorite bike lanes and it would seem like an artistic statement.
That speaks to one of his great strengths: Byrne's willingness to risk looking uncool or out of place gives him an unflappable serenity. He intones solemnly about his moves on "I Dance Like This," accompanied first by a simple piano line and later by a thundering rhythm. He sends his voice into falsetto as he describes in slow-motion anatomical detail what has been destroyed by the shot fired on "Bullet." He extols the virtues of living the blissfully unconcerned life of a dog on "Dog's Mind," over atmospheric layers of keyboards and synthesizers. And he does it all without a trace of irony.
Byrne wrote eight of these 10 songs with Brian Eno (Daniel Lopatin of Oneohtrix Point Never co-wrote the other two), and they're a musically mixed bunch. An Eastern-sounding keyboard part and busy rhythm propel "It's Not Dark Up Here," while layers of saxophone at the start of "Everybody's Coming to My House" give way to a club-ready dance beat as Byrne yelps out his vocals. "This Is That" mostly features Byrne's voice, an array of live and programmed drums and an effects-treated harp; and another rhythm-heavy song, "Gasoline and Dirty Sheets," takes on an urgent feel with taut bass, layers of keyboards and subtle guitar licks.
In other words, it's a David Byrne album: cerebral, but with an irresistible beat; and exuberant, but in a way that is self-contained. And if America right now is something less than a utopia, Byrne is a force for positivity, exhorting us all to do better.