Dan Deacon's "Sat by a Tree" Is a Marvelous Meditation on Death
Photo by Frank Hamilton
Music
News
Dan Deacon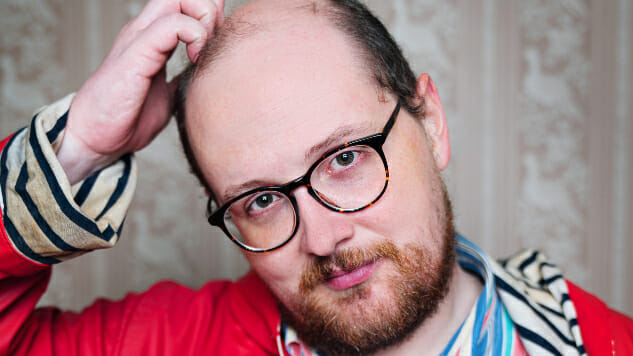 Dan Deacon does not fear death—on the enigmatic songwriter's first single off his forthcoming record, Mystic Familiar, Deacon greets it with wonder. "Sat by a Tree" looks at the inherent beauty of decomposition and rebirth, all atop an energetic bed of sonic bliss.
"Sat by a Tree" contains much to be unpacked. The song is brimming with wonderful textures entering and fading to make room for more unexpected sounds. Though it follows a narrative on death, the joyous energy of the song shows little fear in the idea. Deacon himself shares perplexing lyrics like, "It may only last a moment / but a moment can last a lifetime in your mind," to convey the near-infinite feeling of our consciousness. It's not the first time he's looked at these themes. His most popular song—"When I Was Done Dying," from 2017's Gliss Riffer—follows the experience of someone's separated consciousness after death.
In the single's video, directed by Daren Rabinovitch, we are also shown what happens after death. But unlike "When I Was Done Dying," "Sat by a Tree" follows the decomposition of one's physical form. As a woman—played by comedian Aparna Nancherla—lies lifeless in a forest, a host of different insects begin to crawl across her body. The video focuses on close-up depictions of these busy decomposers at work, stripping away flesh and bone until nothing remains. While some will be disgusted by the graphic imagery, the video makes a clear effort to cast this process in a wondrous light. After all, its final scene shows a plant beginning to grow from the replenished soil into which the body's nutrients were broken down.
Mystic Familiar is said to revolve around the central concept of a "supernatural other being that we carry with us everywhere in our head, which only we can hear and with whom we live our lives in eternal conversation," according to a press release. If we're to see this "supernatural being" as the individual ego onto which one grasps, the parallels between Deacon's music and the tenets of Buddhist belief become clear. Even the song's title is an allusion to the fabled moment Siddhartha sat under the Bodhi Tree to reach enlightenment—thus becoming The Buddha. In an interview describing the inspiration behind "Sat by a Tree," Deacon delves into his underlying philosophy on the significance of death:
I to see it not at all in this macabre sense, but just a part of life. So I liked playing with the concept and writing about it a lot …. The way the video ends is sort of in line with what I was saying with the song itself. Are we watching a prequel to that plant or are we watching the end of that human form?
Mystic Familiar is out Jan. 31, 2020, on Domino and available for preorder here. You can watch the fantastic video for "Sat by a Tree" and Deacon's Paste performance below, and find his album details and tour dates further down.
Mystic Familiar Album Art: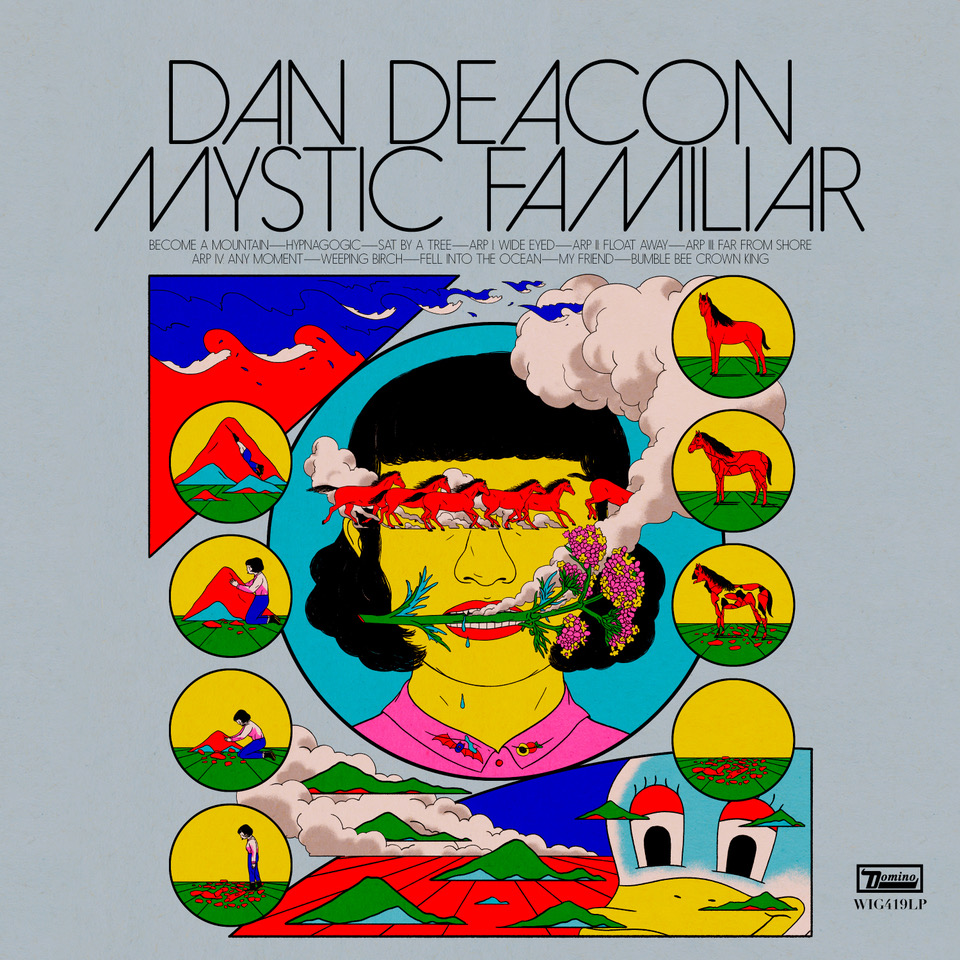 Mystic Familiar Tracklist:
01. Become A Mountain
02. Hypnagogic
03. Sat by a Tree
04. Arp I: Wide Eyed
05. Arp II: Float Away
06. Arp III: Far From Shore
07. Arp IV: Any Moment
08. Weeping Birch
09. Fell Into The Ocean
10. My Friend
11. Bumble Bee Crown King
Dan Deacon Tour Dates:
November
01 – Knoxville, Tenn. @ Pilot Light
02 – Chattanooga, Tenn. @ JJ's Bohemia
03 – Birmingham, Ala. @ Saturn
05 – Tallahassee, Fla. @ The Bark
06 – Orlando, Fla. @ Wills Pub
07 – Miami, Fla. @ Floyd
08 – Jacksonville, Fla. @ Jack Rabbits
09 – Gainesville, Fla. @ The Atlantic
12 – Athens, Ga. @ 40 Watt Club
13 – Charlotte, N.C. @ Neighborhood Theatre
14 – Virginia Beach, Va. @ Elevation 27
January 2020
31 – Dublin, Ireland @ Grand Social
February 2020
01 – Glasgow, U.K. @ Classic Grand
04 – Leeds, U.K. @ Brudenell
06 – London, U.K. @ Scala
10 – Paris, France @ La Maroquinerie
26 – Charlottesville, Va. @ The Southern
27 – Carrboro, N.C. @ Cat's Cradle
28 – Atlanta, Ga. @ Terminal West
29 – Asheville, N.C. @ The Grey Eagle
March 2020
01 – Nashville, Tenn. @ The Basement East
03 – New Orleans, La. @ One Eyed Jacks
05 – Houston, Texas @ White Oak Music Hall
06 – San Antonio, Texas @ Paper Tiger
07 – Austin, Texas @ Scoot Inn
08 – Dallas, Texas @ Deep Ellum Art Co.
10 – Phoenix, Ariz. @ The Crescent Ballroom
11 – San Diego, Calif. @ Music Box
12 – Santa Ana, Calif. @ The Observatory
13 – Los Angeles, Calif. @ The Regent Theater
14 – San Francisco, Calif. @ The Fillmore
16 – Sacramento, Calif. @ Harlow's
19 – Portland, Ore. @ Wonder Ballroom
20 – Seattle, Wash. @ Neptune
21 – Vancouver, B.C. @ Hollywood Theatre
24 – Boise, Idaho @ Neurolux
25 – Salt Lake City, Utah @ Urban Lounge
27 – Santa Fe, N.M. @ Meow Wolf
28 – Englewood, Colo. @ Gothic Theatre
30 – Lawrence, Kan. @ Granada Theater
31 – St. Louis, Mo. @ The Ready Room
April 2020
02 – Chicago, Ill. @ Metro
03 – Minneapolis, Minn. @ Varsity Theater
04 – Madison, Wis. @ High Noon Saloon
16 – Millvale, Pa. @ Mr. Smalls Theatre
17 – Lakewood, Ohio @ Mahall's
18 – Cincinnati, Ohio @ Urban Artifact
19 – Louisville, Ky. @ Headliner's Music Hall
21 – Indianapolis, Ind. @ HI-FI Indianapolis
22 – Columbus, Ohio @ Skully's Music Diner
23 – Detroit, Mich. @ Museum of Contemporary Art Detroit
24 – Toronto, Ont. @ Lee's Palace
25 – Ithaca, N.Y. @ The Haunt
26 – Boston, Mass. @ Paradise Rock Club
28 – Portland, Maine @ SPACE Gallery
29 – Portsmouth, N.H. @ 3S Artspace
30 – Philadelphia, Pa. @ Underground Arts
May 2020
01 – Brooklyn, N.Y. @ Brooklyn Steel
02 – Washington, D.C. @ 9:30 Club