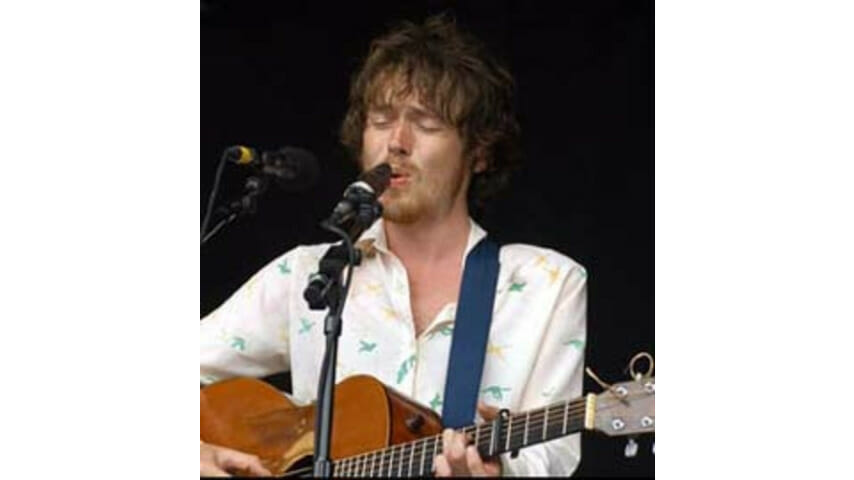 It's hard to know what to expect from Damien Rice. He's a musician who once rejected stardom after laboring to its brink: leaving it all behind on the eve of recording his band's debut to become a Tuscan farmer. Perhaps it was this experience that compelled him to pen the line, "You know when you've found it because you feel it when they take it away." Evidently, he couldn't stay away for long, and soon began traveling Europe as a street performer while recording a solo album from a portable studio. The benefits of this approach afforded Rice the creative control lacking in previous recording experiences, and allowed him to develop the live presence that would come to distinguish him.
This poise has been on display in a wide variety of arrangements in the two years since Rice released O in his native Ireland. The singer/songwriter has traveled to the U.S., offering everything from solo performances for small audiences to the sold-out theater shows of late. When O was still a $30 import-only release and American concerts were only in smoky clubs that weren't much larger than a living room, Rice could be found experimenting with loops and vocal distortion, building on his acoustic, coffeehouse sound.
Since then, Rice has seen his album officially released in the U.S. to critical acclaim, while his live work has evolved with his audience. He no longer tours alone and, as his show in Detroit evinced, he's developed a richer sound that stretches far beyond the bounds of his released work. While it may disappoint fans of his more mellow work, Rice's enthusiasm for musical experimentation has served to separate him from the largely saturated genre of sad, earnest acoustic strummers.
Rice began his Motor City performance quietly, with understated album opener "Delicate." But, before long, his straightforward voice-and-guitar approach were augmented by drums, bass and cello as the song built to a piercing climax. As Rice crooned louder and louder, his voice was accompanied by the gorgeous soprano of bandmate Lisa Hannigan, adding power to the lament: "So why do you fill my sorrow / With the words you've borrowed / From the only place you've known / And why do you / sing Hallelujah / If it means nothing to you / Why do you sing with me at all?"
Throughout the evening, the contributions of the band members—all of whom have played with Rice for some time—created a unique and engaging atmosphere onstage. Hannigan's voice and the strings of cello player Vyvienne Long consistently gave life to gorgeous accompaniments, filling out the night's more tender moments. And the two charming-but-shy performers briefly took the stage alone for a cello-and-kick-drum cover of hometown sensations The White Stripes' "Seven Nation Army." The rhythm section of bassist Shane Fitzsimmons and drummer Tomo gave resonance to the longer, more complex live versions of Rice's songs, many of which stretched beyond seven or eight minutes.
As the show developed, so did the set list, revealing a healthy mixture of quiet, introspective songs and more strident electric pieces. At the end of a particularly heartfelt version of "Prague," a secret song from O, Rice said the song was about the feeling of "losing hope, losing clarity, and all-around losing." He followed immediately with the gorgeous "Amie," which he explained was a contrasting song about the return of hope and clarity. This track was one of many that illustrated Rice's considerable lyrical gifts and willingness to experiment. Mid-song, with the lyric, "I saw a spaceship fly by your window," he hunched over his guitar-effect pedals and produced a thick, heavy bass sound that shook the walls, forcing the unsuspecting crowd to flinch. As the noise began to crescendo—mimicking the lyric—a small mirror ball in the center of the ceiling started spinning, sending soft light flickering around the room until booming bass faded once again into the quiet strumming that launched the tune. While many in attendance were clearly confused as to what had caused the deafening effect, they all cheered loudly over the songs closing bars.
Rice continued to impress with his lyrical range when he played another gem, "Older Chests." As he's explained during past performances, "Older Chests" is a subtle song about the decline of creativity and craftsmanship in art, architecture, and culture as a whole. It was written in Ireland while Rice lived close to an aging cathedral and came to compare it to the apartment complex he lived in: "Older gents sit on the fence with their cap in hand / Looking grand, they watch their city change / Children scream, or so it seems, louder than before / Out of doors and into stores with bigger names"
The band closed the show with an extended version of "Cheers Darlin'" that developed into something quite different from the recorded version. As it progressed, the song sped up until it resembled "Fiddler on the Roof" all the while maintaining the rapt attention of the audience. By the time Vyvienne picked up her cello and followed the others off stage, Rice and Co. had treated us to more than 90 minutes of music, ranging from subtly gorgeous acoustic ballads to ear-popping rock anthems. The brave and innovative performance was more than enough to leave fans impressed.