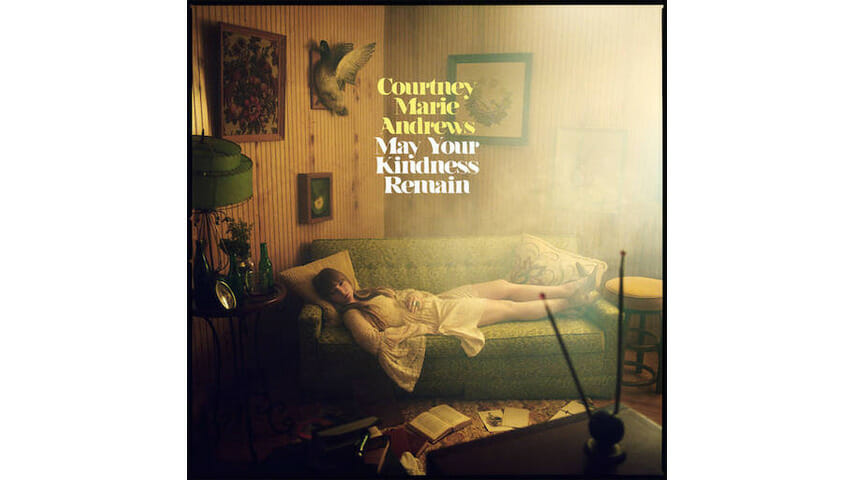 After breaking through with a batch of restless, itinerant songs on Honest Life in 2016, Courtney Marie Andrews longs for something more permanent on the follow-up. The Seattle singer spends much of May Your Kindness Remain exploring ideas of home and what it means to have roots, on 10 new tunes that are lusher and more expansive while leaving plenty of room to showcase her astonishing voice.
Andrews and her band recorded May Your Kindness Remain with producer Mark Howard, whose voluminous credits include albums by Lucinda Williams, Tom Waits, Bob Dylan and Emmylou Harris. Howard's understated aesthetic suits Andrews, who pushes herself toward bolder musical arrangements and a fuller, more soulful sound than the traveling-woman-with-guitar feel of Honest Life.
The difference is evident from the start: May Your Kindness Remain opens with the title track, a gospel-tinged number that swells from understated to massive and enveloping. Organ gives way to a solemn overdriven guitar part, and gospel singer C.C. White backs Andrews on the refrain as she lets her voice build, then pulls back until the end, when she cuts loose with a rare blend of power and feeling that can bring you to your knees.
It's a talent Andrews demonstrates throughout while she parses loneliness and the yearning for a place to belong. She gets about as personal and intimate as possible on "Took You Up," minimalist piano and controlled feedback from an electric guitar framing a subdued testimonial from a couple creating a world with and around each other as a shelter from life's adversity. Peace of mind has a specific address on "This House," a rustic celebration of the love and affection that permeate a place that sure sounds like a fixer-upper, if a welcoming one. Andrews pulls back to a broader view on the barroom rocker "Two Cold Nights in Buffalo," letting her voice ring as she surveys a snowed-in city as a proxy for the dissipated sense of community across America in the 21st century. "What happened to the middle class mom-and-pop five-and-dimes?/ Soon they'll be knocking it all down to build that highrise," she laments.
Many of Andrews' songs have an inherent hazy-edged melancholy—with golden tremolo guitar and vocals with a plaintive air, "Lift the Lonely From My Heart" is the very essence of a Courtney Marie Andrews tune, for example—but she sharpens the focus on a few tracks here. Staccato organ and weary slide guitar lend a discomfiting feel to "Border" as Andrews sings from the perspective of an immigrant trying to make headway in the purported land of the free. Later, on the folky waltz "I've Hurt Worse," she displays a lacerating sarcastic streak on lyrics mock-praising the loutish behavior of a suitor (or lover).
Still, as the album title suggests, kindness reigns here. Sometimes Andrews is singing about it explicitly, as on the title track or the upsurging "Kindness of Strangers." Sometimes the people in her songs are simply doing their best to embody the idea that kindness matters. After all, it takes more than an empty house to feel like home.