Livestream Selections to Check Out This Week (March 23-28)
Featuring artists across every genre and platform
Photo by Kevin Winter/Getty
Music
Lists
coronavirus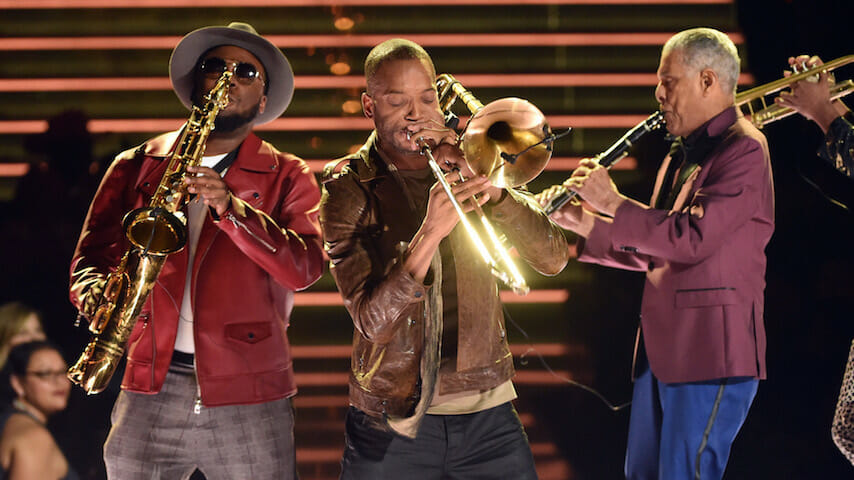 As we continue to figure out how to navigate this strange, new isolated world, more and more artists are turning to alternative methods for getting their music straight to fans. While concerts, tours and festivals are being suspended or straight-up canceled around the globe, musicians are, in turn, bringing virtual performances to their fans. The weekend was dotted with live Instagram events such as the ones hosted by Courtney Barnett, Lucius and Ben Gibbard, but those are far from the only live music streams you can check out these days on your phone or computer.
We already rounded up a few folks who are bringing all-encompassing quarantine content to your Instagram feed. Here, however, is a more comprehensive calendar for specific livestreams happening on a daily basis. Check this space throughout the week (March 23-27) for new additions, and don't forget to tip/support the artists you love during this ongoing crisis.
Monday, March 23
Kevin Morby
When: 2 p.m. ET
Where: @blogotheque on Instagram
La Blogotheque will broadcast "A Stay Away Show" with Kevin Morby today.
Christine and the Queens
When: 2 p.m. ET
Where: @christineandthequeens on Instagram
The French pop star will play a virtual set for Global Citizen today.
Echosmith
When: 2 p.m.
Where: Paste Magazine on Instagram
The peppy indie rockers will be taking over our home-base Instagram today beginning at 2 p.m.
Brandy Clark
When: 3 p.m. ET
Where: @thebrandyclark on Instagram
Country singer Brandy Clark (who recently released her excellent new album Your Life is a Record) is also partnering with Global Citizen/World Health Organization today for a #TogetherAtHome livestream.
James Blake
When: 3 p.m. ET
Where: @jamesblake on Instagram
The English artist will go live on Instagram this afternoon.
Sufjan Stevens
When: 3 p.m. ET
Where: Sufjan Stevens on YouTube
Asthmatic Kitty records announced Monday that they're releasing Sufjan Stevens' and his stepdad Lowell Brams' new joint project Aporia early. The album was originally due out this Friday, March 27. Now Asthmatic Kitty says the record should be in stores "today or tomorrow," but it arrives digitally later today on YouTube.
Garth Brooks & Trisha Yearwood
When: 7 p.m. ET
Where: Garth Brooks on Facebook
Two country heroes—who also happen to be husband and wife—Trisha Yearwood and Garth Brooks are logging on tonight to take requests and play a few songs. You can make your requests in the comments section of this post.
Queen of Jeans
When: 9 p.m. ET
Where: @queenofjeans on Instagram
Philly rockers Queen of Jeans will spotlight frontwoman Miri tonight for a solo Instagram Live session.
Whitmer Thomas
When: 9 p.m. ET
Where: @whitmerthomas on Instagram
Tonight at 6 p.m. PT comedian Whitmer Thomas will go live on Instagram in support of his "favorite" L.A. venue The Satellite. Fingers crossed we'll hear his new viral hit "Big Baby."
Orville Peck
When: 9 p.m. ET
Where: @orvillepeck on Instagram
The masked country crooner will play some "quarantunes" tonight in honor of the one-year anniversary of his debut album Pony.
Don Giovanni Records
When: All day
Where: @dongiovannirecords on Instagram
The New Jersey label will be hosting an all-day, online event featuring 20 artists from across their robust roster.
Tuesday, March 24
Camp Cope
When: 3:30 p.m. ET
Where: @camp_cope on Instagram
The Australian indie rockers are hosting Distant Together 2: Lost in Your Living Room, an online festival that features Rosie Tucker, Slingshot Dakota and many more.
Josh Ritter
When: 8 p.m. ET
Where: Josh Ritter on YouTube and Facebook
The Americana singer will perform a free "low-key" set for fans on Tuesday evening.
Caroline Rose
When: 9 p.m. ET
Where: Crowdcast via Vinyl Me, Please
Indie rock/pop singer Caroline Rose is the first guest on Vinyl Me, Please's new Lost Sounds Radio series. Rose (or Uncle Carol, as some may know her) will also answer questions during and after the stream.
Diplo
When: 10 p.m. ET
Where: Diplo on YouTube
Quirky DJ/producer Diplo will join fellow spinner Ronatronix for a living room DJ set. Diplo is consistently announcing these sets throughout the outbreak.
Wednesday, March 25
The War & Treaty
When: 9 p.m. ET
Where: StageIt
The spirited husband/wife duo are putting on a virtual concert this Wednesday.
Daniel Tashian
When: 3 p.m. ET
Where: @bigyellowdogmusic on Instagram
Nashville music firm Big Yellow Dog Music is bringing us #BYDCouchConcert, a recurring series featuring live music and Q&As. Thursday's performance is courtesy of Daniel Tashian, and the series will pick back up next week.
Rose Hotel
When: 6:30 p.m. ET
Where: @sadgirlco_ on Instagram
Atlanta indie singer Rose Hotel treats viewers to a live set from her living room. Requests welcome.
Thursday, March 26
Caitlyn Smith
When: 3 p.m. ET
Where: @caitlynsmith on Instagram
The country singer kicked off her "Lonely Together" Instagram live series on Tuesday and continues Thursday with special guest Mary Steenburgen. More episodes will broadcast next week.
Sarah Harmer
When: 8 p.m. ET
Where: @yoharmer on Instagram
The Canadian folk musician will take requests and perform songs in her living room following a canceled tour. She warns: "Professionalism not guaranteed."
Waxahatchee
When: 9 p.m. ET
Where: @waxa_katie on Instagram
On the eve of her new record's release, Waxahatchee's Katie Crutchfield will team up with Kevin Morby again this week for another night of interacting with fans, playing tunes and welcoming guests.
Saturday, March 28
Erin McKeown
When: 5 p.m. ET
Where: Erin McKeown on Facebook, YouTube & Instagram
Singer/songwriter Erin McKeown has been livestreaming her "Cabin Fever" broadcasts from her house since 2009, so this is just an average week for her. This week's episode is appropriately titled "Let's Co-Video Together!"
Erin Rae
When: 10 p.m. ET
Where: @erinraemusic on Instagram

The country singer will play a "sleepy time" Saturday night set for her Instagram followers. The poster instructs viewers to BYOB and "come as you are."
Ongoing
Preservation Hall Jazz Band
When: Everyday at 7:30 p.m. ET
Where: @preshallband on Instagram
You have to give it up to the legendary Preservation Hall Jazz Band—not only are they serving up livestream content, they're doing it everyday until further notice at 6:30 p.m. New Orleans time. Check out #ThePorchSessions sometime this week and "Keep your head up."
Vanessa Carlton
When: Everyday at 6 p.m. ET
Where: @vanessacarltonactual on Instagram
The pop singer will be performing two songs a day, every day, until further notice. She's also taking over the Paste Magazine Instagram on Wednesday, March 25.
David Ramirez
When: Everyday at 4 p.m. ET
Where: StageIt
Texas singer/songwriter David Ramirez is going live every day this week to raise money for the Health Alliance for Austin Musicians.
Brendan Benson
When: Everyday at 5:20 p.m. ET
Where: @brendanbensonmusic on Instagram
Brendan Benson will begin broadcasting solo sets daily at 5:20 p.m. ET (that's 4:20 CT, mind you) on Tuesday. This "Boy In A Bubble" series will feature songs from throughout his career as well as new material from his forthcoming Third Man Records album Dear Life.
Jeff Tweedy & Family
When: Everyday at 10:30 p.m. ET
Where: @stuffinourhouse on Instagram
Tweedy and co. gather nightly in their home to bring you a special broadcast of music and banter.
Cancelled Fest
When: Wednesday, Thursday & Friday at 8 p.m. ET
Where: Cancelled Fest 2020 on YouTube
Everything is getting cancelled, but not Cancelled Fest, which is bringing the best of indie to your living room. The three-day event kicks off Wednesday night with sets from Cartalk, illuminati hotties, Daniel Brouns and more.
Really Nice Fest
When: Wednesday at 5 p.m. ET, Thursday at 4:11 p.m. ET
Where: @reallyniceinsta on Instagram
A rotating selection of artists guest on Ron Gallo's Really Nice Fest. This week's guests include Natalie Prass and Eric Slick. The poster advises viewers to check back daily for updates.
Ben Gibbard
When: Nightly at various times
Where: Death Cab for Cutie on YouTube
The Death Cab frontman has been treating fans to acoustic sets night after night.