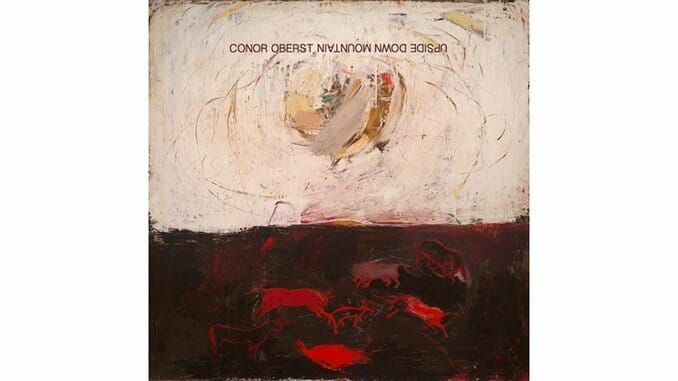 Upside Down Mountain is a great album from beginning to end—relaxed, assured and understated in its presentation.
At first it may be hard to figure out what's so appealing about Conor Oberst's latest album. After all, he doesn't have the best singing voice in the world—he's no Jim James when it comes to nailing a vocal. But, his style is honest and convincing, and I like to hear him sing. I have the feeling that no matter who else sang the songs on Upside Down Mountain, they wouldn't sound as good as when Oberst sings them. As with Bob Dylan, Oberst's vocal idiosyncrasies communicate a perspective that would be impossible for anyone else to emulate.
Conor Oberst is a great lyricist who can effortlessly tell a story, illustrate a scene and convey complex emotions without over-reaching. There's some angst in the situations his songs describe, but Oberst resists the temptation to become maudlin or mythologize suffering. There is the sense in many of the songs that Oberst has just come through to the other side of a life-changing experience. He delivers lines like "I see it all for what it is" and "most everything can be forgiven" simply and without artifice, proving that sometimes "less is more" when it comes to evocative lyrics. Songs like "Night at Lake Unknown" and "Common Knowledge" are blessed with natural turns of phrase and situations that suggest short stories rather than pop songs. Not many artists this side of Leonard Cohen can use words like "absolution" without a hiccup, and on songs like "Lonely at the Top," Oberst proves that you don't have to be a broken-at-the-knees Bob Dylan on the bad side of 60 to sing "there is no dignity in love" and have people believe you.
From a musical perspective, Oberst's compositions are melodic and beautifully performed. The instrumentation complements the music and never upstages or strains against the lyrics or vocals. For the most part, the arrangements are simple and lead by clear, ringing acoustic guitar melodies that are suggest Nashville Skyline or early-'70s James Taylor. In other words, there is no upstaging by all-star musicians, no unnecessary vocal treatments, techno flourishes or concessions to style. The songs are perfect as they are and don't require any adornment.
Any added touches such as the flamenco guitar and gentle West African rhythms on "Artifact #1" don't sound jarring and are seamlessly integrated into the song. The Swedish duo First Aid Kit add gorgeous back-up vocals to several of the album's best songs and deserve special mention for the beautiful depth they add to the arrangements.
Like Joni Mitchell's Blue or Bob Dylan's Desire, Upside Down Mountain reflects the era in which it was recorded but has a timeless quality that will transcend it. Every song on the album is ageless and built to last. Music this well-sung and well-played will never go out of fashion or lose its appeal. Upside Down Mountain is a great achievement and Conor Oberst's best work to date.