Watch Carrie Brownstein and Fred Armisen Skewer Coldplay in Mock Everyday Life Press Conference
Coldplay's forthcoming double album, Everyday Life, arrives on Nov. 22
Image via YouTube
Music
News
Coldplay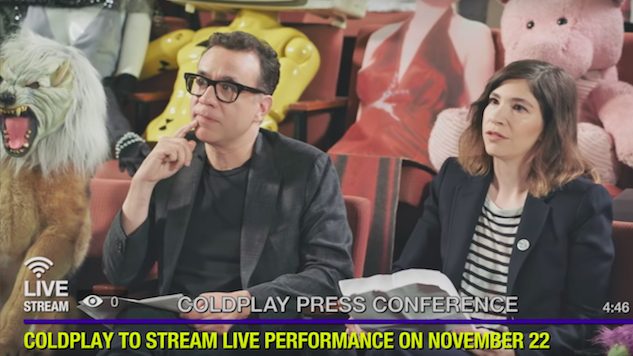 Coldplay are easy to make fun of, but the four British rockers have always been good sports. Their newly announced double album, Everyday Life, their first since 2015's A Head Full of Dreams, arrives on Nov. 22, and it made the list of our 10 most-anticipated albums of the month. Rumors of an "experimental" new record have been swirling for a while, culminating in an album announcement and the release of two new singles, "Arabesque" and "Orphans" (which unfortunately don't resemble anything close to avant-garde music, though they certainly open up a new direction).
Coldplay were also just announced as the musical guests for the next episode of Saturday Night Live alongside host Kristen Stewart. Hopefully, they'll make an appearance in a sketch, but until then, we have some other goofy Coldplay content to share: a mock press conference led by Portlandia stars Carrie Brownstein and Fred Armisen. The band is grilled by the pair (who are surrounded by a press core of wacky cutouts and stuffed animals) about their notorious "nice guy" vibe, their album cover, the death of pop music and more.
There was one piece of hard news that we learned from these hard-hitting journalists: The band is performing their new album in full from Jordan on its release date, and the show will be streamed live on YouTube.
Watch their spoof Everyday Life press conference below.