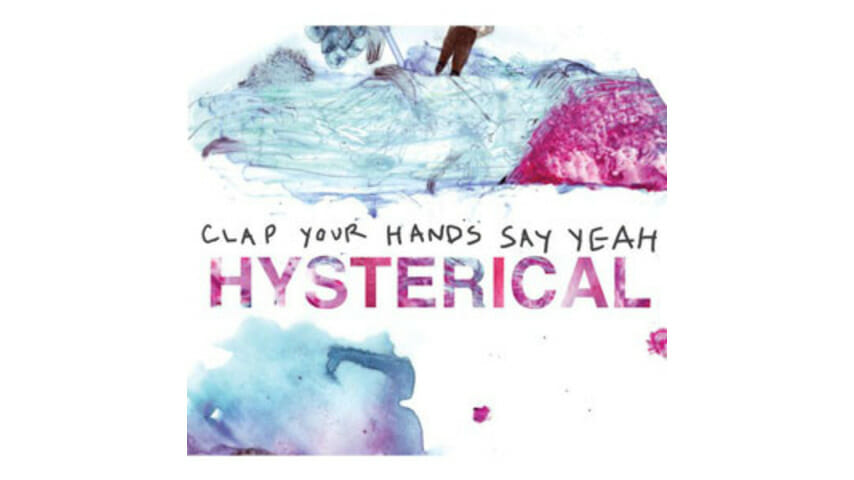 It is nearly impossible to think, talk and especially write about Clap Your Hands Yeah without referencing the band's fantastic, albeit drastically overhyped, 2005 debut. Both the music itself and the record label-less, internet-driven buzz have become something of indie rock folklore.
The Philly-Brooklyn rockers essentially redefined what an indie band could be in the modern age with their self-titled, achieving a level of success that they themselves certainly never expected, and—based on frontman Alec Ounsworth's well-documented reclusiveness—probably didn't even want in the first place. However, that album has presented its fair share of problems.
With 2007's Some Loud Thunder, CYHY did their best, and largely succeeded, to deliver a logical, listenable and pretty solid follow-up to their unintended magnum opus. And while reviews and sales were positive, there was a noticeable decline in the excitement surrounding the band and the album. Well, no shit. To replicate that kind of hoopla is even more mysterious and difficult than creating it the first time around. So, instead of forging ahead and putting out another underwhelming record, the band took a well-advised break to pursue various side and solo projects and maybe let people forget about Clap Your Hands Yeah for while.
Now they are back, but to save you from holding your breath, Hysterical is not their masterpiece. Upon listening to the 12 tracks that make up the album, one can't help but to envision a fate similar to its predecessor. Which is not to say there aren't great moments, there are, but as is the band's curse, it will probably not live up to the gold standard (read: Clap Your Hands Say Yeah) that fans and critics hold them to.
Hysterical opens undeniably strong. "Same Mistake" is a jam of epic proportions, complete with noticeable "The Skin of My Yellow Country Teeth"-esque drums and guitar line, and the spacey guitars on first single "Hysterical" lend an otherworldy vibe to Ounsworth's paranoid ramblings. The singer sounds clearer and on most of Hysterical's other tracks, the fuzz and friction are vintage Clap Your Hands.
As the record progresses, Ounsworth's obsessions with death and time—more specifically our inability to control either, become more and more evident. Whether he is reminiscing about trading sex for drugs as part of the joys of a "Misspent Youth" or thinking about his mother while on the road ("In a Motel"), Ounsworth can't help but to reflect on the past. And as a person thinking so much about death and one's own mortality is often prone to do, the haunted singer is no stranger to nightmarish freak-outs, as on the beautiful and messy "Into Your Alien Arms" and visions of ghosts, as on the album's sonically-escalating and darkly comforting closer, "Adam's Plane." But the dark topics generally go down easy to due to the abundance of hooks that pepper nearly ever track on the record.
Hysterical definitely boasts more strong moments than weak—the forgetful "The Witness' Dull Surprise" and the lumbering "Siesta (for Snake)" teetering on the latter category—and there is everything you expect from a Clap Your Hands Say Yeah record. It is danceable, weird, accessible and alienating all at once. But regaredless of the strength of most of the material, it will be the same fickle community of tastemakers that will determine whether the record pushes the band forward or leaves them confined to indie rock purgatory.
And maybe all this fuss of trying to shed the hype of their debut is something the band is completely unconcerned with and is more the product of over-analytical critics with too much time on our hands than anything else. They recently reissued Clap Your Hands Say Yeah on vinyl in June, so they clearly don't want us to forget it, maybe just realize that they can't make it again. If we can do that, there is plenty here to enjoy.