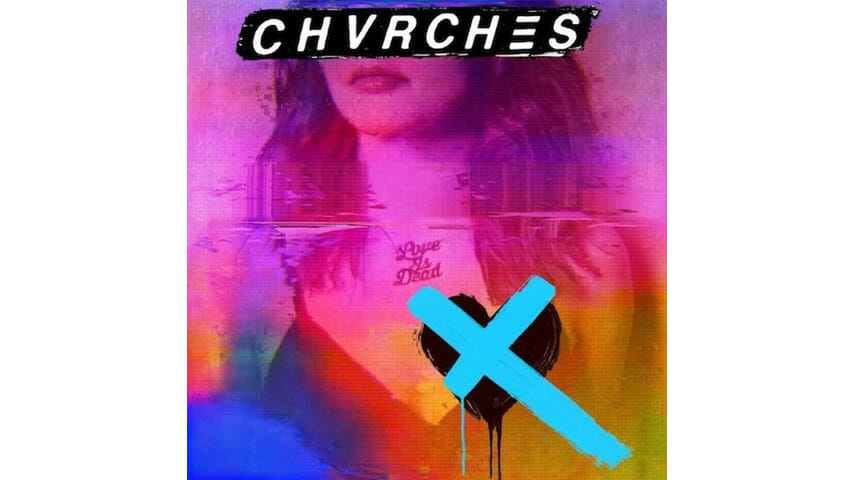 There's no small glory in purging pent-up emotions through giant hooks and a pumping synth beat, so Chvrches is worth celebrating for that alone. Yet one of the most striking things about the Scottish synth-pop group is how well each of trio's albums stands on its own: they don't seem like successive entries in a catalog that is building toward some all-encompassing Grand Statement so much as from-scratch recreations of specific feelings at distinct moments in time. Put another way, each of Chvrches' three LPs so far is an accessible way into the band's music, and you can dive in pretty much anywhere and come up with gold.
There's a lot about letting go on the group's latest, Love Is Dead: of old grudges, of toxic relationships, even of hesitation about honestly expressing oneself. For all the venting of psychic turbulence, Love Is Dead has a joyfully defiant feel, as if singer Lauren Mayberry is busily converting all the negativity in her life into sparkling, irrepressible pop melodies. The catharsis starts on album opener "Graffiti" as Mayberry lifts her voice in a soaring refrain that is at once effervescent and wistful on lyrics about leaving behind the promise, and also the folly, of youthful love. Lead single "Get Out" parses a fractured relationship over a clapping beat and a stylized stuttering vocal part on a chorus with insidious earworm potential, and the bittersweet "Heaven/Hell" could be about a disorienting relationship, or more likely a well-deserved victory lap for Mayberry's public stand against the misogyny and abuse that women in bands have been expected to endure. "Do you ever wonder what we learned? / We can raise our glasses, dancing on the ashes as it burns," Mayberry sings.
Love Is Dead contains moodier moments, too. Matt Berninger of the National is a perfect gloomy foil to Mayberry as they exchange recriminations on "My Enemy," while "Really Gone" pares back the atmospherics to a simple, pulsing synth part and Mayberry's mournful voice. Martin Doherty takes over on lead vocals on "God's Plan," his voice reverberating through layers of busy synths and a relentless, claustrophobic beat. That track comes in the second half of the album, where the energy flags a bit after a surging start. By then, though, Chvrches have been generous enough with the the hooks that it doesn't really matter. Think of it as coming down after a restorative night of dancing through your tears, and not caring one bit what anyone thinks. Love Is Dead brims with that kind of confidence: assertive but not showy, passionate but not gaudy, and wholly necessary.