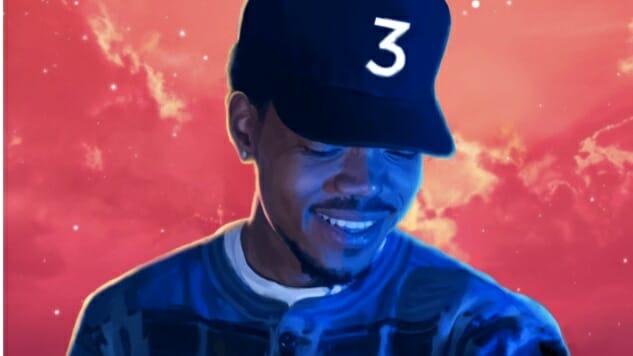 Last month, Chance the Rapper surprise-released four new singles, the prevailing of which is biographical rap number "I Might Need Security." On the track, he samples a foulmouthed Jamie Foxx stand-up bit, leaving little room for interpretation—a falsetto rendition of Foxx's "Fuck you" song underlays the entire track. It's a dig at Chicago mayor Rahm Emanuel and a declaration of Chance's new media mogul status, but the message of "I Might Need Security" feels darker than that. An echo of verbal flippings-off, while musically amusing, is a far cry from the immediately cheering verses of "All We Got," the pioneering track from 2016's Coloring Book. "I Might Need Security" signals the grim national mood, which is why it's an absolutely ideal time to revisit 2016 Chance's glowing optimism.
It's been a bleak year. Border separations, our president's friendly chats with not-so-friendly global dictators, gun violence's unrelenting cycle, an ugly political polarity in general—it's all seemingly inescapable. Joy can be hard to come by, and while social action is one (necessary) way to resist the vileness of it all, there are smaller ways to let the light in. And Chance the Rapper's Coloring Book, released in May prior to the absurdities that surfaced with the 2016 election, is not just a light: it's the sun when it comes to rap albums of late. Chance would have us believe that even if everything is at its worst—if music really is "all we got,"—that's not so bad. Coloring Book is an album for dark times, an effortlessly hopeful reminder that all will be well—if not now, then later.
Chance had a miraculously clear vision on his first wide-release record. The equally miraculous Acid Rap (though its once and future home is SoundCloud) is a summary of youth, but Coloring Book is a mature, yet accessible, celebratory display of one young person's experiences unveiled as a universal encyclopedia. It reflects a bountiful, unifying, unstoppable joy, one we could all use a share of right now. The ideology of the record, as well as the sonic elements, are staunchly religious. But you don't have to be a Christian—or even spiritual—to engage with the holiness of Chance's word.
On the athemic jump-starter "All We Got," Chance, with some help from Kanye West and the jubilant Chicago Children's Choir, reminds us that life is a dream, that "this is the holiest thing." The world's evil is of no concern to him—he might even "give satan a swirlie." In other moments of religious reckoning, the album's penultimate track, "Finish Line / Drown," feels as honest as any sermon, perhaps more so. A choir echoes a very timely sentiment—"The water may be deeper than it's ever been"—before fellow Chicago rapper Noname pleas, "Lord rain down on me so I can move on water," supported by an ocean of T-Pain-backed choral autotune and what sounds like a party in the church sanctuary. The tide is rising, but it's nothing we can't dance through.
On "No Problem," the album's instant hit and biggest radio success, distorted gospel samples—most certainly a product of Kanye's influence on Chance—matched to a hearty bass line make for a happily streamlined listening experience. Chance, Lil Wayne and 2 Chainz share in a sort of declaration of independence, with Chance walloping through lines about not needing a label (and two years later, he's proved he doesn't). Weezy's relaxed autotunes and Chance's expert confidence are enough to make anyone's day brighter. Other collaborations on the album—from the likes of Justin Bieber, D.R.A.M., Saba, Noname, Francis & The Lights, Anderson .Paak and many others—embody an inspiring fellowship. Coloring Book is deeply personal at times, but it's also a striking campaign for community. In 2018, as communities fragment, shift and butt heads, we might need a reminder that life's greatest "blessings" burgeon when we're together.
In its gospel melodies, spoken-word declarations and triumphant instrumental renderings, Coloring Book is church. Forget senatorial squabbles: If someone would only blast Coloring Book through the U.S. Capitol's halls, surely Congress would find themselves feeling more compassion? I'm in the frame of mind that everyone should experience the emotional, cathartic deep cuts of "Same Drugs," the organ-backed Harry Potter references and universality of "Finish Line / Drown," the slow burn of "Smoke Break." The album has highs and lows, but, by the end of its shining 57 minutes, I always feel on top.
I have a pesky feeling most of our lawmakers haven't listened to Coloring Book. But for those folks who have, it's essential, if only for the visions it paints of more connected communities, functional cities, hopeful millennials and music as a force for good. Chance was freshly 23 at the time of the album's release, but despite his youth, he still managed to create a big-picture album—Coloring Book is one that is just as meaningful today as it was in May of 2016, just months before Obama's presidency screeched to a halt and the America we knew changed.
Whenever I revisit Coloring Book, I feel more hopeful about America's future, and just in general. More than two years have passed since the album's release, and so much music has arrived since then that evokes a similar serotonin, but Coloring Book reigns as an uplifting, spiritual offering, an album that critiques hope as much as it encourages it. Chance points out in the aforementioned track "I Might Need Security," "I ain't no activist, I'm the protagonist," but, on Coloring Book, he just might be both.