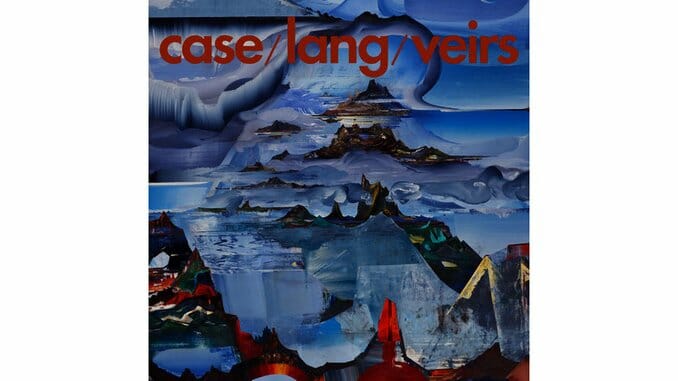 It takes more than great vocalists to make a great vocal collaboration. "You have to make sure your voices together don't sound like Gene Simmons singing with Scooby-Doo," the singer Jesse Malin once told me, referring to his duet with Bruce Springsteen on "Broken Radio."
That's not a problem for Neko Case, k.d. lang and Laura Veirs, whose unexpected partnership has yielded a stunner of a debut. The 14 songs on case/lang/veirs come with three distinct moods that reflect each musician's considerable strengths as singers and as writers. Case is the restless one, always on the move through songs at once evocative and mysterious. Lang is the torch singer, wrapping her sensuous voice alternately around tableaus of seduction and heartache. Veirs is the fantasist, conjuring scenarios worthy of Walter Mitty ("From the oriental rug you meet my gaze/ And all my desperation retreats into the haze," she sings on "Greens of June").
Together, they're a force, trading off on leads and joining together on backing vocals. They approach opener "Atomic Number" almost as a round, with each singer taking a line before merging their voices into a spellbinding whole on the refrain, as strings swoop over fingerpicked acoustic guitar and understated drums. Lang plays with vivid lyrical imagery on her songs, with Case and Veirs adding vintage-style girl-group interjections behind lang's vocals on "Honey and Smoke," and singing just beneath the Canadian star's lead on the aching "Blue Fires."
Many of Veirs' songs hew to the folk vein that characterizes much of her solo work, with a simple acoustic guitar part and twangy electric accents anchoring layers of rich vocal harmony on "I Want to Be Here," and an insular, compact feel on "Song for Judee," a melancholy tribute to the troubled 1970s singer/songwriter Judee Sill. On the other hand, Veirs also sings lead on "Best Kept Secret," the poppiest song on the record, with an earworm melody, lush orchestration and stacked harmonies from Case and lang on the chorus.
Case's songs recall her solo material, too, with cascades of trebly guitar surrounding her voice on "Delirium," and an unsettled, twilight feel on "Down I-5." It's a haunting song with jittery drums that frame gleaming piano chords and washes of noirish guitar, as lang and Veirs alternate between harmonizing with her and echoing her lead.
Though each singer takes the lead on songs that fit her individual style, no one brought tunes to the sessions. The musicians are said to have written the songs on case/lang/veirs for each other, from scratch—all the more impressive, given that they didn't really know each other before lang emailed the other two a few years ago to suggest they make an album. During their respective well-established careers, Case, lang and Veirs had traveled in fairly different circles, which made the initial news of their collaboration a surprise—one that lasted just long enough to realize how well matched they really are.