Caroline Rose Announces New Album Superstar, Shares First Single
Photo by Cara Robbins
Music
News
Caroline Rose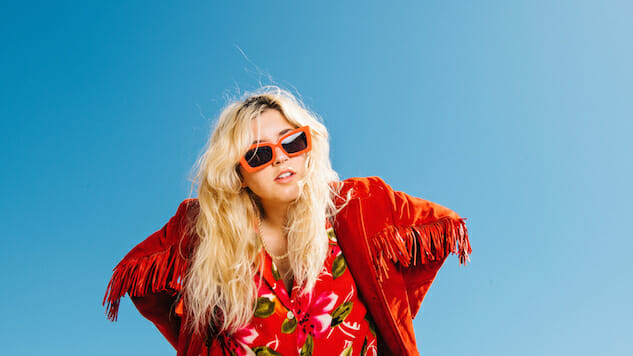 Indie pop singer/songwriter Caroline Rose has released her first new music of the year and announced the follow-up to her 2018 LP LONER. Her next record, Superstar, will arrive March 6 on New West. The news is accompanied by the first single, "Feel The Way I Want," and its vibrant music video, which you can watch below.
Rose directed the video, which was shot on an iPhone (though you'd never know it) over the course of an 11-day journey from Hollywood, Calif., to Hollywood, Fla., the same course followed by the short film's confused protagonist, who lands at the wrong Hollywood for an audition. It's funny and narrative in the vein of Rose's LONER videos, and of course stars Rose as our hero.
"To me, there's both humor and horror in hubris and what it takes in order to be successful," Rose said in a statement. "I wanted to make a story out of those parts of myself that I find largely undesirable and embarrassing, then inject them with steroids."
"Feel The Way I Want" bursts with the fueled-up synth-pop we've come to expect from Rose, though this song feels less satirical than many of the LONER jams and more forthright and personable.
Caroline Rose has also announced a new slate of North American tour dates, which you can find at the bottom of the page. Keep scrolling for the Superstar album art and tracklist.
Again, you can hear "Feel The Way I Want" below. Watch Caroline Rose play a song atop a Brooklyn roof in 2013 further down, via the Paste archives. Revisit the Paste review of LONER right here.
Read: The 50 Best Albums of 2018
Caroline Rose Tour Dates:
March:
06 – Albany, N.Y. @ The Hollow
07 – Burlington, Vt. @ Higher Ground Wed.
11 – Pittsburgh, Pa. @ Club Café Thu.
12 – Pittsburgh, Pa. @ Club Café
13 – Cleveland, Ohio @ Beachland Tavern
14 – Columbus, Ohio @ Skully's
25 – Brooklyn, N.Y. @ Music Hall of Williamsburg
26 – Cambridge, Mass. @ The Sinclair
27 – Philadelphia, Pa. @ Underground Arts
28 – Washington, D.C. @ Black Cat
April
01 – Iowa City, Iowa @ Mission Creek Music Festival
02 – Milwaukee, Wis. @ Turner Hall Ballroom
03 – Chicago, Ill. @ Lincoln Hall
04 – Minneapolis, Minn. @ Fine Line Music Hall
24 – Dallas, Texas @ Club Dada
25 – Houston, Texas @ White Oak Music Hall: Upstairs
26 – Austin, Texas @ Antone's
28 – New Orleans, La. @ Gasa Gasa Wed.
29 – Oxford, Miss. @ Proud Larry's
30 – Nashville, Tenn. @ The Basement East
May
01 – 03 – Atlanta, Ga. @ Shaky Knees Festival
Superstar Tracklist:
1. Nothing's Impossible
2. Got To Go My Own Way
3. Do You Think We'll Last Forever?
4. Feelings Are A Thing Of The Past
5. Feel The Way I Want
6. Freak Like Me
7. Someone New
8. Pipe Dreams
9. Command Z
10. Back At The Beginning
11. I Took A Ride
Superstar Album Art: