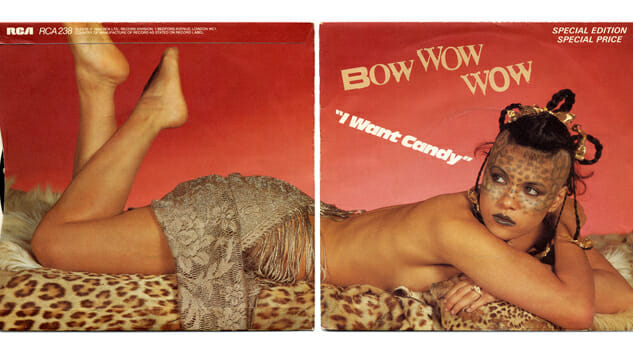 Men have dogs and women have diamonds, but a kid's best friend is still candy. Even in our age of technological-induced sensory overload, you'd be hard-pressed to find anyone between a toddler and a tween who isn't chasing a sugar rush. So, it's no surprise that a decades-old story about a poor boy with sweet dreams is still relevant today.
A new musical rendition of Roald Dahl's classic novel Charlie and the Chocolate Factory opened on Broadway last week at the Lunt-Fontanne Theatre. Adapted by David Greig with songs by Marc Shaiman and Scott Wittman, the play's depiction of Willy Wonka's wonderful world of confections has left us with one heck of a sweet tooth.
If you can't make it to Broadway, but still crave a glucose buzz, we've compiled a list of sweets-inspired tunes to satisfy your sugar fix. From X-rated licorice to shaking that Laffy Taffy, here are the 10 best songs about candy.
1. The Chordettes, "Lollipop"
What's hard, sweet and lickable? A lollipop, silly! This bizarre bubblegum hit from 1958 blends barbershop quartet vocals with candy-coated lyrics. Slightly sexualized, "Lollipop" refers to a lover of the same name—a man who's "kiss is sweeter than an apple pie." It certainly wasn't an accident that "Lollipop" was sung by ladies as opposed to gents, given the innuendo. But be forewarned: these lollipop lickers ain't all sugar, spice and everything nice: "Sweeter than candy on a stick / Huckleberry, cherry or lime / If you had a choice he'd be your pick / But lollipop is mine." Watch out.
2. Bow Wow Wow, "I Want Candy"
One of the most frequently used songs to depict teen crushes in '80s throwback rom-coms, Bow Wow Wow's cover of The Strangeloves' "I Want Candy" is irresistible. Comparing, yet again, an object of desire to a tempting confection, lead singer Annabella Lwin chimes, "Candy on the beach, there's nothing better / But I like candy when it's wrapped in a sweater / Some day soon I'll make you mine / Then I'll have candy all the time / I want candy…"
3. Tom Waits, "Chocolate Jesus"
Perhaps the only "candy" song on this list that doesn't allude to a hot young bod, "Chocolate Jesus" is about the body of Christ. Leave it to Tom Waits to write a ditty about "an immaculate confection" to use his own gravelly words. "Well it's got to be a chocolate Jesus," he sweetly snarls. "Make me feel good inside / Got to be a chocolate Jesus / Keep me satisfied."
The only thing Waits' character has a sweet tooth for is the Lord, and this certainly makes for the most pious song about dessert. Waits continues his sugary sermon, "Well I don't want no Abba Zaba / Don't want no Almond Joy / There ain't nothing better / Suitable for this boy / Well it's the only thing / That can pick me up / Better than a cup of gold / See only a chocolate Jesus / Can satisfy my soul." Holy Communion would be a lot more interesting with a chocolate Jesus.
4. Azealia Banks, "Liquorice"
Licorice is undoubtedly the most polarizing confectionary in America. Azealia Banks does this bittersweet treat justice with a hard candy rap you'll break a tooth on. Banks is appointing herself as the titular sweet, seeking out blander candies to exploit. "So since you vanilla men spend, can my hot fudge bitches get with your vanilla friends? / Hey, I'm the liquorice bitch, you know I'm looking for these niggas if these niggas is rich / I make hits, motherfucker / do you jiggle ya dick, when ya bitch pop singing on the liquorice hit / Ya know?"
We don't know, but we do appreciate the sweet subtlety in Banks' rhymes, such as the mention of her "molasses ass." Got cavities, yet?
5. Mandy Moore, "Candy"
Don't be distracted by the flagrant '90s product placement (VW Bug! Discman!) or the various forms of transportation (skateboard, motor scooter and car), Mandy Moore's "Candy" is really about addiction. "I'm so addicted to the loving that you're feeding to me / Can't do without it, this feeling's got me weak in the knees / Body's in withdrawal every time you take it away." But is she talking about love? Or drugs? Or high fructose corn syrup?
Though this 1999 hit boasts 12 individual writing credits, all 12 of those writers decided to build a song around the fact that "Mandy" rhymes with "Candy." Hence this little mid-song morsel: "You know who you are / Your love is as sweet as Candy / I'll be forever yours / Love always, Mandy."
6. New Edition, "Candy Girl"
There's something so natural about a pack of kids singin' about candy, albeit less so when it's a device for sexual undertones. The '80s boy band New Edition were in that sweet spot of adolescence when this song came out in 1982, when they can sing about candy and girls and not sound entirely creepy: "My girl's like candy, a candy treat / She knocks me hot up off my feet / She's so fine as can be / I know this girl is meant for me."
7. MC Pee Pants, "I Want Candy"
A rare song that is actually about candy, Aqua Teen Hunger Force's MC Pee Pants (aka MC Chris) can spit bonbon raps with the best of 'em: "I want candy / Bubble gum and taffy / Skip to the sweet shop with my sweetheart Sandy / Got my pennies saved, so I'm her sugar daddy."
This confection-obsessed MC is not about to hand over his stash, but he will share some with bae. "I want candy! / Put it in a pile / Split it wit my biddy / Fiddy-fiddy, down the line / Kinda like Close Encounters of the Cavity Kind / I'm talkin' licorice kisses / Talkin' chocodile smiles." It actually sounds kind of sentimentally sweet.
8. Marcy Playground, "Sex And Candy"
This Marcy Playground song from 1997's reveals the candy motif for what it really implies—sex. Lead singer John Wozniak lulls, "I smell sex and candy here / Who's that lounging in my chair / Who's that casting devious stares / In my direction / Mama this surely is a dream." Wrapped in images of "double cherry pie" and "disco lemonade" (whatever that means), this slow-burning ode to seduction is sure to stick in your head.
9. Iggy Pop, "Candy"
"Candy," a 1990 duet with B-52's' Kate Pierson, is about love gone sour and nostalgia for the sweet days. Iggy laments, "Candy, Candy, Candy I can't let you go / All my life you're haunting me / I loved you so / Candy, Candy, Candy I can't let you go / Life is crazy / I know baby / Candy baby."
So while it seems like this track is simply about a woman named Candy, who's to say that Iggy Pop doesn't have a sugar addiction, too? This is the man who wrote "Dum Dum Boys" after all, and while that song is, yes, about drugs and death, there is still a little wink to lollies in the title.
10. D4L, "Laffy Taffy"
Armed with a throng of euphemisms, D4L show their love for a truly underappreciated sweet, Laffy Taffy. They do so in their own not-so-subtle way, though, rapping, "Girl, shake that laffy taffy / That laffy taffy / That laffy taffy (candy girl)."
The group is quite clear when illustrating their intentions for this laffy taffy woman with lines like, "Girls call me Jolly Rancher / Cause I stay so hard / You can suck me for a long time (Oh my God!)" It may not be a Pablo Neruda poem, but it gets right to the caramel center: In D4L's ooey gooey world, the club "…ain't no dance flo' / This a candy sto.'"