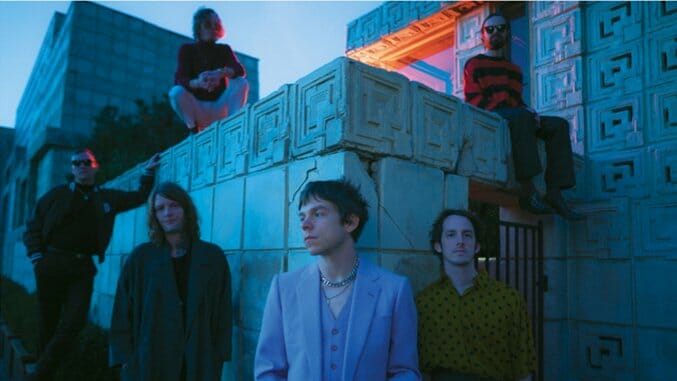 Cage The Elephant, the staple alternative-rock band, shared a new single "Broken Boy" on Thursday. "Broken Boy" appeared as the first track on their latest album Social Cues, but now features the "Godfather of Punk" Iggy Pop for a new twist with some punk flavor.
"Broken Boy" fades into the eerie sounds of what reminds us of the title track from the popular '80s-inspired TV show Stranger Things. With futuristic synthesizer sounds and a feature from an '80s superstar, "Broken Boy" sounds like a blast from the past. As the volume creeps up, so do the drums, and as the angsty banging away on the drum kit gets louder and louder, it almost becomes deafening.
With a Stranger Things intro and sloppy, fast-paced, punk-style drumming, it's kind of confusing what kind of genre this might be, or if this is even Cage The Elephant at all. However, 30 seconds in, we're blessed with the nostalgic sounds of classic Cage The Elephant. Lead vocalist Matt Shultz comes in with his raspy voice that's defined the sound of 2000s alternative rock and their classic bouncy guitar riffs take us back to classics off their 2015 album Tell Me I'm Pretty.
Featuring lyrics of true rebellion, "Broken Boy" goes full punk with Shultz coming in with, "I was born on the wrong side of the train tracks and I was burned by the cold kiss of a vampire." Shultz sounds like a boy who is truly broken; angsty teen vibes at their finest.
Adding the twist to the already-released song, Pop comes in with, "Tell my why I'm forced to live in this skin / I'm an alien," making us a little concerned about whether this boy they're singing about is genuinely okay, considering the fact that he feels like an alien after being burned by vampire kisses. Just a normal day.
The Stooges front man has still got it, and the collaboration of messy, head-banging punk and alternative rock mesh beautifully together to create something new.
Cage The Elephant begin their U.K. and European tour Feb. 16, featuring special guests SWMRS and Post Animal. Shows run till the end of March—more info here.
You can listen to "Broken Boy" below, plus throwback Cage the Elephant and Iggy Pop performances from the Paste archives.