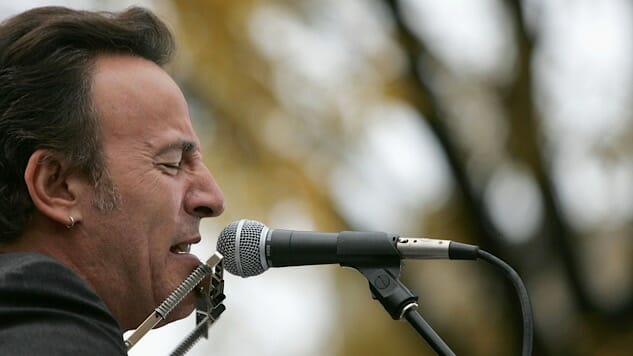 We're sure everyone caught Sunday's Emmy opening skit in which Jimmy Fallon and fellow tramps perform Bruce Springsteen's seminal hit "Born to Run," right?
Well, not to say we didn't think that castmembers of Glee, Joel McHale, Tina Fey and others didn't totally serve justice in their remake (although did anyone else catch Fallon's fingers move on that guitar neck once?)—nay, we felt inspired by the performance and decided to compile a list of our favorite tributes to the only Boss we'll ever listen to.
10. Vampire Weekend: "I'm Going Down"
We knew that the preppy Vampires dug Peter Gabriel, but who knew what a mean job they could pull on a Brucie classic? No word yet on the cover appearing on any future albums, but we can bet if it ever does, the artwork will not feature a blonde '80s hottie.
9. Tegan and Sara: "Dancing in the Dark"
The sister duo perform the song/video that launched Courtney Cox's career as part of the Hangin' Out On E Street video series. The Quin sibs dump just enough candy coating so the cover emerges sugary sweet and not a sticky mess.
8. Nitty Gritty Dirt Band: "Cadillac Ranch"
As if Springsteen wasn't already good drinking music. The Californian country-rockers throw you right onto the mechanical bull with a tumbler of stale whiskey in hand with this joint.
7. Bat for Lashes: "I'm on Fire"
Appearing as a bonus track on 2006's Fur and Gold, Natasha Khan warps the originally thigh-burning dittie into something bittersweetly heartbreaking.
6. Camera Obscura: "Tougher Than the Rest"
Tucked away a B-side to the Scots' single "The Sweetest Thing," douse the slow number from Tunnel of Love with dash more dusty, distance in the guitar. Tracyanne Campbell's chaste vocals paired with Springsteen's mildly macho lyrics make for a lovely contradiction.
5. Tortoise and Bonnie "Prince" Billy: "Thunder Road"
This take sounds infinitely synthier and more pastoral melancholy pipework than the Boss' first go. "Thunder Road" slams the screen-door on avant-garde instrumentalists Tortoise and lo-fi chameleon Bonnie "Prince" Billy's combo cover effort, The Brave and the Bold.
4. Casiotone for the Painfully Alone: "Born in the U.S.A."
Owen Ashworth tackles the Fourth of July staple ballad seemingly sans vocals … and then, under a little strain, you notice that the chorus totally remains — only this time around, it's more talk-boxy than Frampton. And speaking of synth! This cover positively drips with it.
3. Johnny Cash: "I'm on Fire"
The Man in Black obviously comes equipped to ignite a matching fire within the listener with this cover. He probably wouldn't even care if your daddy was home.
2. David Bowie: "It's Hard to be a Saint in the City"
Glam god Bowie might not be the most obvious choice for an artist to remake the red-bandana-rockin' Springsteen. Featured on Sound+Vision, the diamond dog takes on a diamond-hard look and reimagines the Brucie's debut in a most glittery and inventive way.
1. The Hold Steady: "Atlantic City"
When anyone tries to explain The Hold Steady to anyone, "Springsteen-esque" typically comes up. And even though Craig Finn and his boys from Brooklyn positively thunder through the piano pitch-perfect to the original, it is no way, shape or form a carbon-copy. Instead, it's like how the Boss would've done it, had he started rocking just a few decades later.