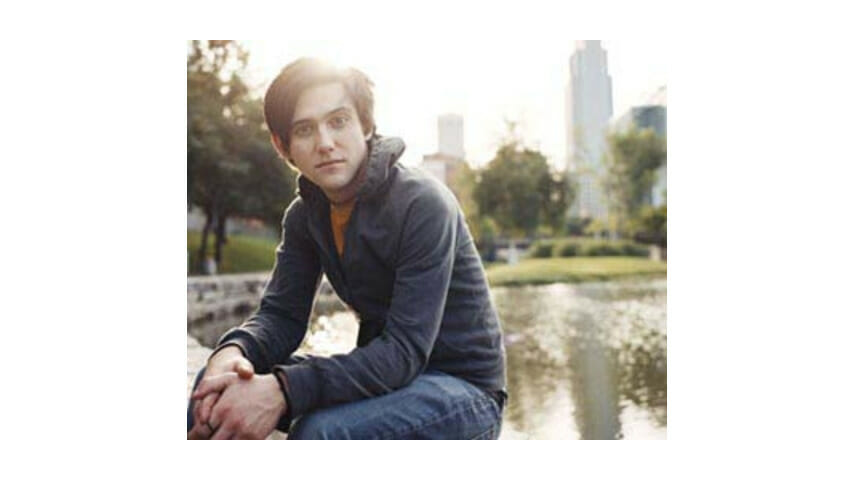 The last few months have been a whirlwind for Conor Oberst. The wunderkind singer/songwriter behind popular indie band Bright Eyes spent last October performing alongside artists like R.E.M. and Bruce Springsteen as a part of the Vote For Change Tour, and just last week he released two divergent LPs to critical acclaim. Needles to say, fans have been more than eager to see these new songs performed live and the tour has been a hot seller.
During a recent stop at Washington, D.C.'s 9:30 Club, Oberst and his band performed tracks from "the country record" I'm Wide Awake It's Morning. (Another tour in support of the more electronic Digital Ash in a Digital Urn is planned for the spring.) Even with a sold-out club and a national broadcast on NPR's "All Songs Considered," Oberst maintained the edge that has earned him both a cultish fan base and a growing number of rave reviews.
Ever aware of his Capital-city surroundings, Oberst performed his songs of faith, doubt, love, and war unflinchingly from the first note. With his voice cranked up in the mix, his much-talked-about lyrics were front and center. I'm sure it's tough to continually be tagged your generation's greatest songwriter, especially at 24 years old, but after being bombarded with one amazing tune after another, the argument didn't seem so far-fetched. Oberst delivered from the beginning, when he jumpstarted the show with his impassioned call to action, "At the Bottom of Everything."
"We must talk in every telephone, get eaten off the web
We must rip out all the epilogues from the books that we have read
Into the face of every criminal strapped firmly to a chair
We must stare, we must stare, we must stare
We must take all of the medicines too expensive now to sell
Set fire to the preacher who is promising us hell
Into the ear of every anarchist who sleeps but doesn't dream
We must sing, we must sing, we must sing."
With his acoustic guitar joined by the full support of drums, bass, keyboards, mandolin and trumpet, Oberst spun tales of everything from war protests to broken-hearted subway rides, the set consisting almost entirely of songs from Wide Awake, with their lush instrumentation and confessional verse.
Midway through the evening, Oberst performed a solo rendition of the scathing ballad "When the President Talks to God." "I'm singing this one extra loud tonight," he told the lively crowd before breaking into song. "Maybe they'll hear it across town."
"When the President talks to God
Are consonants all hard or soft?
Is he resolute all down the line?
Is every issue black or white?
Does what God says ever change his mind
When the president talks to god?"
The highlight of the show came not at the peak of a blistering guitar solo or rousing political sing-along but instead from a hushed acoustic number as Oberst opened his encore solo with the hauntingly beautiful new single "Lua." After cheering raucously, the crowd quickly fell into a near hush, setting the stage for this song's affecting story of alienation and loneliness. Oberst was again joined by his band for the inspired closer "Road to Joy." The loud, twangy reworking of Beethoven's ninth symphony served as an engaging bookend to the evening.
While many things have been changing in the world of Bright Eyes some things remain steady. While Oberst has become an outspoken critic of incidents like the Iraq War and the business practices of corporations like Clear Channel, he's still capable of delivering on the same self-reflective and eloquent—if not depressed—work he's always excelled at:
"When everything is lonely, I can be my own best friend.
I get a coffee and the paper; have my own conversations
With the sidewalk and the pigeons and my window reflection.
The mask I polish in the evening by the morning looks like shit."
-(from "Lua")