Beach Boys, Sans Brian Wilson, Celebrate 50th Anniversary with New Concert Tour
Photo via Capitol Records
Music
News
Brian Wilson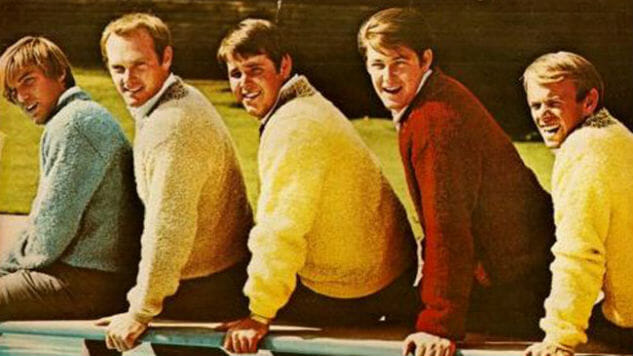 The Beach Boys, the legendary, best-selling, hugely influential American rock band that produced iconic hits like "Little Deuce Coupe", "California Girls", and "Surfin' U.S.A.", has announced a sweeping North American anniversary tour entitled "50 Years of Good Vibrations". The band has been a staple in American pop culture consciousness since the release of their landmark album Pet Sounds in 1966, famed for their revolutionary recording style, smooth harmonies and feel-good music about California youth culture.
The tour extends through December 2016 and is slated to feature all the band's biggest hits, fan favorites and crowd pleasers. Notably missing founding member and prolific songwriter Brian Wilson, the touring band is composed of original members Mike Love and Bruce Johnston as well as Scott Totten, Jeffrey Foskett, Brian Eichenberger, Tim Bonhomme and John Cowsill. Several special shows are lined up over the course of the extensive tour, including performances at PBS's National Memorial Day Concert this Sunday in honor of American soldiers and veterans and a July 4 performance on Coney Island Boardwalk, as well as a performance with full orchestral accompaniment in partnership with the National Symphony Orchestra in honor of the half-century anniversary of Pet Sounds.
The absence of Wilson on the tour, no matter how unsurprising given his shaky history with the rest of the members since 1988 and successful solo work, is nonetheless a blow to Beach Boys fans everywhere. Wilson is responsible for penning many of the band's major hits, including the eponymous song for which the tour is named. However, co-founder and lead singer Mike Love (a cousin of Wilson's) will embark on the tour prior to the September release of his memoir, entitled Good Vibrations: My Life as a Beach Boy, co-written by bestselling author Jim Hirsch.
Ticket sales for the tour, as well as VIP packages, can be purchased here or here. VIP packages, which are limited and available in either Gold or Platinum, allow fans to enjoy backstage access, Q&A sessions, photography with the band and autographed memorabilia including copies of the memoir. Full tour dates can be found "here" – be sure to take a trip down memory lane by listening to the Beach Boys' session below: