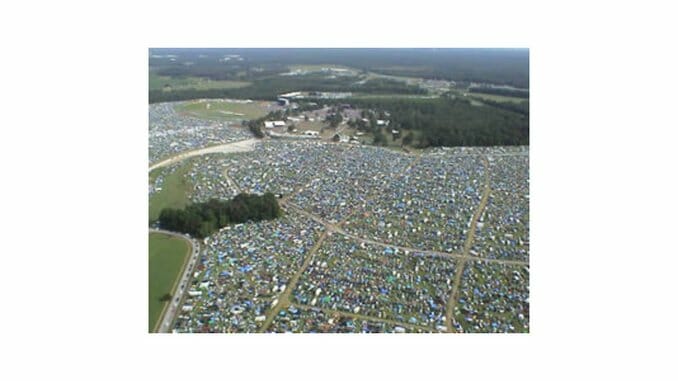 MANCHESTER, TENN. — The metaphorical black clouds that have shadowed the music festival world in recent weeks steered clear of the second-annual Bonnaroo Music Festival, allowing 85,000+ sleep-deprived and sunburned fans to have a field day on a muddy 600-acre farm just south of Nashville, Tenn. A.C. Entertainment and Superfly Presents, who were forced to cancel the spin-off Bonnaroo N.E. just three days earlier due to permit problems in Riverhead, N.Y., upped the ante in the flagship event's second year by booking an eclectic cadre of artists that expanded the jam-centric boundaries of the festival's first-year lineup.
Diversity was the name of the game on day one, which featured something for everyone. Leading off were the amped-up sounds of My Morning Jacket, the party-funk of New Orleans' Rebirth Brass Band and the quirky power-pop of 21-year-old Ben Kweller. On the main stage, Jack Johnson's easygoing surf-folk provided an appropriate soundtrack for the 85-degree sunshine. G. Love sans Special Sauce made the first of the day's many guest appearances, adding harmonica and guitar on a few tunes. Johnson's buddies, Ben Harper and the Innocent Criminals, followed with a two-hour set that blended cuts from their five-record catalog with choice covers of Marvin Gaye's "Sexual Healing" and Bob Marley's "War" and "High Tide, Low Tide," the latter getting an acoustic treatment with Johnson on guitar and vocals.
The day's standout performance came from Lucinda Williams, who showed the second-stage crowd why Time called her the greatest American songwriter. Emmylou Harris, whom Williams called the "Grace Kelly of country music," came onstage to help out on "Greenville" and the set-closing "Sweet Old World." I haven't been overly impressed by Williams' latest, World Without Tears, but the energy and attitude she and her band breathed into the newer songs – most notably "Sweet Side" and "Righteously" – convinced me to spend more time with the record.
No matter how much bouncing around you do at a festival like Bonnaroo, seeing and hearing everything proves impossible. Harper's time slot presented some tough decisions – he went head to head with Sonic Youth and Belá Fleck – and the heat and humidity leaves you no choice but to take an evening nap if you want to be wide awake for a late night act like the Funky Meters. My nap – the first hours of shuteye I'd logged in nearly 36 hours, thanks to being stuck in traffic from 9 p.m. Thursday until 10 a.m. Friday – came between Harper and the night's headliners, Neil Young and Crazy Horse, who coasted the sea of festival-goers out of the blue and into the black with a twilight set that included stretched out versions of "Hey Hey, My My," "Down by the River" and "Powderfinger."
Bonnaroo, which for three days became the sixth-largest city in Tennessee, was much more than a mega concert – it was a 24-hour experience unlike any other. It was a place where bands like Particle started at 4 a.m. A place where you could catch a 7:30 a.m. screening of Willy Wonka and the Chocolate Factory, play vintage arcade games like Q-Bert and Donkey Kong, or download music and e-mail set lists to friends back home in an AOL multimedia tent. A place where you could wander the campgrounds – each named for a different hairstyle – in search of garlic grilled-cheese sandwiches, veggie burritos, handcrafted tapestries or cheap beer. It was also a place where responsibilities – and most laws – seemed miles away. Mixed company took on a whole new meaning at 'Roo II. Trust-fund hippies from Vanderbilt waited patiently in 15-minute porta-john lines alongside accountants who decided to "rough it" for a few days. West Coast burnouts peddled bootleg t-shirts on the shoulder of Highway 41, as SUVs and VW vans caterpillared their way toward the festival entrance. Despite the searing heat, everyone seemed to be looking out for each other.
My Saturday wakeup call came in the form of the sweet reggae sounds of the Wailers, which segued nicely into well-attended sets from Emmylou Harris and Spyboy (featuring Buddy Miller), young bluegrass hotshots Nickel Creek and pedal-steel phenom Robert Randolph, whose career received a major boost by his performance at last year's festival. The timeless Southern rock of the Allman Brothers Band primed the main stage crowd for a three-and-a-half-hour Widespread Panic show that featured appearances from everywheremen Warren Haynes and Randolph, who joined up with Panic's George McConnell to create an all-out guitar assault on J.J. Cale's "Ride Me High."
The weekend's first substantial rainfall began to accumulate as the crowds trudged on to catch Medeski, Martin and Wood and the Flaming Lips perform in two giant tents set up in the site's main drag, Centeroo. Accompanied onstage by a dozen or so fans dressed in various animal costumes, Lips frontman Wayne Coyne launched into "Waitin' for Superman" against a backdrop of giant movie screens, confetti and balloons. The Yoshimi spectacle continued until close to sunrise, giving the crowd little choice but to greet day three running on fumes.
When my camp began to stir around 9 a.m. on Sunday, reality quickly set in. Realizing we all needed to get back to work on Monday morning, we reluctantly packed up and hit the road to avoid what had the potential of being another 24 hours of muddy gridlock. Unfortunately, that meant missing the final string of performances, which included the North Mississippi All Stars, James Brown, Galactic and The Dead. Oh well, there's always next year.