Ezra Koenig and Justin Vernon Talk High School, Pressures of Tour and More on Time Crisis
Photos via Kevin Winter/Getty, JSN Photography/WireImage, Beats 1
Music
News
Bon Iver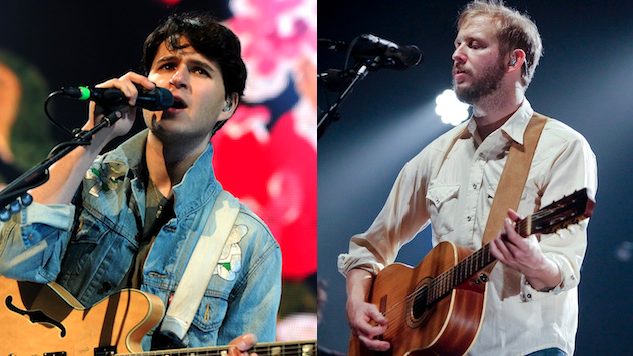 In a remarkable meeting of the indie minds, Bon Iver's Justin Vernon sat down with Vampire Weekend frontman Ezra Koenig on his Beats 1 show, Time Crisis. Koenig's show, which began in 2015, has featured a variety of other heavyweights—Florence Welch of Florence + The Machine, Azealia Banks, Dave Longstreth of Dirty Projectors, Ed Droste of Grizzly Bear, Dev Hynes of Blood Orange, and T-Pain, among others—but he says this episode "feels like we're a real show now, [with] a real guest" joining him in the studio.
Koenig's and Vernon's projects rose through the ranks along a similar timeline, but the two aren't quite sure when or how many times they've met each other before. They share the "weird, kind of dark" experience of their first and possibly only previous meeting at a "brutal" Minneapolis sports bar, Sneaky Pete's, after a sold-out Vampire Weekend show: "There's a chance we never met," jokes Vernon. "That's how sneaky Pete is."
We also get an overview of Vernon's high school life and early musical experiences in Eau Claire, Wis., where he still lives today and hosts the Eaux Claires music festival. We learn he was captain of the football team while loading up on music courses and listening to Rickie Lee Jones and Indigo Girls on the way to games. Koenig suggests Vernon's tastes must have made him an anomaly surrounded by rural Limp Bizkit fans. "Nobody was all one thing" in Eau Claire, clarifies Vernon. "It was rare to see just a metalhead or just a hippie"—even in "peak nu-metal" 1999.
Further highlights arrive when Vernon reminiscences on dropping acid with Dead & Company and (possibly) John Mayer and when Koenig and Vernon share their feelings of isolation amidst the stresses of touring and giving interviews. "I seriously could not handle another moment of reflecting upon myself," says Vernon of his decision to pull back on press for 2016's 22, A Million. The two also take up popular food culture, a favorite Time Crisis topic, debating the merits of Starbucks, Chipotle and Flamin' Hot Cheetos.
Listen to the full two-hour episode here, plus Vampire Weekend and Bon Iver performances from the Paste archives below.