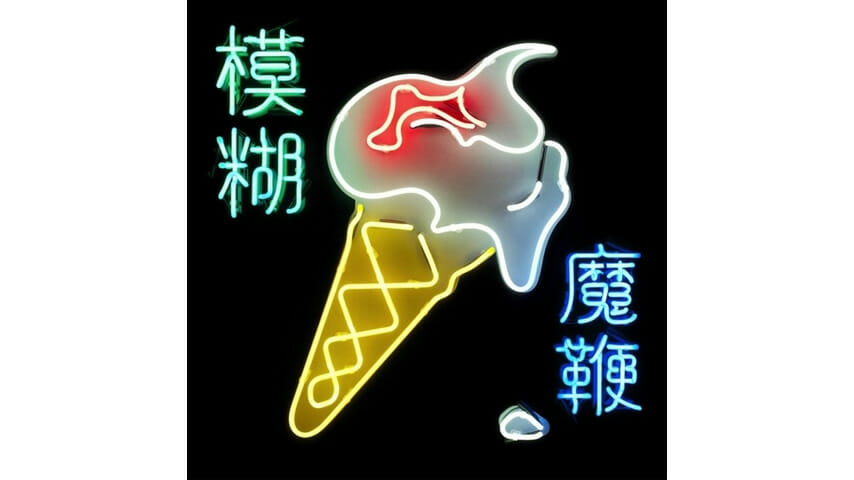 Promises of a new Blur album have been making headlines for years. Damon Albarn is quick to run his mouth, suggesting new material is in the future one week and then completely shutting down the possibility of a Blur reunion the next. So when the Britpop group announced they would be releasing their first new album in 12 years, The Magic Whip, fans were genuinely surprised. Frankly, so was Blur.
Albarn, Graham Coxon, Alex James and Dave Rowntree were touring Asia in the spring of 2013 when music festival Tokyo Rock was abruptly called off due to disorganized management. With a five-day break in their schedule and no dates to attend to, they took shelter in a tiny recording studio in Hong Kong, jamming with no goal in mind. The 15 songs they drafted up were set aside once they got back on tour. Almost a year later, Coxon revisited the tracks and, after roping in Blur's early producer Stephen Street, presented the material to the band. There was no denying it. They had made an album, and it happened to be their first in 16 years with the original four-piece lineup.
With a lack of intent comes the ultimate creative freedom. The Magic Whip outlines a Westerner's lonely wandering through the daily mannerisms and unintelligible characters of a country to which he is foreign, in this case China. The sense of detachment that unfamiliarity provides can be simultaneously unnerving and encouraging, offering a new opportunity to find yourself while still facing isolation in a crowd. Coxon bailed in 2002 to pursue a solo route. Albarn did the same once 2003's Think Tank wrapped, trying his hand at film scores, operas and trip-hop rock via Gorillaz. Once reunited on tour, Blur were no longer thinking through their own individual mindsets. They thought as a unit, and that's what they needed. A decade apart allowed them to look with new eyes while simultaneously being forced to feel out of place in Asia, the kind of creativity gap that allows for paintbrushes and crayons to hold the same excited possibility that they did when you were three.
The Magic Whip begins with that giddy, childish excitement. The chipper flash of "Lonesome Street" hits like a media-curated image of Hong Kong, full of neon lights and petite lanterns. Coxon's guitar splashes back into Blur's sound with off-kilter riffs while bubblegum backing vocals echo Parklife material. "New World Towers" seems tied to Albarn's melancholic drawl on last year's Everyday Robots. Lead single "Go Out" stomps with prodding bass and eerie, sinister vocals that harken back to their Great Escape days. After Coxon and Street's tinkering, the band found themselves cradling an infant, and that new member of their discography's family has undeniable blood ties to their past work. Put simply, The Magic Whip belongs.
As reminiscent as the album is, it never once sacrifices surprises. They test dub-reggae on "Ghost Ship," Gorillaz-style sing-alongs on "Ong Ong," and experimental jams on "Thought I Was A Spaceman." Even "Pyongyang" sees Albarn singing about the capital of North Korea as a disgruntled outsider, his words masked by a surf guitar line, wood block strikes and a cold drum machine. It's a courageous move, reinforced by the album's other midtempo ballads. Even the essential Blur stylings of "I Broadcast" ride on peculiar electronic beeps. Blur have always been on the fringe of Britpop, staying just shy enough of cliché riffs and feel-good choruses to rope in enough absurdities to set them on their own path, but The Magic Whip pushes them deeper into that realm.
Throughout it all, Albarn tackles political commentary and weary cultural digestion with vague lyrics. When that initial detachment is revisited on electronic suite "There Are Too Many of Us," it becomes frightening. "For a moment I was dislocated by terror on the loop elsewhere," he sings, recounting an Australian hostage crisis which he watched through the screen of his hotel room television. The flooding of people, the enormity of our species, and the statistical impossibility of registering each human as a breathing, thinking, complicated individual slaps him hard across the face. No one can fix your problems for you, and no one would bother to do so even if they could. We compete for the top seat, climbing our way up, away from murders and disease and crises, clawing at one another until a small faction reach the top and lay back flat, breathing in the crisp air of safety. It repeats day after day, and, as Albarn outlines, we're quick to feel disconnected from it.
Still, the lyrics take second place on the album's emotional peak, "My Terracotta Heart," with Coxon's riffs zipping ahead, undeniably claiming the spotlight. It's as much his return as it is the band's. The song's ballooning goes head-to-head in a backseat battle of a glissful, melancholic melody versus hurried percussion. Once greeted by the finale, "Mirrorball," all four members hold back in restraint, resulting in an inexplicable tension towards life itself instead of one another. As Albarn laments "Before you log out, hold close to me," we're left musing on the band's middleground sound—but only momentarily. The silence that follows makes the 12 tracks before it glisten. Britpop's giants are back, and they sound surprisingly the way we had hoped they would: melodic, contemplative and content as a single unit.