The New Björk Video "Arisen My Senses" Is Her Hottest to Date
Images via One Little Indian, Jim Dyson/Getty
Music
News
Björk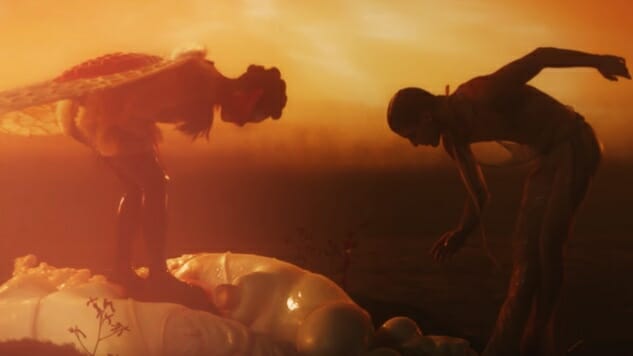 Björk has already released videos for "Utopia," "Blissing Me" and "The Gate," and at this rate, we're on track to have an otherworldly visualizer for every song on Utopia. Perhaps that's what the rulers of the Björkian realm intended.
This one, "Arisen My Senses," is a pulse of synthesizers courtesy of the very attractive and talented Arca, who appears in the video tethered via alien umbilical cord to an alien womb (he wears a leather bondage outfit). The concept of pressure is physically embodied in the video, as Björk and Arca ready themselves for birth into a universe the color of fire, and bow to one another.
It's as if Björk, pictured first as a fully formed fetus enclosed in a capsule of light, is feeling the world through the tongue coming out of the proverbial opening. When she finally does emerge as an angel, the focus is on her mouth—her tongue, which promptly licks all of her lipstick as the camera cuts back to the womb. This is the best explanation we've got: It's hot.
"Arisen My Senses" is directed by Jesse Kanda, who also worked with Björk on an incredible Dazed cover, among other projects. You can watch the video via WeTransfer here, and check out our review of Bjork's last album Vulnicura here.
i am incredibly honoured to have gone on this spectacular trip with @jessekanda , @arca1000000 & james merry , to get together to express from our mutual melting pot the music and the visuals to this ! warmth , björk

watch arisen my senses on @WeTransfer: https://t.co/sKVJN8guEbpic.twitter.com/nVEOMQ497U

— björk (@bjork) December 18, 2017