Björk Scores NYC Hotel's Lobby with AI-Enhanced Choral Arrangements
Photo by Santiago Felipe
Music
News
Björk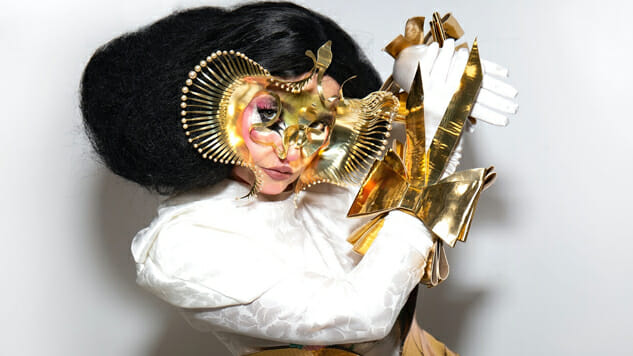 Building off last year's generative score produced by American artist Julianna Barwick, NYC hotel Sister City is now hosting an AI-assisted installation of choral arrangements created by Icelandic auteur Björk. Using Microsoft AI technology, the score is a 24/7 installment that interprets and learns from a rooftop camera pointed at the sky to create live, one-of-a-kind compositions in the hotel's lobby. The score is titled Kórsafan, which roughly translates from Icelandic as "choral archives."
The previous, Barwick-helmed installation, titled Circumstance Synthesis, was capable of identifying the presence of clouds. Björk builds upon this by allowing the AI to detect the density and type of cloud, as well as identifying various other objects in the sky, notably flocks of birds. As the seasons change, the AI will learn and adapt to new weather patterns and the music played therein will evolve further. Given that the score is made up of over 17 years of Björk's own choir archives, the score will have near-infinite options in how it expands, grows and breathes.
Björk has notably spent most of her later career integrating music and technology. Her 2011 album Biophilia manifested as a large multimedia project, with each song being released as an app that worked as music sequencers, mobile games, drum machines and more, allowing the user to view and toy with each's song's composition. Biophilia also had several instruments that were invented specifically for the album, including a Tesla coil used as a bass line on "Thunderbolt" and a group of pendulums that, when released, transmit the Earth's movements and transpose sound like a harp on "Solstice." Last year, Björk assembled a team of creative talent, including filmmaker Lucrecia Martel, to produce her eight-concert residency at the NYC venue The Shed titled Cornucopia. The performance notably featured a video from Swedish environmental activist Greta Thunberg.
Kórsafan debuted on Jan. 16 and can be heard at any time online or in the lobby of Sister City.