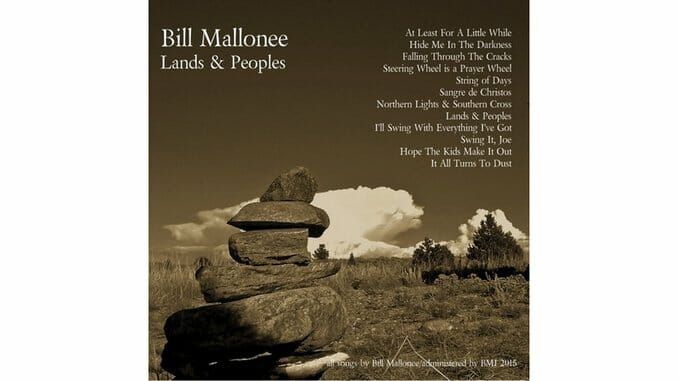 Bill Mallonee has released more than 60 albums over 25 years. He has reached a point where he releases three or four albums and EPs a year now, yet continues to be a keen observer of life. His songs are picture-perfect, textbook examples of songcraft.
Therein lies the biggest problem facing Bill Mallonee.
The songs on Lands & Peoples, his latest release, are songs of nature, ghosts and gambling, generously sprinkled with Christian iconography in a way that isn't preachy. They are cautionary tales as old as mankind, so shouldn't they be worn through with dust, grit and clay stains, illuminated by the stars or defined by the blazing Western sun?
Now a five-year resident of the high desert of New Mexico, Mallonee has studied the mindset of working-class people in his movement across this vast country and away from his Georgia musical roots.
"I've spent most of my adult life on the road. I joke with people, when on tour, that I had to join a band to get out of the South. Now, 60 plus albums and a million miles of road, it's in the blood.? The road. The lands. The people. You can't help but 'take notes.' ?Directions are crucial. It's always good to know where one is," Mallonee writes in the liner notes of Lands & Peoples.
Mallonee and his wife and musical partner Muriah Rose, collectively known on this outing as The Big Sky Ramblers, certainly know where they are. Handling all of the instrumentation between them, they create woven textures that coax the lyrics out, hesitant and wearied, letting them float and sway with the breeze.
Musical structure reflects an artist's choices based on their aesthetic and vision for a project, and the richness expressed here by a wide variety of stringed instruments really is beautiful. The same can be said for much of the rest of his back catalog. But what sends up a small red flag is the seamlessness of it all.
Mallonee often chooses to set his sights on the downtrodden, on the difficulties emerging for real people as the evolution of our capitalistic system fails them. His voice does carry a weariness to it, but what about the music that frames those words? The polish, the lack of surprise or tonal agreement with the message, is a little disconcerting.
Bill Mallonee's songs are the work of master craftsman, a poet, and, yes, a patriot, in that the people who ask pointed questions and make tough observations about the places they love and live are often those who care the most. I wish the current crop of red, white and blue-clad Nashville singers knew took notes from Mallonee on the true nature of patriotic expression.
When Mallonee sings, "This guitar was stumblin' drunk and full of stories" in the song "Sangre de Christos," it is true that his guitar is full of stories, but there is not a single misstep along the way. In the spirit of the stories he unreels, it would feel more substantial if this record staggered a little, teetered at the verge of toppling, then righted itself, before going on its way.
He has a system, and it works for him and pleases his fans, but what if Bill Mallonee held his songs, internalized them, let his subconscious come into play, then put out an album once every year, two or three by choosing only the songs born when the realities of the world and the thoughts and art and Bill Mallonee truly collided?
Listening to Lands & Peoples makes me want to hear the sheen dulled and and the voices allowed to rise and fall like the real conversations about his subject matter that arise in streets, bars, homes and civic meetings across this country. Sometimes you have to argue, yell, fight, scream, fall silent, whisper, apologize or admit defeat in the real world. Let's hear a man with this much talent fully develop and integrate those voices, utilizing his musical structures to dramatize the imagery his words convey.