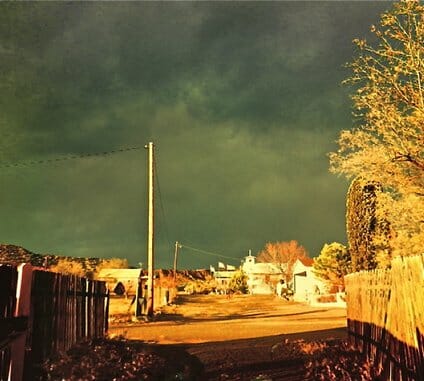 Between his tenure with legendary Athens, Ga., band Vigilantes of Love and his long-running solo career, Bill Mallonee has released a whopping 50 albums. That's more than two a year and more than 500 songwriting credits. It's a mighty count, a monument to one troubadour's prolific muse, revealing a prodigious talent. A songwriter's songwriter, he has a fine grasp on literate Americana, a firm belief in rock and roll as a redemptive force, and quite possibly a hole where his internal editor should be.
As enormous as his catalog may be, Mallonee's music is strikingly modest: sturdy and straightforward, with no time for frills or fussiness. Anyone looking for an entry point into Mallonee's oeuvre could do worse than his latest, Amber Waves, a thoughtful consideration of love, loss, grief and renewal on both a personal and national scale. The vibe is loose but not lackadaisical, as though he recorded only first takes live in the studio. The band is lively and just professional enough not to be too precise; this kind of rock thrives on rawness, spontaneity and imperfection. The guitars grind and chime as though trying to evoke every heart-on-sleeve rocker from Neil Young to Tom Petty, John Mellencamp to Craig Finn.
Mallonee's wounded tenor reinforces the sense of personality and fixed perspective on Amber Waves, as though he's trying to record America as he sees it—one venue at a time, with too many miles of highway in between: "I couldn't find my name on your guest list once again," he sings on "Break in the Clouds," "but the door-man of life just opens up and lets me in." As a songwriter, Mallonee makes it look easy: The telling detail or the wrenching turn of phrase is always within ready reach, giving the impression of songs written on the fly, scribbled on diner napkins, weathered notebooks, random scraps of paper.
"Faith is a throw of dice, and the sleeping heart is stirred," goes opener "Golden." "After ragged sentences, you'll get the last word." Immediately setting the stakes for the 12 songs that follow, Mallonee sounds weary but wise, as though rock and the road have given him a romantic's insight into life's joys and disappointments. What exactly does 50 albums get you? Just enough faith to make 50 more.