Bon Iver's Justin Vernon, The National's Aaron Dessner Detail Their Debut Album as Big Red Machine
Images via Graham Tolbert, Jagjaguwar
Music
News
Big Red Machine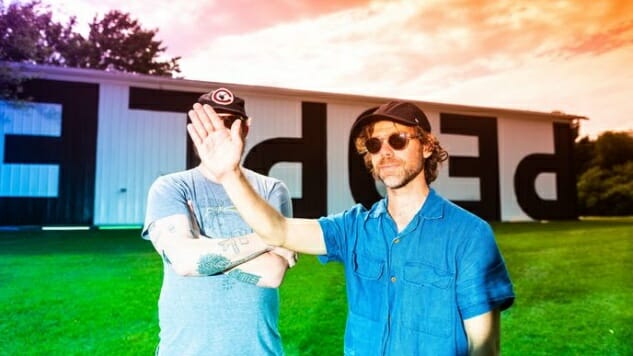 Collaborations between Justin Vernon (Bon Iver) and Aaron Dessner (The National) began in 2008, before the pair had even met in person—the result was "Big Red Machine," a song that ended up on the compilation album Dark Was the Night, made in support of the fight against HIV/AIDS with the charity Red Hot Organization.
What started as a song called "Big Red Machine" grew into a side project of the same name, and now, ten years later, Vernon and Dessner are putting out their ten-track debut under that name, the eponymous Big Red Machine, out Aug. 31. The record will include the four songs recently released by the band on major streaming platforms and will feature a number of collaborations from members of the PEOPLE art collective. You can see the full collaborative credits for the already-released tracks on PEOPLE, which is both an art collective and an artist-led, community-oriented sharing platform spearheaded by Vernon and Dessner.
"I don't think the record would exist without the community that came together to make it," Dessner said, "We're incredibly excited about it, as excited as we would be for any album we might make in another situation that's more conventional. But this feels like something new—the process felt different and the outcome felt different."
The album will be available on vinyl, cassette and CD in addition to all streaming services, including PEOPLE—which is where Big Red Machine's four tracks were initially exclusively available.
PEOPLE revolves around evolution and experimentation, and the collective is gathering in Berlin for a week-long residency on Aug. 12-19. On the 18th and 19th, visitors will be welcomed for two days of performances. "It's about new material, collaborations, unique arrangements and dissolving borders," PEOPLE said, describing the event.
Find tickets and further details regarding the festival via PEOPLE.
Get a taste of Big Red Machine below with their recording of "Lyla," and the revisit the rest of their initial singles here. You can preorder their record here and find its tracklist further down below, along with Bon Iver and The National performances from the Paste archives.
Big Red Machine Tracklist:
01. Deep Green
02. Gratitude
03. Lyla
04. Air Stryp
05. Hymnostic
06. Forest Green
07. OMBD
08. People Lullaby
09. I Won't Run from It
10. Melt