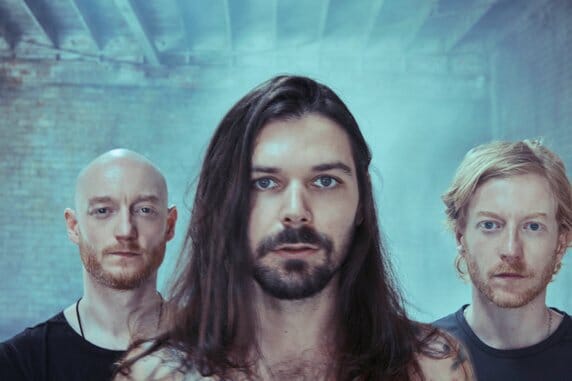 It may come as a surprise that three bare-chested, tattoo-covered, hard rockers who have shared the stage together since their teens, tearing through sweat-soaked clubs, arenas and even stadiums, have two distinct fears. The first was of a small vacant room.
"We've always been a little bit afraid of the studio and we've always used it as a way just to document the sound of our band," says 36-year-old Biffy Clyro singer-guitarist Simon Neil.
While Neil and the Johnston brothers—James (bass) and Ben (drums)—trust their instruments, the synths and various sound manipulators, with their knobs and switches, have always made them uncomfortable. That's why on their seventh album, Ellipsis, they naturally went in that direction to overcome the obstacle.
The second fear is harder to overcome, and has Neil envisioning a best-case scenario of the band's native Scotland separated from the United Kingdom and a member of the European Union or Scandinavia.
Brexit is "the worst decision that [the U.K.] has ever made apart from enslaving the entire globe hundreds of years ago. The politicians have lied to the purest people and the least educated people. It's not fucking fair. I'm so incredibly angry and it's really a depressing thing," he says.
While Scotland has hope, England is screwed, he adds. The government has fallen apart and the politicians have fled the nest.
"David Cameron is a chickenshit. He just walked off. And you've got [U.K. Independence Party leader] Nigel Farage and [London mayor] Boris Johnson…All old, white men. All going to be dead by the time it impacts the future generations."
Scotland voted definitively for the U.K. to remain in the European Union. The country's votes didn't make any difference. Until Brexit, Neil could never imagine fear winning over a nation. Now he has a message to the United States: "I now have a genuine fear for the world and it makes me think anything's possible. I plead with you all, just keep Trump the fuck out!"
Simon Neil isn't bashful with his words, and Biffy Clyro isn't a traditional metal or post-rock band. They've explored other sounds in the past. On 2013 double album Opposites, they incorporated strings, church organs, a mariachi band and even tap dancers. But until now, those sounds had always been organic, made by running a hand across guitar strings, the stomping of feet, air passing through brass—never the push of buttons.
"We wanted to explore the tricks that [the studio] held," he says. "Most rock bands still aspire to make records that sound like records by Black Sabbath or Led Zeppelin. The fact is these albums were 40, 50 years ago. I want us to evolve into something beyond just guitar, bass and drums."
Approaching the band's seventh album, Biffy Clyro didn't want to lose their sense of discovery and adventure. They didn't want to become stale. The trio's first three, independent records were in the progressive metal mold, where they stuck every crazy idea in to a song they could think of. Their most recent three albums, including Opposites, were bigger, bolder statements with full orchestration. They were Biffy's statement on arena rock.
Neil believes Ellipsis is the first album of a third trilogy, where the band finally expands its sound beyond the organic. To do that, the band began to think of the studio as Biffy Clyro's fourth member.
"There's always this fear that you're gonna get the synthesizer out and turn into…whatever the terrible '80s records were," he says. "We still want to make something heavier than ever. We're taking the windy roads to get to a similar destination rather than going on the motorway."
Getting songs written proved to be the biggest hurdle for Neil, Biffy's primary songwriter. The previous two years were turbulent ones for the band, but primarily for him. Coming off the tour of Opposites, Biffy Clyro cemented its place as one of the biggest bands in the Western world (other than in the U.S., where they're still trying to break through in a similar way that Muse did).
That created problems for Neil, who tried to write songs as big and encompassing as the band's crowds were large.
"I've never written music with that in mind previously and I struggled to get out of the head space of being a frontman for Biffy Clyro and writing songs that I thought big shows deserved," he says. "I was overthinking."
Additionally, several of the band's closest friends and relatives died during this time, including the band's first manager, Neil's grandmother, artist and band collaborator Storm Thorgerson, among others. Toward the end of their last tour, the band canceled several shows citing exhaustion, but the truth was that Neil was suffering from depression. He couldn't find a balance between life on the road with a rock band and life back home.
He says he fell into a hole from which it took two months to climb out. When he did, it was without his guitar. Instead, he and his wife took a months-long vacation to sunny Los Angeles, where he tore loose from Glasgow's rainy dreariness. He spent his days at the Pacific Ocean and didn't think about his band.
In the evenings he started tinkering with electronic music, with the help of only the occasional strings or piano. When he did, his creativity returned, and the first two new Biffy songs followed.
"That was the big change of heart event for the start of this record," he says.
The rest of the songs began to follow and soon Neil was on the phone with the Johnston brothers, inviting them to join him in Los Angeles, the home of producer Rich Costey's studio, Eldorado.
The three rented a house in the Hollywood Hills and soaked in what Neil describes as the city's "sky's-the-limit attitude." But while L.A. has always appealed to the band—Opposites was also recorded there—Costey was the main draw this time. Neil says Biffy Clyro would have gone to him no matter where he was based.
Neil calls Costey a mad professor. He has worked with the likes of Muse, Foo Fighters, Weezer, My Chemical Romance, Sigur Ros, The Mars Volta, Fiona Apple, Esperanza Spalding and Chvrches.
The band wanted Costey to help them make an album that was more direct, less guitar-driven and epic, and one that didn't sound like it was as expensive to produce.
"Even though he's made shit-tons of albums, when he was working with us, it's like he's never made a record before and he's excited by the sound of the drum set through a Marshall amplifier—he's like a kid on Christmas Day," Neil says. "It was just such a contagious energy."
This is the first Biffy record not influenced by previous rock records, he adds. Instead, the band looked to hip hop and pop. Neil only recently discovered Tears for Fears—he admits he's late to the party—and realized that one of their biggest hits, "Shout," is nearly seven minutes long.
This, in turn, made him look at the quirky aspects of mainstream pop album, which informed the production on Opposites. From hip hop, Biffy Clyro wanted to borrow grittiness.
"It seems there's more risks taken [in hip hop and pop], than in the rock genre," he says. "I wanted to write the programming, and some squelchy synthesizers. A lot of that was on the A$AP Rocky record, which somehow has the most beautiful songs I think I've heard in an album for years."
Drum machines are also clearly apparent on Ellipsis, but Biffy Clyro did bring back some of its eccentricity on the album, such as a children's choir on second track "Friends and Enemies."
The choir sings the refrain, "With a friend like you, who needs enemies," which Neil says added an extra creepy element to the song. They went back and forth on the inclusion but ultimately kept it because it felt "slightly wrong" to hear such a biting lyric from children.
The bitterness of the lyrics underscores a prevailing theme on the album, a volley back at some people who betrayed the band, Neil says. Album opener and first single "Wolves of Winter" has a similar message amid heavy pulsating guitars: "How's it gonna feel when there's no one there to support you/How's it gonna feel when you're standing there alone?"
In the metaphor, the band members are the wolves who will tear their detractors limb from limb.
"The bigger your band becomes, the more people have opinions and the more people stick their nose in," Neil says. "It definitely a bit of a 'fuck you.'…I have no intent in trying to be what someone else wants us to be."
The wolf is a prevalent symbol on the record; penultimate track "Howl" mentions the animal, and the previous track, rollicking barroom alt-country song "Small Wishes," has some background howling.
"Small Wishes" is one of three on Ellipsis to stand out from the Biffy Clyro oeuvre. The funky groove of "Flammable," mixed with a more traditional guitar chorus, can be danced to. Its predecessor on the album, "Medicine," is an all-acoustic guitar and strings ballad.
To represent the new Biffy visually, Neil and the Johnston brothers were photographed in the nude, in the fetal position. It was both a representation of a human ellipsis and rebirth. The idea had a comedic pretense, but after the three saw the finished product, they were intensely moved, Neil says.
"This album felt like we were trying to find a way out of habits we had gotten into over the years," he says. "It felt like the artwork would show that we were trying to start again; shed any skin we've grown."