Every Song of the Summer From This Decade, Ranked
The bottom three are real stinkers.
Photo by Christopher Polk/Getty
Music
Lists
Best Songs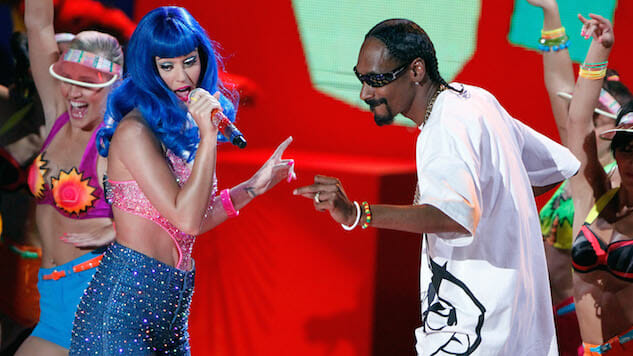 What a strange decade it's been. We started it as hopeful progressives guided by a sane president, and we're ending it under the authority of a hateful buffoon. At least we'll enter 2020 with a decade's worth of great pop music. Every summer for the last 10 years, one pop song has dominated all the rest. And with each one, the "Song of the Summer" title has become an increasingly familiar aspect of popular culture. The winner is dependent on so many variables—which genre is most popular at the time, which collaborations have the most fire power, the national mood. It's more than just a hook. There's no one authority on which song is the true Song of the Summer, but we chose these 10 after studying the Billboard charts, reading archived news media and revisiting our own summer memories. And you, too, should remember hearing them non-stop during their peak summer popularity, unless you were residing under a rock. Here we've ranked them worst to best, including our professional guess for 2019's song of the summer.
10. Robin Thicke feat. Pharrell Williams: "Blurred Lines" (2013)
Yikes. Talk about a song that didn't age well. The controversy that stunk up Robin Thicke's derogatory "Blurred Lines" and its horrendous accompanying video has followed the song for more than six years—and rightly so. Thicke went under fire for not only comparing women to animals but also supposedly plagiarizing the beat from Marvin Gaye's "Got to Give it Up." He lost the controversial copyright case in court, but the song's content and Thicke's general sliminess are enough to banish it to the bottom of this summer retrospective. Even Pharrell's admittedly groovy production isn't enough to save this one.
Also hot in 2013: Daft Punk feat. Pharrell Williams and Nile Rodgers: "Get Lucky," Lorde: "Royals," Macklemore & Ryan Lewis feat. Ray Dalton: "Can't Hold Us"
9. LMFAO feat. Lauren Bennett & GoonRock: "Party Rock Anthem" (2011)
Revisiting this song was a total displeasure. It is still garbage, and I shan't waste a single word attempting to defend this electro-upcycled-Black-Eyed-Peas-filth. Please, for the love of all that is good, stop your shufflin' and go listen to "Rolling In The Deep" instead.
Also hot in 2011: Adele: "Rolling In The Deep," Nicki Minaj feat. Esther Dean: "Super Bass"
8. Iggy Azalea feat. Charli XCX: "Fancy" (2014)
This song has the shelf life of iceberg lettuce, but at least it shined a light on Charli XCX, one of the most dynamic figures to emerge unscathed from the tedious dead zone that was early 2010s pop. She had her own single out at the time too, the punchier "Boom Clap," which enjoyed popularity among the teen crowd thanks to its placement on The Fault In Our Stars soundtrack. Ultimately, neither song has much staying power, but the Clueless-inspired "Fancy" video is still a hoot.
Also hot in 2014: Calvin Harris: "Summer," Charli XCX: "Boom Clap," Jason Derulo: "Wiggle," Nico & Vinz: "Am I Wrong," Tove Lo: "Habits (Stay High)"
7. Wiz Khalifa feat. Charlie Puth: "See You Again" (2015)
It's lacking on BPM, but don't discredit "See You Again": It could be the biggest song on this whole list (besides number two). Wiz Khalifa was commissioned to write the song for the Furious 7 soundtrack as a tribute to the late Paul Walker, who died in a car accident in 2013, and the accompanying video has more than 4 billion views on YouTube to date. It is both Khalifa's and Charlie Puth's biggest hit ever, spending 12 consecutive weeks on the Billboard Hot 100. It was not only a service to Fast and Furious fans, but undoubtedly the biggest pop song of 2015. And its massive success wasn't really a surprise: That's just what you get when you marry one of the biggest film franchises ever to a super popular rapper like Wiz.
Also hot in 2015: Fetty Wap: "Trap Queen," OMI: "Cheerleader," Mark Ronson feat. Bruno Mars: "Uptown Funk," Rachel Platten: "Fight Song," The Weeknd: "Can't Feel My Face," Walk the Moon: "Shut Up and Dance"
6. Drake feat. WizKid and Kyla: "One Dance" (2016)
As we approach the end of the decade, Drake will likely dominate conversations surrounding the title for biggest artist—in terms of commercial success, impact, etc. He's on this list twice. For all of June and July in 2016, you couldn't leave your front yard without hearing "One Dance" blaring from some car or party. It held the number one spot for nine weeks straight, and it would've been 10 if not for an annoying interruption courtesy of Justin Timberlake's "Can't Stop The Feeling."
Also hot in 2016: Calvin Harris and Rihanna: "This Is What You Came For," Justin Timberlake: "Can't Stop The Feeling," Sia feat. Sean Paul: "Cheap Thrills," The Chainsmokers: "Closer"
5. Lil Nas X feat. Billy Ray Cyrus: "Old Town Road" (2019)
It might still be too early to call, but Lil Nas X's breakout hit and country music controversy-starter "Old Town Road" is the strongest contender for this year's song of the summer. "Old Town Road" just entered its 13th week atop the Billboard Hot 100, breaking the record for the longest-running hip-hop song to hold the number one spot, and just like a horse charging out the gate, it shows no signs of slowing down. It has some competition in Billie Eilish's whispered freakshow-of-a-bop "bad guy," but for now, the kids can't enough of this Billy Ray-backed banjo-trap. Lil Nas X is gonna ride the charts 'till he can't no more, and Taylor Swift's new singles don't stand a chance.
Also hot right now: Billie Eilish: "bad guy," Camila Cabello and Shawn Mendes: "Señiorita," Ed Sheeran and Justin Bieber: "I Don't Care," Lizzo: "Truth Hurts," Taylor Swift: "You Need To Calm Down"
4. Katy Perry feat. Snoop Dog: "California Gurls" (2010)
"California Gurls" is still a sun-kissed banger. Palm trees and popsicles? Sex on the beach and "Snoop doggy-dog" on the stereo? Bikinis, zucchinis and martinis? Add a slapping bass line and a dozen 2010-era Katy Perry wigs, and this song and video have all the sugary ingredients for a searing, roll-down-your-windows, turn-up-the-volume hit. It definitely holds the title for this decade's summeriest song of the summer.
Also hot in 2010: Eminem feat. Rihanna: "Love The Way You Lie," Mike Posner: "Cooler Than Me," Taio Cruz: "Dynamite"
3. Drake: "Nice For What" (2018)
Last year, there wasn't so much a song of the summer as there was an artist of the summer, and I bet you can guess who. A Scorpion song was charting almost all year long. "In My Feelings" was the clear dominator in the fall, but "God's Plan" ruled the charts for the entirety of spring, only for "Nice For What" to take its place in late May. "Nice For What" tangoed for the song of the summer title with Childish Gambino's "This Is America," Post Malone's "Pyscho" and various other Scorpion tracks throughout June and July, but it still felt like the season's hottest number. And what about that fierce music video?! Give me some Big Freedia bounce, Tracee Ellis Ross dancing in a desert and Emma Roberts swimming with balloon animals any day. It just visualizes something we already knew: Women can do anything, they are doing everything and we're never getting enough credit for it. At least Drake knows.
Also hot in 2018: Cardi B, Bad Bunny & J Balvin: "I Like It," Childish Gambino: "This Is America," Drake: "God's Plan" and "In My Feelings," Maren Morris, Zedd & Grey: "The Middle," Post Malone feat. Ty Dolla $ign: "Psycho"
2. Luis Fonsi feat. Daddy Yankee: "Despacito" (2017)
This is the hot-weather hit to rule them all. No song was more ingrained in the very fabric of our summer than the 2017 chart behemoth "Despacito," which is currently tied with Mariah Carey's and Boyz II Men's "One Sweet Day" for the 16-week record for longest-running number one song on the Billboard Hot 100. Both the original and the Justin Bieber remix boast more than a billion streams on Spotify, and the music video has more than six billion views on YouTube. Daddy Yankee was already one of the biggest stars in the world, but this hit got him even more fans, and the pop charts are still drenched in Latin influences and reggaeton. "Despacito" translates to "slowly," and that's exactly how to move to this song: smoothly, romantically, maybe with a body roll or two.
Also hot in 2017: Literally nothing else. This song couldn't be touched for 16 straight weeks. (But you probably still heard lots of Taylor Swift, "Shape of You" by Ed Sheeran, Bruno Mars' "That's What I Like" and maybe even Cardi B's "Bodak Yellow (Money Moves)" in its hit infancy.)
1. Carly Rae Jepsen: "Call Me Maybe" (2012)
"Call Me Maybe" is a pop song in its finest form. Catchy, camp and just a tad corny, "Call Me Maybe" is pure fun, and it took over our entire year in 2012. For some, that may have been an annoying residency, but for those of us who leaned into its elaborate kitsch, "Call Me Maybe" was like an ice cold treat, and Carly Rae Jepsen our newest pop obsession. It was so simple and silly ("Hey I just met you and this is crazy") yet so bold ("But here's my number, so call me maybe?"), and it struck the perfect chord with radio listeners. Though Jepsen went on to craft some of this decade's best pop music, she has never quite replicated this song's commercial magic."Call Me Maybe" was a blockbuster, and it remains a classic.
Also hot in 2012: fun. ft. Janelle Monae: "We Are Young," Gotye ft. Kimbra, "Somebody That I Used To Know," Maroon 5: "Payphone," Psy: "Gangnam Style"