Presenting: The Perfect Cooking Playlist
Find the Martha to your Snoop and let's eat.
Photo by Jason LaVeris/Getty
Music
Features
Best Songs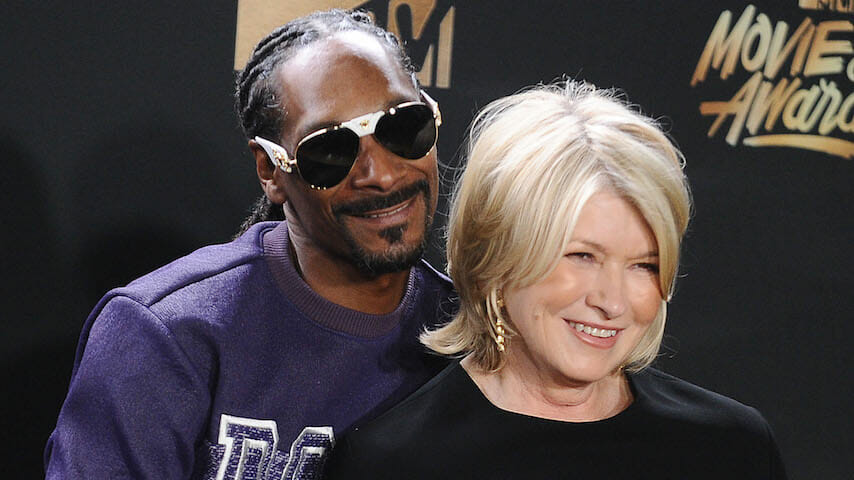 As our friend Alex Delany once said in an article very similar to this one, over at Bon Appetit: "A restaurant without a soundtrack isn't one worth being in, and a silent kitchen isn't one worth cooking in." We cannot help but concur. Music, like many hands, as the old saying goes, just makes light work. And while spices and smells are certainly key to inspiring creativity at the stove, so are sounds, and, no, this isn't just true for the Christmas music your mom plays on the radio when you gather to frost cookies. Cooking is just more fun when you're listening to something good, all year round. It's science!
With that theory in mind, we set out to make the ideal cooking playlist, something that will help move the work along, but still keep chefs entertained. Satisfied, but not overwhelmed. We polled our office for multi-genre, multi-generational choices for the best songs and albums to cook to. Everything from Donna Summer and the Alabama Shakes to Caroline Polacheck and Miles Davis are welcome across our metaphorical threshold onto the checkered tile of our metaphorical kitchen. What we got was a mixtape so perfect for kitchen listening you'll want to keep it on all the time, in every room of the house.
But for those of us who prefer to order in—or out, or whatever—this playlist is for you, too. We happen to think it would make a mighty fine soundtrack for dining, as well as food preparation. So throw it on while you pour a bowl of Cocoa Puffs, whip up a BLT, chop veggies for a stir fry, greet your PostMate, roll pasta through an extruder, drive to Arby's, microwave a Hot Pocket or chow down on some hummus. Our "Perfect Cooking Playlist" works for everything.
Below, members of our staff share some thoughts on what, in their opinions, is the very best music to play while cooking. Read about our favorite baking, brewing, braising and boiling music below, then listen to the playlist on Spotify. May it serve you well.
Listen to our Perfect Cooking Playlist on Spotify
Various Artists: Chef Original Soundtrack
Cooking is all about rhythm—chopping, stirring and mixing so that everything is ready to come together at just the right moment. The Chef soundtrack bursts with rhythm, from the Latin beats of Pete Rodriguez and Roberto Roena to the funky groove of Liquid Liquid's "Cavern" (the bassline of which you'll recognize from its use in Melle Mel's "White Lines (Don't You Do It)"). It has sexy simmering melodies, like El Michels Affair's earworm "C.R.E.A.M.", perfect for when you're waiting for a sauce to thicken. Then there are moments of bombast—Hot 8 Brass Band's cover of "Sexual Healing" comes to mind—made to score the moments when your dish is finally taking shape. Fair warning, though: your hips will be shaking enough to the Chef soundtrack that you'll need to make sure you don't knock any pots off the stovetop. —Clare Martin
Alabama Shakes: Sound & Color
Truthfully, I rarely cook. It's not my skill—preparing tasty food well is something I have to actively train myself to do. It's not natural. But when I do decide to map out a recipe and get to work, I don't mess around. There's wine in the glass and music in the air. I can hardly think of an album more suited to kitchen listening than Alabama Shakes' Sound & Color. It leaps and floats and rests at all the right times. Start boiling your water when you hear the first few notes of "Sound & Color." Add some salt at "Future People" and by the time "Gemini" rolls around, your noodles are guaranteed to be al dente. —Ellen Johnson
Various Artists: Ratatouille Original Soundtrack
As far as film soundtracks are concerned, there's obviously no selection so innately well suited to cooking in your kitchen as the perfectly charming suite of compositions that accompanied Brad Bird's Ratatouille. Each track here, leading off with the immediately lilting, uplifting "Le Festin," which serves as the film's most prominent recurring theme, invokes an air of artistry, passion and a love for the sort of wholesome togetherness that comes with working side by side in the kitchen with a loved one. Take it from me—I queued up this very album while cooking a three-course French dinner on the same night I proposed marriage, and that endeavor (both the food and the marriage) has worked out pretty well so far! —Jim Vorel
The Budos Band: The Budos Band I
Really, you can't go wrong with just about any pick from NYC's afro-funk all-stars The Budos Band when it comes to moving and grooving in the kitchen, any more than you'd go wrong with most picks from the Daptone library. If you're looking for a more specific recommendation, though, queue up something like the (confusingly named) "Aynotchesh Yererfu" and give in to the seductive power of that immediately captivating bassline, even before the horn section and keys come blazing in. This music projects all the upbeat energy you'll need to get through otherwise boring kitchen prep work, and you're likely to find yourself chopping vegetables to the beat, to boot. —Jim Vorel
Listen to our Perfect Cooking Playlist on Spotify