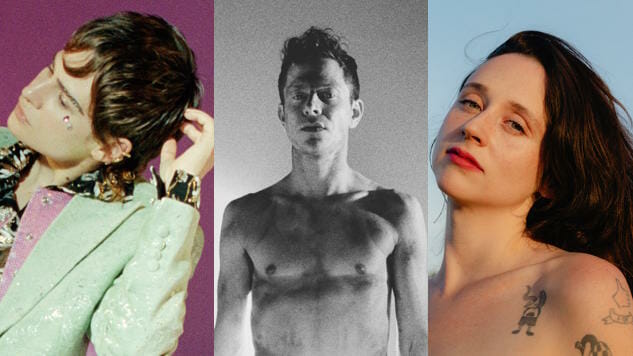 February is pretty much the worst month: It's too short, too cold/wet/icy/sludgy and too much of a breeding ground for seasonal depression, not to mention the folks who were brought into this world on Feb. 29, who only have a birthday every four years (including this one!), which just doesn't sound like a good time at all. Thankfully, despite the misery of many a Pisces (plus the odd Aquarius), February also brought some goodness: Mardi Gras, discount Valentine's Candy, a reason to binge rom-coms and, finally, why we've gathered here today, MUSIC! February was all-too-brief, but it was also loaded on new tunes. See below for our 15 favorite songs of the month, featuring an enigmatic country star, a pop oddity and more than a handful of indie favorites. If you head to the drugstore right now, you may still have time to get a package of Dove chocolates on discount before they start hauling the Easter candy in.
Listen to our Best Songs of February 2020 playlist on Spotify right here.
1. Cam: "'Till There's Nothing Left"
Firecracker country singer Cam's new single "Till There's Nothing Left" looks at love from a different angle than her 2017 track "Diane." Cam wrote the new song for her husband, and it's about going all in on a relationship. "My husband and I will go drive and have a quickie in the back of the car," she divulges. "Why am I embarrassed to sing about that? 'Till There's Nothing Left' is a commitment. It's saying—I am gonna love you with everything I have, physically, spiritually, I'm so in." We're so in, too. —Ellen Johnson
2. Choir Boy: "Complainer"
Choir Boy have always been sarcastic. Their name is appropriated from an epithet frontman Adam Klopp was given as a child, while their sound has always toyed with ideas of sincerity in relation to being vulnerable. That's exactly what the Dais Records synth-pop favorites are doing on "Complainer"—the group contends with the masculine taboo on whining, contrasting that in the pulpy video with Klopp participating in a back-alley fight club, weighed down by heavy metal chains. —Austin Jones
3. Christine and the Queens: "People, I've been sad"
People, Christine and the Queens is back with a new single. The track, "People, I've been sad," was released this month along with a COLORS live session. The French singer-songwriter-producer announced the unexpected release—which mixes French and English lyrics—on her Twitter the day before; it appears to be a standalone single. "People, I've been sad" comes two years after 2018 album Chris (also the singer's less-formal title) and its supporting world tour. —Katy Mayfield
4. Disq: "Loneliness"
Madison band Disq have shared the latest single from their debut album Collector, out on March 6 via Saddle Creek. Sometimes roasting yourself is the only way to feel better, and "Loneliness" attempts just that. Lead singer Isaac deBroux-Slone pines for his significant other and leans into his misery rather than drowning in it: "All I wanted was some loneliness / Used to think I don't have time for this / But now it's all I wanna do." Disq have proven to be shrewd guitar-wielders, and this chiming riff will climb into your brain and set up shop. As for the video, file this under angsty ski lodge-core. The coool-directed clip sees the band snowmobile to a Boomer-filled, taxidermy-covered bar, and as they tear into the song, the power gets cut. —Lizzie Manno
5. Down Time: "Hurts Being Alive"
"Hurts Being Alive" lives in a vortex of perky guitar and entrancing keys, and sits at the crossroads of retro folk-pop, indie rock and psych-funk. Against a backdrop of funky rhythms, understated piano and a ruminative flute solo, Alyssa Maunders' vocals flutter in the wind. With an elemental, caressing touch, her voice glides as she sings, "How hard must I try / Hurts being alive / Most of the time." —Lizzie Manno
6. Grimes: "Delete Forever"
The new Grimes album, Miss Anthropocene, is…interesting. It can feel a little (read: a lot) jolty, but a few songs make the chaotic listen worthwhile. One of those tracks is the folksy (yes, you read that right, in a Grimes song!) "Delete Forever," which features a crunchy acoustic guitar intro that would fit right in on a Tallest Man On Earth Album and, later on, a banjo (?) and some electronic strings. It takes a turn for the weird and wonderful when the chorus begins, incorporating synths and a bumbling drum machine. Ultimately, it's gorgeous folk-pop tune. It just so happens to be about "permanent gloom." Kind of perfect for February, right? —Ellen Johnson
7. Katie Von Schleicher: "Caged Sleep"
A press release announcing Katie Von Schleicher's new album Consummation also mentions the album as "inspired by an alternate interpretation of" Alfred Hitchcock's 1958 film Vertigo. The "Caged Sleep" video (directed by Matt Strickland) is certainly noir itself, a reel of multicolored indoor scenes that find Von Schleicher in various stages of movement. It's a real frenzy of a track. All the sounds seem to be competing with one another, but the resolution actually comes when the drums, whirring synths and skipping saxophones are all in play at once. —Ellen Johnson
8. Moses Sumney: "Cut Me"
Sumney's new song, a characteristically shape-shifting blend of lush neo-soul, avant-garde art-pop and the utterly indefinable, is the third official single from his forthcoming double album, following lead single "Virile," second single "Polly" and the live track "Conveyor," which Sumney debuted during a Moog Sound Lab session earlier this month. —Scott Russell
9. Nap Eyes: "So Tired"
"So Tired" is a bit slower and more introspective than the lead single from Nap Eyes' Snapshot of a Beginner, but eventually finds a distinct groove amid the anxiety conveyed in the lyrics. "The 'So Tired' refrain marks a slight shift in perspective and its meaning is twofold," says frontman Nigel Chapman in a statement. "For one, I get frustrated sometimes by what the world seems to require for success at a given task (for example, polished songwriting, coherent and understandable communication), so part of this is just me venting on this subject. Sometimes I would rather flow with free writing than try to box songs into rehearsed, many-times-repeated containers." —Natalia Keogan
10. Perfume Genius: "Describe"
Mike Hadreas (Perfume Genius) is back like you've never heard him before. "Describe," finds Hadreas exploring all-new sonic territory, embodying Americana classics like Bruce Springsteen and Tom Petty, with arena-filling slide guitars and roots-rock, blue-collar attitude. Of course, given who Hadreas has been as an artist so far, it feels intentionally iconoclastic, a play on masculine expectations and boundaries. The video opens with Hadreas taking a big, confrontational puff of a cigar, donning a dirty white tank top as he occupies a prairie farm. —Austin Jones
11. Phoebe Bridgers: "Garden Song"
"Garden Song" opens with contemplative strings, which lead into a gentle, tumbling guitar riff, sprouting from a bed of soft static as Bridgers delivers surreal vocals: "Someday I'm gonna live in your house up on the hill / and when your skinhead neighbor goes missing / I'll plant a garden in the yard, then / they're gluing roses on a flatbed / You should see it / I mean thousands." The imagery is serene, yet ominous, like a dream that may actually be a nightmare. The video captures that same tension: Bridgers asked her younger brother to film her hitting a bong, then "surprise" her with what happened next. Bridgers, who doesn't smoke, stares into the camera through the haze, keeping her composure as best she can while various figures in odd costumes (one of whom is comedian Tig Notaro, dressed as a monk) wander in and out of frame, their intentions never quite clear. At the video's end, Bridgers collapses into bed, spent, perhaps bound for more strange dreams. —Scott Russell
12. Sharon Van Etten: "Beaten Down"
Indie-folk singer-songwriter Sharon Van Etten has followed up her 2019 album Remind Me Tomorrow with new single "Beaten Down." "'Beaten Down' is about love, patience and empathy," Van Etten says. "It's about making life-changing choices and remaining strong enough to see them through." The John Congleton-produced track, released this month, was accompanied by a psychedelic, desert-set video directed by Nicky and Juliana Giraffe. —Katy Mayfield
13. The Strokes: "Bad Decisions"
The Strokes will release their first new album in seven years on April 10, The New Abnormal (Cult/RCA), and our latest preview of the record arrived this month in the form of "Bad Decisions," a slick rocker built around an anthemic, New Order-esque guitar riff. The retro infomercial-style "Bad Decisions" video, directed by Andrew Donoho, sends The Strokes back to the '70s scene Julian Casablancas' lyrics set ("Dropped down the lights, I'm sitting with you / Moscow 1972"), imagining a world in which anyone can order their own cloned iteration of the band, customizing The Strokes' looks and personalities to fit their exact specifications. —Scott Russell
14. Waxahatchee: "Lilacs"
Waxahatchee's new album Saint Cloud was written in the wake of Katie Crutchfield deciding to get sober, which makes the album a self-examination—and even a letter of self-love and encouragement at times. "Lilacs" in particular conveys a grappling to come to terms with not being loved well enough, either by a significant other or oneself: "If I'm a broken record write it in the dust, babe / I'll fill myself back up like I used to do / And if my bones are made of delicate sugar / I won't end up anywhere good without you / I need your love too." —Natalia Keogan
15. Yves Tumor: "Gospel For A New Century"
Yves Tumor's new single, "Gospel For A New Century," his first track since the 2019 single "Applaud," sees him move from full-length, spiritual genre-defiance to punchy, self-contained pop sounds. The video for "Gospel For A New Century," directed by celebrity make-up artist Isamaya Ffrench, is as if Tim Curry's Lord of Darkness from Legend performed on Soul Train. —Austin Jones
Listen to our Best Songs of February 2020 playlist on Spotify right here.