The 25 Best Live Acts of 2016
Photos by Michael Loccisano, Cassandra Hannagan, Dave Kotinsky, Rick Diamond for Getty
Music
Lists
Best of 2016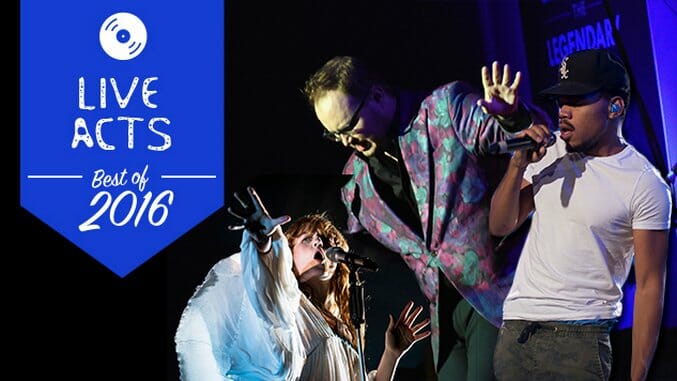 One of the best parts of our job here at Paste is getting to see so much live music, and 2016 did not disappoint by any stretch of the imagination. Whether it was a much-anticipated comeback or a high-energy performance from an enthusiastic newcomer, there was plenty to take in on the road this year. We polled our writers and editors and tallied the votes, and we present to you our picks for the 25 Best Live Acts of 2016.
25. Prince
When we saw Prince at the Atlanta date of his Piano & A Microphone tour, we had no way of knowing that show would be his last, and after the singer's tragic, untimely passing, 2016 will mostly be remembered as the garbage year that took the legendary Purple One from us, but it's worth noting that the singer also played some incredible shows in his final months, stripping down his hits as well as some deep cuts and covers (including a stunning version of the recently departed David Bowie's "Heroes"—seriously, 2016, enough) and getting behind the piano. Check out a clip from the Piano & A Microphone tour below, and for more live Prince video, click here.
24. Margo Price
Off-stage Margo Price is demure. We saw her hanging around the kids' stage at Pilgrimage Festival in a white t-shirt shepherding around her son. But on stage, Price is more like her Twitter handle—Miss Margo Price. She rocks rompers and shows skin. She stomps her cowboy boots and shakes her tambourine. And she belts it. She sings perfect covers by country's matriarchs like Loretta Lynn and rips through her own brilliant originals like she's still trying to make her damn point after all these years. For Price, that kind of ferocity and tenacity is priceless. —Hilary Saunders
23. Iggy Pop & Josh Homme
Touring in support of their joint album Post Pop Depression, rock icon Iggy Pop and Queens of the Stone Age frontman Josh Homme put together a tour as fierce as their recording. The show was an impressive feat of ageless, timeless rock. Pop alternated between sweet grandpa-like waves and blowing kisses in between songs to youthful raunchiness—humping monitors, sticking the microphone in his pants, and leading the crowd in a riotous chant of, "Fuck! Fuck! Fuck!" And for their part, the band—dressed in sparkly red tuxedo blazers, white dress shirts, and black ties—provided a rock-solid musical foundation. With Homme (who produced and co-wrote Post Pop Depression) on one guitar, multi-instrumentalist Dean Fertita of Queens of the Stone Age, drummer Matt Helders of Arctic Monkeys, and two additional musicians, the six-piece group performed the new songs with the same intensity as those from Lust for Life and The Idiot. —Hilary Saunders
22. Japandroids
There are some bands who ensnare you with their recordings—begging, daring, even taunting you to find a way to see them live. And then there are bands who you just happen see live—the kinds that your friends drag you to, in which you follow out of curiosity and goodwill—that make you believers. For me, Japandroids falls into the latter category. I saw Japandroids for the first time this year at a sold out show at Knitting Factory Brooklyn. The air was ripe with sweat and stale beer. The people packed inside kept the cold outside air at bay. And when Brian King and David Prowse stomped onto the stage, the room surged forward in earnest. It seemed as though the more energy the Canadian rock duo exerted, the more the audience replenished their stock. Fans moshed and jumped and kicked and crowd-surfed not with the violence of a hardcore show, but with the exuberance of a life-changing experience listening to rock 'n' roll. —Hilary Saunders
21. Lydia Loveless
Lydia Loveless' latest album is called Real, and that's perhaps the best descriptor for her live show too. Loveless brings an authenticity to all of her performances, and with this new album under her belt, she's expanded her musical arsenal as well. "I really like pop music and I always have," she told us in a recent interview. "When I was younger, I wasn't musically as adept and people described it as country punk. I just wanted to open things up a bit more and get away from talking about my childhood on the farm. I wanted to be talked about as a songwriter and a talented musician. I definitely improved so I wanted to move behind three-chord country ditties. This one, it's cohesive and more advanced musically. Stylistically, it's the most me."
20. Janelle Monae
Of all the tributes to Prince, the one that felt most heartfelt and enlightening was Janelle Monae's Friday set at Jazz Fest. Monae, of course, worked closely with the Purple One and survives as his most obvious heir. His influence is reflected in her melodies, rhythms, lyric themes and dancing. Her live show is always exhilarating, but on this afternoon she was lifted by raw emotion into another realm. "Today we're going to do something different," she told the audience. "We're going to dedicate this entire show to Prince, because he deserves it. He was free; he was fearless. He was music; he was rock'n'roll; he was R&B." She kicked off the set with "Giving 'Em What They Love," the song from her latest album that featured Prince as co-writer and duet singer. A few songs later, she paid a strange kind of tribute to her mentor by singing two songs that influenced him: James Brown's "I Feel Good" and the Jackson Five's "I Want You Back." She channeled both JB's percussive shouts and Jacko's giddy squeal. She told stories about Prince: how he intervened on her behalf to get her on the BET Awards Show, how she first spoke to him by phone. "You know about me?" she remembered telling him after the surprise call. "You, Prince, know people?" He said, "I like your jazz voice." So at New Orleans, she sang the jazz standard, Charlie Chaplin's "Smile," from her first album. She climaxed the show with two songs by Prince: "Take Me with You" and "Let's Go Crazy." On the latter song, she seemed to live up to the title, bouncing about the stage like a pinball and belting out the chorus with the cathartic satisfaction of letting it all go. But it was a comforting show, despite its adrenalized energy, for it proved that Prince's legacy is in good hands. For here is a young woman who can sing, write and dance very much like he did—and is determined to do so for decades to come.—Geoffrey Himes
19. Wolf Alice
As Wolf Alice is nearing the end of its set at The Roxy, the band members are feeding off the energy of sweaty fans bouncing up and down to the riff-heavy album track, "Giant Peach." During the one encore song, "Moaning Lisa Smile," Rowsell crouches down at the edge of the stage and stares down the crowd for a while before descending into the pit with her mic and guitar. The fans encircle her, singing along to the chorus while pogo-ing in unison. Rowsell won't make it back to the stage. Amid the chaos, she abandons her mic and guitar to slip away to the backstage area, looking both spent and exhilarated. In that moment, the impetus for "Moaning Lisa Smile" seems far from stupid. It feels ordained.—Chris Tinkham
18. The Rolling Stones
The Rolling Stones are always contenders for this list when they're touring, but in 2016, it was their performances at two weekends of the Desert Trip festival in Indio, California that earned them votes. Their Night 1 headlining spot (during which they thanked the Nobel Prize-winning Bob Dylan for "opening" for them), set the tone for the rest of the once-in-a-lifetime festival, and a surprise cover of the Beatles' "Come Together" even had Paul McCartney smiling and waving with approval from the VIP section.
17. Beyoncé
There is no other Top 40 artist whose live performance can come close to matching Beyoncé's flawless vocals, choreography and command of the stage. Add to that her outstanding material from this year's Lemonade—her best, most personal and most overtly political work to date—and you've got one hell of a show.
16. Savages
When the majority of your songs go for the same vibe and tempo, it can sometimes be tough to hold the attention of a festival crowd full of more causal fans, but Savages never seem to have that problem. They keep crowds captivated, like at their Friday evening set on the Ponce de Leon stage at this year's Shaky Knees festival. From the first notes to their set-ending "Fuckers" (in which frontwoman Jehnny Beth repeats "don't let the fuckers get you down" like a life-affirming mantra), old fans and new ones alike were eager and receptive.
15. Twin Peaks
Twin Peaks are extremely fun live, but still, no one at a Twin Peaks show ever seems to be having a better time than the band itself. They're full of energy, and that joyfulness comes through in their music and infects everyone in the crowd.
14. The Cure
The Cure have 40 years of material to choose from, so it's no surprise that they crafted some beautifully eclectic set lists in 2016, featuring some popular hits and deep cuts every night, for their first major North American tour since 2008. Frontman Robert Smith's voice still sounds pristine—here's hoping we don't have to wait another eight years to see him next.
13. Father John Misty
Father John Misty is no stranger to this list—his shows have landed him on our Best Live Acts list for the second year in a row. 2015 saw FJM somehow bringing his live show to a new level with his I Love You, Honeybear material, shifting gears from stunningly gorgeous on "I Went to the Store One Day" to disaffected and funny as hell on "Bored in the USA" at the drop of a hat. In 2016, he did all of that and covered "Closer" by Nine Inch Nails, which he introduced as his "favorite love song." With his recent revelation that a new album is finished, we can't wait to see how he'll top himself in 2017.
12. Explosions in the Sky
It doesn't matter how seriously you take yourself, how disinterested you are in post-rock, or how jaded you are to live music as an experience. An Explosions in the Sky set will move you. You won't spend the show looking at your phone, occasionally glancing up at the stage. You won't turn and talk to your friends whenever there's a lull. You will look, you will listen, and you will feel things. An Explosions in the Sky set is not something you ignore, though their instrumental reveries do make incredible background music. An Explosions in the Sky set is something you get lost in, something sweeping and wordless that will envelope you in its rise and fall. Munaf Rayani and Michael James, the core of this quartet, will sway in place, cradling their guitars like dance partners, and close their eyes, unconscious conduits through which the sea of noise spills. Christopher Hrasky will pound tirelessly on tom and crash, the band's heartbeat, quickening your own. And perhaps, if you are lucky, Explosions in the Sky will play songs from The Earth Is Not a Cold Dead Place—if you are even luckier, one of those songs will be "Your Hand in Mine," one of the most breathtakingly beautiful post-rock songs ever written—and by the time Explosions in the Sky's set is finished, you will know once and for all that they're right: that the earth is alive, and that every day it gives us is precious.—Scott Russell
11. Shovels & Rope
Shovels & Rope manages to make a lot out of a little. The guy-girl, husband-wife duo acts can get cloying, but Michael Trent and Cary Ann Hearst defy such pigeonholing. From their instrumentation (mostly alternating between guitars, drums, and keys) to their stage décor (repurposed wooden pallets hung behind them with original projection art), Shovels & Rope makes the barebones bone rattling, and that ingenuity makes them one of the best bands we saw live this year. —Hilary Saunders
10. Bruce Springsteen & the E Street Band
This was a big year for The Boss, with a massive tour centered around The River and the publication a new memoir. But there's still no doubt he's one of the best live performers of all time, and he's showing no signs of slowing down: He broke his previous record for his longest-ever US performance on Aug. 30, playing for a whopping four hours. And then he promptly broke it again, playing for four hours and four minutes just five days later. (For more classic Springsteen performance video, click here.)
9. Florence + the Machine
Florence Welch is like a red haired, English Stevie Nicks. She wears draped dresses and she sashays across the stage. She coos sweetly until she unleashes her most arresting vocal acrobatics. But the Fleetwood Mac comparisons stop with The Machine. Welch's backing band, complete with backing vocalists, a harpist, two percussionists, and a keys/synth player in addition to the traditional rock band set-up, manage to replicate music off all four of the band's records with accuracy and panache. Topped off with a flashy light game, Florence + The Machine is one of the best acts touring the arena/amphitheater circuit today. —Hilary Saunders
8. Lake Street Dive
You're missing out on the full Lake Street Dive experience if you've never danced to one of their songs. The band's funk-soul-rock hybrid music is invariably groovy and demands physical participation. Look no further than the players themselves to model the appropriate embodied zeal and emotionality; they've been great performers since the beginning, but now they really know how to sell their music after over 10 years of playing together.(Guitarist/trumpet player Mike, aka "McDuck," doesn't exactly share the others' overt enthusiasm, but his deadpan demeanor is part of the fun.) The band's projection of both sophistication and approachable camaraderie onstage allows them to appeal to a wide variety of audiences: they seem as at home in front of crowds of families as those of only adults. Add to all this their supreme musicianship (they met while training at the New England Conservatory of Music) and a healthy dose of attitude, and the result is a band that was born to both move audiences and get them moving. A bonus: Lake Street Dive is known for doing great song covers, and they often perform one or two of these live.—Monica Hunter-Hart
7. Charles Bradley
Charles Bradley finds himself on our Best Live Acts list for an impressive fourth year in a row, and we have a feeling that as long as he continues to tour, he'll continue to be among the best live performers we see in any given year. If you haven't yet had a chance to see The Screamin' Eagle of Soul do his thing, stop what you're doing and figure out how to rectify that immediately.
6. Car Seat Headrest
Nowadays, Car Seat Headrest shows—like Car Seat Headrest—begin and end with Will Toledo. Their Teens of Denial-centric sets are bookended by indie rock's dapper young standard-bearer standing alone on stage, his subdued singing voice betraying the heavy heart underneath his band's meteoric rise. As drummer Andrew Katz pointed out between songs at the band's sold-out Atlanta show in September, it wasn't long ago that Car Seat were playing for six people at a time, and it was telling that Toledo responded that night by noting exactly how long. The uber-talented frontman and creative core of Car Seat emanates kindly anxiety, coming across like the kind of guy who would rather hang out with your pet at a party, embodying his music. But rock-star swagger or no, sandwiched between each Car Seat show's somber Toledo interludes are an hour-and-a-half long reminder that this is one kickass rock 'n' roll band. Car Seat are at their best ripping through their cathartic indie anthems as a unit, from the heartbroken bounce of "Maud Gone," to the shout-along-inspiring "Fill in the Blank," to the yearning crash of "Something Soon." But there is room left for experimentation, like their sprawling renditions of "Vincent" and Toledo's stripped-down solo take on Frank Ocean's "Ivy." All told, their live shows are a potent distillation of the singular mix of introversion and aggression, vulnerability and empowerment, insouciance and precision that makes Car Seat Headrest one of the best rising acts in rock.—Scott Russell
5. Neil Young
It's hard to watch Neil Young perform his new songs ("Hang Gliders," "Texas Rangers," "Show Me" and "Peace Trail," so new that they all were debuted just a few months ago at Telluride), which are political and speak to the times, without wondering why the issues he's singing about—in some cases, issues he's been singing about for decades—still exist. Do the Boomers who cheer and pump their fists during these new tracks feel any twinges of guilt for their generation's role in our current affairs? How is it possible for them to hear Young change "Look at Mother Nature on the run in the 1970s" to "Look at Mother Nature on the run in the 21st Century" during "After the Gold Rush" as he did during his Desert Trip set and think anything other than "damn, what have we been DOING?" Regardless, we need Neil Young now more than ever, and his excellent live performances in 2016 are proof. He remains tuned in to today's issues, whether he's speaking out against the Dakota Access Pipeline, cracking a few Trump jokes or busting out some of his classics to remind us just how much work remains to be done. (For more classic Neil Young performance video, click here.)
4. Chance the Rapper
Chance isn't one to heed conventions; no, he shuns both labels and traditional concert formats. His Magnificent Coloring World tour this year was no mere music gig but an idiosyncratic theatrical journey. Chance arranged his songs into an ordered narrative and added characters (a gospel choir of huge backup puppets) and dialogue interludes. The storyline followed his own maturation process; the audience watched as a lion puppet named "Carlos" gave him spiritual and emotional guidance. It was an epic, demanding show that proved Chance to have not only amazing creativity but also incredible stamina. He refused to give audiences anything less than a multifaceted, boundaries-pushing concert experience, and so secured his rank among the most ambitious and talented live performers this year—Monica Hunter-Hart
3. Mitski
The music journalism community is currently still in the midst of tallying all of the reviews, opinions and song counts that occupied 2016, and while we're not psychics here at Paste, we'd bet our vinyl crates that Mitski's ornate eye-opener Puberty 2 will take a huge amount of that pop culture real estate in the coming weeks. The soulful singer/songwriter's fourth LP swings between comical, sincere and devastating at a song's notice (or sometimes within the same track, as in album opener "Happy"). Mitski has remained largely private throughout her ascent, so her live shows are a fleeting window into the singer's world.—Sean Edgar
>
2. St. Paul & the Broken Bones
There's a real soul music is named as such. It comes from the soul. It soothes the soul. And Birmingham, Ala.'s best octet St. Paul & The Broken Bones has soul for sure. Frontman Paul Janeway shimmies and prances in the most impressively flamboyant suits and shoes and climbs on drum kits and speakers too tall to crawl down from without assistance, all while delivering lines in a tenor/falsetto with religious-like fervor. But, as this is a band affair, The Broken Bones never fracture or falter. The horn section rings in all the right places. Bassist and co-founder Jesse Phillips stays right in step with drummer Andrew Lee. And lead guitarist Browan Lollar adds a rock 'n' roll touch in his solos that's exclusive to the band's live sets. When all forces combine, whether Janeway wails about broken hearts or civil rights, St. Paul & The Broken Bones reach a place in their audiences that can't come from any place other than the soul. —Hilary Saunders
1. LCD Soundsystem
When LCD Soundsystem announced their reunion just five years after their massive farewell at Madison Square Garden, they were (perhaps rightly) met with some skepticism and anger from fans who had shelled out huge sums of money to see their favorite band play for the "final" time. But once James Murphy and company actually got out there and played, that all seemed to slip away. As Jeff Gonick wrote in our review of their Webster Hall show, "A sound guy walks on stage to check a mic and a low cheer cascades through the crowd. A few minutes later somebody drops a water bottle off by the drums and people celebrate like they've got stock in Poland Spring. This isn't just anticipation, these people have lucked, begged, bought, bargained or in my case convinced an editor to send them to witness a resurrection. To watch one of their favorite bands come back from the dead. And this room is alive with expectations of not just when, but how it's going to go down.
To a certain degree, bands are defined by expectations. We don't just expect them to perform the best show we've ever seen every night, to produce music often enough to satisfy our insatiable, bordering on unhealthy appetite for media, to entertain us with access to the most intimate moments of their life. We see their best and worst moments replayed and analyzed like the Zapruder film. We spend hours listening to strangers pick them apart on podcasts. We fall headlong into the abyss that is online comments. And we end up creating a narrative in our heads about who they are. Their lives become another TV show to us. And like our favorite shows, we build up our expectations about not only what will, but what should happen next.
So when LCD Soundsystem quit at what some might call the pinnacle of their 10-year career, they George R.R. Martin'd us. They killed themselves off in the second act. And the same way George changed the rules when it came to who was safe and who wasn't by killing off Ned Stark, LCD changed the rules on us. They let us know that no matter how much we might love their band, our love isn't the only thing they live for. That LCD isn't a permanent thing we should always expect to be there. And that if their band is going to exist, it's going to exist on their terms.
Which is why as James Murphy and the rest of the band came out on stage to hand-bruising applause and throat-shredding cheers, as the cymbal smacking beat of Get Innocuous! opened the show, as the air filled with the diluted weed smell of electric drug-pens, I put my notebook away and didn't try to think of ways to compare this moment to my expectations for it. I didn't saddle this show with the weight of the ones I missed. Or look at this performance through the lens of all the years I wish they'd been playing. I didn't try and understand last night in the context of when they left. Or try to create some narrative that connects leaving to coming back. I didn't even try to force-fit the whole experience into some larger point about their legacy.
I tried, hard as it sometimes is in a world where we're all supposed to share our opinions about everything, to just have fun. To embrace the crushed toes and spilled beer and accidental elbows during "Daft Punk is Playing at my House". To laugh about how real "Losing My Edge" suddenly feels with the thirty-something record-head beside me. To jump up and down like an extra in a House of Pain video during "Dance Yrself Clean". To enjoy how loud and drunk and crowded and sweaty and messy and imperfect the whole thing was.
I tried to let the music do what it's supposed to do. Not spark twitter feuds, inspire podcast speculations or create fodder for overly wordy think-pieces, but make us feel something that's bigger than what a song means. I tried to listen to James Murphy when he said during one of the few catch-your-breath breaks to not worry about filming every second of every song, but to "Just be here."
I tried do something maybe we should all do this time around. Throw out our expectations and enjoy the moment while it lasts, no matter how long it lasts."