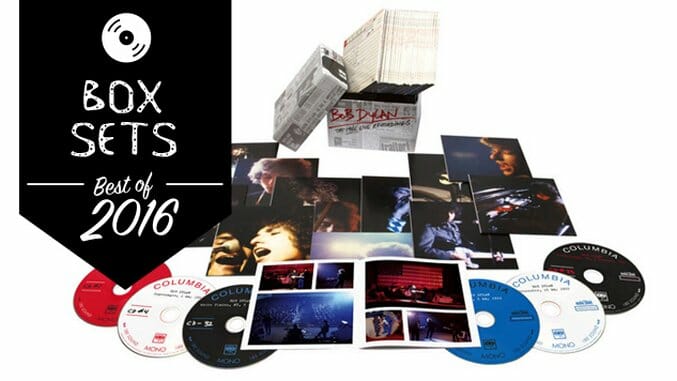 Sometimes good things come in small packages; other times, they come in large, super-deluxe boxes. For music obsessives, bigger is better, and 2016 did not disappoint when it came to box sets. We polled our writers and editors and whittled the selection down to this list of our 10 favorites.
10. Ray Charles, The Atlantic Studio Albums – In Mono
Revisit Ray Charles' legendary, hugely influential career with this 7-LP box set, which makes this material available in mono for the first time since the 1960s. The set includes the albums Charles put out during his time at Atlantic Records from 1952-1959: The Great Ray Charles, Ray Charles, Yes Indeed!!, The Genius of Ray Charles, What'd I Say, The Genius After Hours and The Genius Sings the Blues.
9. David Bowie, Who Can I Be Now?
Parlaphone's follow-up to their David Bowie – Five Years: 1969-1973 set focuses this time on his material released between 1974 and 1976. The 12-CD or 13-LP box includes a previously unreleased album from 1974, The Gouster, as well as Diamond Dogs, two different mixes of David Live, Young Americans, Station to Station, Live Nassau Coliseum '76, Re:Call 2 and an 84-page hardback book.
8. The Replacements, The SIRE Years
Last year, a Replacements box set focusing on the band's years at Twin/Tone made this list, so naturally, its follow-up, The SIRE Years, is worthy of a spot as well. The vinyl box set includes 1985's Tim, 1987's Pleased to Meet Me, 1989's Don't Tell a Soul and 1990's All Shook Down. Act fast if you haven't already snagged your copy, however—this release is limited to 8,700 copies.
7. Pink Floyd, The Early Years, 1965-1972
This massive Pink Floyd box set isn't cheap—it'll set you back $550—but it is insanely comprehensive, featuring 27 discs that include over 20 previously unreleased songs, five hours of rare concert footage, seven hours of live tracks, five 7" singles in replica sleeves and more, all adding up to over 11 hours of audio (130+ tracks) and 14 hours of video.
6. Various Artists, Still in the Dream: A Story of Shoegaze 1988-1995
For a good portion of American kids in the late '80s/early '90s, the magnetic draw towards loud guitars didn't come from thrash metal, hardcore or "grunge," but rather the sound of the British shoegaze movement and its enigmatic swirl of sweetness, psychedelia and searing walls of amp fuzz. However, this generous 87-track box set that chronicles the roots and rise of shoegaze not only features the cream of the scene in the U.K., but the most talented acolytes from the USA as well. And it's deep, too. Pretty much every act you'd want to see represented on a shoegaze box set is present and accounted for, and the list goes on for miles. The Jesus & Mary Chain. The Cocteau Twins. Ultra Vivid Scene. Spacemen 3. Galaxie 500. The Boo Radleys. Ride. Lush. Slowdive. Spiritualized. The Flaming Lips. Mercury Rev. Luna! And that's just the bands whose names the general public has a sporting shot of recognizing. Perfect for the learned music scholar, the Goth mom on the go and the curious young listener alike, Still In A Dream: A Story of Shoegaze 1988 – 1995 is a masterpiece in the art of box set compilation, one that sets the bar high for any enterprising opportunist looking to anthologize an entire subgenre.—Ron Hart
5. P.S. Eliot, 2007-2011
This one's a must for Waxahatchee and Swearin' fans who are less familiar with Katie and Allison Crutchfield's earlier work in P.S. Eliot (as well as longtime fans who are familiar). This 2-CD set compiles the band's two albums (2009's Introverted Romance in Our Troubled Minds and 2011's Sadie) and an EP (2010's Living in Squalor), along with demos and home recordings. It also includes an excellent oral history of the band assembled by Liz Pelly.
4. R.E.M., Out of Time 25th Anniversary
For now, this set celebrating the 25th anniversary of R.E.M.'s 1991 album appears to be sold out, so if you didn't already pick up a copy, it would seem you're…out of time. (I'm sorry, that was really bad.) But if you were among those lucky enough to get your hands on this, you already know this 3-LP box includes the remastered Out of Time as well as new liner notes and 19 previously unreleased demos.
3. Otis Redding, Live at the Whisky A Go Go: The Complete Recordings
Presented in chronological order, this 6-CD set includes all of Otis Redding's legendary three-night run at the Whisky A Go Go on the Sunset Strip—seven sets, recorded April 8-10, 1966—even the between-song banter. The performances are stellar, with Redding firing on all cylinders, and as Lynell George writes in the liner notes, "Redding began to see this three-night run as just the right spark to help him jump over all those many lines-from star to superstar, from R&B/soul to pop, from all-black rooms to arenas."
2. Big Star, Complete Third
The Complete Third boasts that it contains "every demo, rough mix, outtake, alt take and final master from the Third sessions known to exist," which comes to 69 total tracks (29 of which are previously unreleased). But besides being able to track the journey of Third through these demos and outtakes, one of the coolest parts of Complete Third are the extensive notes, penned by the likes of Bud Scoppa, Mary Lindsay Dickinson, Mitch Easter, Adam Hill, Elizabeth A. Hoehn, Susanna Hoffs, Peter Holsapple, Gary Louris, Mike Mills, Cheryl Pawelski, Debbi Peterson, Pat Rainer, Danny Graflund, Jeff Rougvie, Pat Sansone, Chris Stamey, Jody Stephens, John Stirratt, Ken Stringfellow and Steve Wynn.
1. Bob Dylan, The 1966 Live Recordings
This massive 36-CD set compiles every known recording from Dylan's legendary 1966 tour—when fans were still pissed at him for going electric and shouts of "Judas!" could be heard from the crowd—during which he was backed by The Band. Most of the material here is previously unreleased, culled from soundboards and audience tapes, and it serves as a fascinating document of what was undeniably a groundbreaking year in a long, iconic career.