Best Coast Announce Children's Album (But You Can Listen, Too)
Artwork by Jess Rotter
Music
News
Best Coast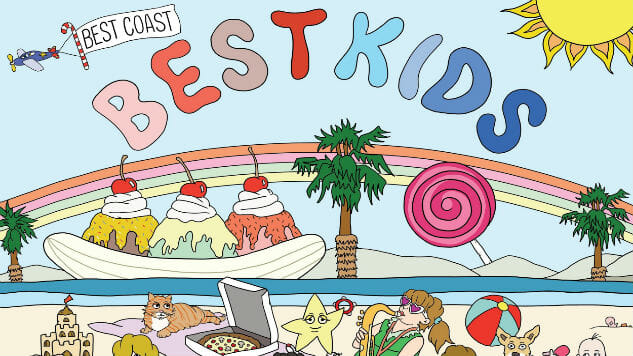 Given children's general lack of income and discerning taste, albums marketed specifically for them are few and far between. At best, there's The Johnny Cash Children's Album or Barenaked Ladies' Snacktime! At worst, you've got Raffi's Bananaphone (sorry, dude, but the reception really is shit on those things anyway).
But hark, all ye hipster parents and rejoice! Best Coast have announced the release of a children's album. Rather than let your tot be subjected to all 37 installments of the Kidz Bop franchise, you can now offer them Best Kids from singer Bethany Cosentino and guitarist Bobb Bruno.
The album takes Best Coast's signature sun-drenched, fuzzed-out sound and applies it to original songs, kids' classics, and covers of hits by Lesley Gore and Frankie Valli and the Four Seasons.
"I wanted to make a kid's album not just for kids but also for the parents with cool music taste that might be tired of listening to the same songs off the Frozen soundtrack 200 times in a row," said Cosentino. "Bobb and I wanted to make something with an edge while staying in a kid-friendly lane."
The duo tweeted out the album's artwork, as well as a link to "Cats and Dogs," an original song about universal love from the album.
Here's one you probably never expected: we're excited to announce the release of our first children's album BEST KIDS on June 22. You can hear the first original song "Cats & Dogs" now! https://t.co/zdGBYs7q3z Art by Jess Rotter. https://t.co/bFTtUDTXvLpic.twitter.com/NXCcWBD2kz

— Best Coast (@BestCoast) June 12, 2018
"The world is pretty wild these days and we just hope this record and these songs will bring joy and a smile to some faces that might need joy and smiles, no matter how old they are," said Cosentino, and we couldn't agree more.
Best Coast's last album (for grown-ups, anyway) was 2015's California Nights. Check out the tracklist for Best Kids below, beneath a 2011 Best Coast performance from the Paste archives. The album will be released as an Amazon Original on June 22, 2018—you can preorder it here.
Best Kids Tracklist:
01. When You Wish Upon a Star
02. Cats and Dogs
03. Twinkle Twinkle Little Star
04. Ice Cream Mountain
05. Sunshine, Lollipops and Rainbows
06. Rock A Bye Baby
07. If You're Happy and You Know It
08. Rainbow Connection
09. Favorite Colors
10. Peanuts
11. When I'm With You