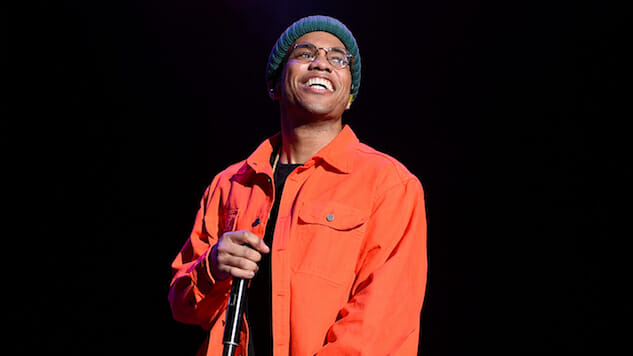 As we reach the calendar's penultimate month, the year's music releases are becoming more spare. October seemed to burst with new albums around every corner, while November will usher in considerably less. Still, quality over quantity, right? Though the coming month will see less album releases, the records that are arriving have us at Paste feeling excited. The long-awaited next album from Anderson .Paak is finally about to make its debut, plus we're getting a new record from country heroine Rosanne Cash, a posthumous soul album from Charles Bradley, the first Smashing Pumpkins album in 18 years and more. Read on to see which albums Paste writers are most excited about in November.
NOVEMBER 2
Beacon: Gravity Pairs
The Ann Arbor-born, and now Brooklyn-based Ghostly International has a penchant for finding stellar vocally-focused electronic acts. Names like label stalwart Matthew Dear and up-and-coming Aussie duo Kllo come to mind, and now Beacon are preparing to release their third album, Gravity Pairs, on the label. On their first two albums, Beacon's Thomas Mullarney III and Jacob Gossett wrote dashing constructions of loop-driven love songs that felt like an exciting discovery on the first spin; Mullarney's voice especially shines over highly-accessible production. With Gravity Pairs, the duo have made a conscious effort to write more instrumentally focused songs, like the sumptuous piano balladry of "Losing My Mind," the rhythmic groove of "Be My Organ" and the minimal-yet-strapping progressions of "On Ice." Pay attention, Beacon is peaking. —Adrian Spinelli
Bill Ryder-Jones: Yawn
Bill Ryder-Jones is best known as the original guitarist of Liverpudlian rock band The Coral, and he was also a touring member of Arctic Monkeys and a producer for groups like Our Girl, The Wytches, and Hooton Tennis Club. He didn't name the album Yawn by accident. The album's soothing, tender acoustic ballads will rock you into a gentle slumber, and his soft, resonant voice will temporarily numb whatever pain you're feeling. Songs like "Mither," "And Then There's You" and "Don't Be Scared, I Love You" are marked by his hushed vocals and emotionally transparent lyrics and are accented by sumptuous strings and warped guitars. His songs flicker in and out of focus like the flame of candle, digging through hazy, fond memories of romance and then transporting to the present to mindfully confront whatever's plaguing his mind. Ryder-Jones might not be a huge household name, but Yawn proves his credentials as an adept guitarist and poignant songwriter. —Lizzie Manno
Rosanne Cash: She Remembers Everything
Rosanne Cash is returning with She Remembers Everything, a 10-track effort featuring appearances from the likes of Elvis Costello, Kris Kristofferson and Sam Phillips and the follow-up to the 2014 album that won her three Grammys, The River & the Thread (which landed on Paste's list of the best alt-country albums of all time). This time around, she's writing more personally, as well as exploring the many female narratives of the #MeToo age. "I could not have written [these songs] 10 years ago—not even close," Cash said in the album announcement. "Time is shorter, I have more to say." Indeed, Cash—like her father Johnny before her—is a razorsharp lyricist. On the ballad "She Remembers Everything," which features Phillips, Cash is thoughtful and searing. "Who knows who she used to be before it all went dark?" she sings. On She Remembers Everything, Cash seeks to understand—not only herself, but those around her—and how best to usher in peace despite prevailing tumult. —Ellen Johnson
More notable Nov. 2 releases: Bob Dylan: More Blood, More Tracks, Hiss Golden Messenger: Devotion: Songs About Rivers and Spirits and Children, JD McPherson: SOCKS, Pistol Annies: Insterstate Gospel, Tenacious D: Post-Apocalypto, Vine Staples: FM!
NOVEMBER 9
Charles Bradley: Black Velvet
It's still crazy to think that Charles Bradley didn't release his debut album until 2011. Yet his music was filled with the soul, passion and emotion of a man who embraced the never-ending quest to break through. Black Velvet represents a collection of songs that were loose ends or simply pieces of the story that made the singer's career until his passing in September 2017 (he'd have turned 70 this Nov. 5) The album—assembled by collaborators, friends and family—will be released on Dunham/Daptone and features the single "I Can Feel A Change," with the beautiful video below. We were seemingly gifted with the talent of the man they called "The Screaming Eagle of Soul" in 2011 and in 2018, we get one final gift from the great Charles Bradley. —Adrian Spinelli
Grapetooth: Grapetooth
Twin Peaks frontman Clay Frankel and Chris Bailoni (who previously recorded music under the producer's moniker Home-Sick) are the Chicago-based synth duo called Grapetooth, affectionately named in honor of their shared passion for wine. They're so enamored with the fermented fruit that they not only named their band after it, but they also titled their third single "Red Wine." And, like drinking a good glass of the red stuff, the song is something of a slow burn: Its slow grooves, hearty synth and warpy bass give off a warm glow. Two other singles, "Trouble" and "Violent," also sound like the things for which they're named. Rowdy and ruddy, "Violent" will have you jumping around and dancing, much like Frankel and Bailoni in the track's accompanying video. And "Trouble," the farthest thing from Twin Peaks' lo-fi garage rock, is loud, sneaky and up to so much good. The duo's first album promises all those grooves, embers, sweat and more. —Ellen Johnson
Laura Jane Grace & The Devouring Mothers: Bought to Rot
After releasing her memoir, Tranny: Confessions of Punk Rock's Most Infamous Anarchist Sellout and Against Me!'s 2016 LP, Shape Shift With Me, Laura Jane Grace decided to put out her first record under the name Laura Jane Grace & the Devouring Mothers. Bought To Rot is unlike anything she's ever released with Against Me! It embraces pop and alt-rock conventions as much as it does punk—a press release even namedrops the record's Tom Petty influence. The result is an immensely liberating album that couldn't care less what you think of it. There are still undertones of despondent angst and self-doubt, but it feels like a largely optimistic record, one that basks in the moment and bursts at the seams with momentous punk elation. "Born in Black" is a robust, throttling take on existentialism and mortality, while the uplifting punk of "Apocalypse Now (& Later)" is a rush of unwavering confidence, camaraderie and earth-shattering joy. —Lizzie Manno
More notable Nov. 9 releases: boygenius: boygenius (physical release), Fleet Foxes: First Collection 2006 – 2009, J Mascis: Elastic Days, Little Dragon: Lover Chanting EP, The Revivalists: Take Good Care, Stephen Steinbrink: Utopia Teased
NOVEMBER 16
Anderson .Paak: Oxnard
Back in December 2015, we placed the Best of What's Next tag on a budding rapper/singer/producer named Anderson. Paak, who made multiple appearances on Dr. Dre's Compton album and was on the verge of dropping his own solo smash, Malibu. Little did we know just how massively Paak's career would bubble up, how hugely successful Malibu would be and that he'd become one of the brightest stars in hip hop. Now signed to Dre's Aftermath label, Paak is set to release Oxnard on Nov. 9, and it's widely considered to be the most anticipated hip-hop record of the year. Paak has already dropped the Kendrick Lamar-featured "Tints," the shout-out loud "Bubblin'" and also soundtracked the instantly iconic Spike Jonze-directed and FKA Twigs-starring Apple HomePod commercial, with the spellbinding "Til It's Over." Color us ready over here. —Adrian Spinelli
Smashing Pumpkins: Shiny And Oh So Bright, Vol. 1 / LP: No Past. No Future. No Sun.
Coming as no surprise to eagle-eyed fans who have been predicting such an announcement since the first whispers of the band's semi-reunion, Smashing Pumpkins are finally returning with a long-awaited new LP, Shiny and Oh So Bright, Vol. 1/LP: No Past. No Future. No Sun. It marks the first new album in over 18 years featuring founding members Billy Corgan, James Iha and Jimmy Chamberlin, plus long-time guitarist Jeff Schroeder. The album's second single, "Silvery Sometimes (Ghosts)," is bright, steady, driving and reminiscent of the band's earlier eras. It follows "Solara," their existential first single, released in June. The Smashing Pumpkins also recently wrapped up their Shiny and Oh So Bright tour, the first in almost 20 years with the aforementioned original members. Produced by the legendary Rick Rubin at Shangri La Studios in Malibu, the LP will be released on Corgan's own Martha's Music. —Emma Korstanje
More notable Nov. 16 releases: Chris Cornell: Chris Cornell, Chris Robinson Brotherhood: Betty's Midwestern Magick Blends, The Good The Bad & The Queen: Merrie Land, Kate Bush: Remastered in Vinyl 1 & 2, Mariah Carey: Caution, Mumford and Sons: Delta, Old Man Canyon: A Grand Facade
Notable Nov. 23 releases: Kanye West: Yandi, Lake Street Dive: Freak Yourself Out EP, Stephen Kellogg: Objects in the Mirror
NOVEMBER 30
Jeff Tweedy: WARM
WARM, recorded at Jeff Tweedy's legendary Chicago studio The Loft, will be his first proper album of entirely new solo work, and will feature liner notes by the acclaimed author George Saunders. The first single, "Some Birds," finds Tweedy up to his old Uncle Tupelo tricks once again. Like Wilco's collaboration with Billy Bragg, or Tweedy's own cover of Dylan's "Simple Twist of Fate" off the I'm Not There soundtrack, "Some Birds" just feels right. His reedy voice seems to be made for lap-steel slides and clomping acoustic vamps. That's not to say he's gone all "beer, trucks and broken hearts," though—he's still got his deadpan wit and an eye for good imagery. "Some birds just sit / useless, like a fist," he sings to start. "I lean on the wall / like a broom, confused / by the scope it all," he adds later. According to Tweedy, "Some Birds" is "like a lot of songs on WARM, being a confrontation between self and shadow self simultaneously feeling I'm to blame and not to blame, present and gone, and utterly confused, but determined to hold someone accountable." — Justin Kamp
More notable Nov. 30 releases: The 1975: A Brief Inquiry Into Online Relationships, Blake Mills: Look, Kate Bush: Remastered in Vinyl 3 & 4, Neil Young: Songs For Judy