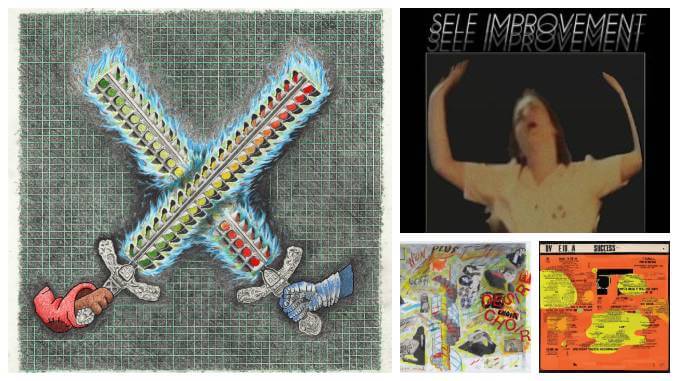 Quick introduction: I'm Garrett, my title is "senior editor," and I've been at Paste for over a decade at this point, where I've mostly overseen the games, comedy, and travel sections. When I started writing professionally, longer ago than I'd like to admit, it was almost exclusively about music. That remained my focus for almost a decade and it was never more than a hobby, just cranking out a few paragraphs every other week for a local alt-weekly in hopes of a little beer money and some free records. Somehow I turned that hobby into a career after starting to write about videogames, and even though I'd still occasionally write about music for Paste and elsewhere after that point (RIP Boston Phoenix), it mostly fell by the wayside as I spent more and more time writing about games, theme parks and comedy. Music has always remained crucial to my daily life, though, and I've never stopped listening to new bands, buying records, going to shows and making some of the worst goddamned music you'll ever hear. Most of what I write about here are long-held hobbies that I love to share and discuss online, but music is a genuine passion that's been with me longer than anything else. I hope to write more about music this year, and let's start by looking back at my favorite new records from last year. Here's the good stuff: the best albums of 2022, according to some guy on the internet.
10. Erasers: Distance EP; Constant Connection
Australian duo Erasers released two records of minimalist, synth-driven pop in 2022, and although Distance is technically classified as an EP, it's still longer than a couple of the albums on this list, and only a few minutes shorter than Constant Connection, so it qualifies. Let's call it a tie. Erasers shows remarkable patience and restraint on both albums, with songs slowly loping by in stark but blissful languor for several minutes at a time, Rebecca Orchard's intentionally flat vocals serving as extra texture while also occasionally adding a slight note of yearning. Distance is the stronger of the two, but both are transfixing, as deep and unknowable as the ocean itself. Listen on Bandcamp.
---
9. Long Odds: Fine Thread
Times New Viking were the best. So are Connections, the band TNV's drummer/singer Adam Elliott played in for a bit a while back (and who have a new record coming in 2023). Guess what's also the best: Long Odds, Elliott's latest band, who put out its first record in 2022. (A lot of things can be the best.) Fine Thread's songs aren't as uniformly short or frantic or noisy as Times New Viking's, but Elliott still has a knack for hooks and homespun anthems, and as somebody who spent a solid chunk of his early 30s listening heavily to Times New Viking, hearing Elliot's voice again is warmly comforting. Expect fuzzy guitars that aren't too abrasive, steady and straight-forward drumming, and an amiable and laid back atmosphere that contrasts with the noise and urgency of TNV while still tapping into that band's essential nature. Listen on Bandcamp.
---
8. Spacemoth: No Past No Future
Look, if you name your band after a Stereolab song, even one from a lesser Stereolab album, I'll pretty much always give you a listen. Fortunately Spacemoth doesn't disappoint. The recording project of engineer and producer Maryam Qudus (she's worked on records by Toro y Moi, Tune-yards, and more) is a synthy, spacey pop album that never quite gets as icy or academic as Stereolab can. It's one of those "studio as instrument" albums, and Qudus definitely knows how to use that instrument. At its best, as on songs like "If I Close My Eyes and Pretend" and "This Shit," No Past No Future turns the sounds and textures of kosmische music's more electro wing into glorious pop earworms—like new wave krautrock for modern playlists. (There's a good bit of Broadcast here, too.) Get ready to put at least a few of 'em on repeat for long stretches at a time. Listen on Bandcamp.
---
7. Archers of Loaf: Reason in Decline
Every now and then there's a classic indie rock reunion that's actually worth the hype. On their first album in 24 years, Archers of Loaf follow in the steps of fellow '90s Chapel Hill icons Polvo and Superchunk with a surprisingly great return after a lengthy absence. Reason in Decline doesn't sound like a band trying to recapture what made it great 30 years ago; it sounds more like a band that never went away in the first place and just continued to grow and change over the decades. It has the raucous noise and propulsive rhythms you'd expect from the Archers, but the extra 20 years of life experience hang over its every note. Songs like "Aimee" and "Mama Was a War Profiteer" are the most delicate and yearning songs released under the Archers name, but are a seamless continuation of what made the band great, and reflect the massive growth frontman Eric Bachmann has shown since 1998's White Trash Heroes. This is definitely an Archers of Loaf record, only bolstered by the tunefulness and songwriting depth Bachmann developed over the decades in his Crooked Fingers project. It has the sweep, the sense of longing, and the earnest attempts to write Springsteenian epics that Bachmann has long pursued, along with the power, noise and precision of the Archers. It's not just a comfortable return for hardcore fans: it's a legitimately great record that deserves more attention. Listen on Bandcamp.
---
6. Non Plus Temps: Desire Choir
The first album from this Oakland group is 11 swirls of chaos and reverb kept together by a loose but on-point rhythm section. It digs deep into the dub influence on post-punk, and is apparently some kind of commentary on late-stage capitalism and the gig economy, although the lyrics are more like a smoky impression than actual words, so good luck sussing that out without the liner notes. Still, you can tell they're fed up enough, and who can blame 'em. Despite the justified discontent, this hazy LP flows past as a pleasant blur. Listen on Bandcamp.
---
5. Tony Molina: In the Fade
It's been over eight years since I profiled Tony Molina right here at Paste, and he just had maybe his best year yet. Not only was one of his old bands, OVENS, responsible for one of the year's best reissues with the first vinyl pressing of its 2009 album, but Molina himself released another ace collection of tightly sculpted, no bullshit power-pop hits. Depending on how you count 2016's eight-song Confront the Truth, In the Fade is Molina's fourth or fifth solo album under his own name, and once again clocks in at well under 20 minutes. He's committed to the economy of Guided by Voices impresario Bob Pollard, only without the often slapdash, tossed-off nature of Pollard's work; Molina's songs are intricately crafted rock 'n' roll miniatures that wouldn't sound too out-of-place on classic rock or oldies radio stations with a little bit of cleaning up. It's the easiest record of 2022 to listen to, not just because Molina's songwriting is uniformly great, but because it's about as long as an episode of I Think You Should Leave. Listen on Bandcamp.
---
4. Self Improvement: Visible Damage
Technically this was released in the last week of 2021, but it was reissued in 2022, and really, a record released on Christmas Eve will pretty much always get lumped in with the next year when it comes to awards and accolades. (I'm pretty sure the Grammys will give out statues to records that are like two years old.) Self Improvement's first album perfects the classic post-punk deal so ideally that you might think an algorithm created it. It's got a bass and drum combo that you could set an atomic clock to, a guitar that can turn from skittery to overpowering on a dime, and a disaffected singer who sounds about as bored as a human being can be before suddenly launching into an impassioned roar. It's absolutely fantastic stuff, easily better than a certain couple of bands that do something similar to far more praise and media hype. It even has a mash-up cover of The Prodigy's "Firestarter" and "Smack My Bitch Up" to get the attention of critics who normally won't listen to anything that doesn't have a big PR campaign behind it. Hell, Visible Damage might as well be one of the best records of 2023, as well, no matter when it first came out. Listen on Bandcamp.
---
3. Weak Signal: WAR&WAR
Weak Signal works hard. They followed up Bianca, one of the best records of 2021, with the even better WAR&WAR back in March. Barely six months later they returned by collaborating with Cass McCombs on a single. Through it all they've established a very particular sound, one that's heavy but laid back, noisy but not aggressive. It's not quite accurate on either point to call 'em a "slowcare Jesus & Mary Chain," but it's also not entirely inaccurate. It at least points you in the right direction, expectations-wise. The pleasantly lethargic energy level picks up a bit on songs like the sardonic "Poor People," but for the most part WAR&WAR taps into a sustained vibe of tense sluggishness; you keep thinking they'll speed up but they impressively resist that urge. Expect fuzzy, echoey rock songs with no fat, a killer guitar tone, and some of the most impressively plodding beats this side of Moe Tucker, with singer/guitarist Mike Bones' hushed, almost monotone vocals adding to the record's chasmic depths. Listen on Bandcamp.
---
2. Oneida: Success
After 15 years of pursuing every artistic whim, no matter how non-commercial (esoteric noise drones, experimental triple LPs, 24 hour live jams, collaborations with Rhys Chatham), the most vital band of the '00s graced 2022 with its most straight-forward rock album since the Bush administration. Success is a guitar-heavy slab of droning noise rock driven by the incomparable drumming of John "Kid Millions" Colpitts, who's somehow flashy, steady, and frenetic all at the same time. Songs like "I Wanna Hold Your Electric Hand" and "Rotten" exult in the joy, beauty, and sheer intoxicating power of noise and repetition, but in a more accessible way than we've ever heard from Oneida before. It's not hard to imagine those songs getting tons of airplay on college radio in the '80s or '90s. With Success Oneida proves they're just as vital as ever: the model of a band that cares about its art but without ever getting self-important or arrogant enough to call it art.
---
1. Fievel Is Glauque: Flaming Swords
Zach Philips and Ma Clément's idiosyncratic band Fievel Is Glauque built on 2021's amazing LP God's Trashment Sent to Right the Mess with Flaming Swords, a more consistent and cohesive display of their elaborate, bite-sized approach to jazz fusion. With most of its 18 songs falling under the two minute mark, Flaming Swords is about as tight and straight-forward as any jazz or progressive rock ever made—somehow packing all the dizzying twists and virtuoso performances you'd expect from those genres into a minute or two. It's no surprise Stereolab would want to bring Fievel Is Glauque on tour with them, as they did in 2022; Philips and Clément's band doesn't necessarily sound like Tim Gane and Laetitia Sadier's legendary group, but they share a similar interest in combining artistically rigorous music from the '60s and '70's with a more accessible pop sensibility. In under 40 minutes Flaming Swords runs through 18 lo-fi jazz-prog bangers for anybody who ever wished every Henry Cow song was short enough to fit on a hardcore single. It's an amazing work of alchemy and my favorite record of the year. Listen on Bandcamp.
---
Buddy Rock Pick of the Year: Go Public
I couldn't in good conscience put Go Public's debut EP on this list, because I've known these guys for going on three decades now. I'm also not going to talk about one of the best records of the year just because they're my buddies, though; this EP is great independent of any personal entanglements, and people ought to hear about it. Almost calisthenic in its chops, Go Public sits in that space between "post-punk" and "new wave" previously filled by Talking Heads or '80s Public Image Ltd., with complex rhythms, fidgety guitar, twisty songwriting, and frequent sax bleats. And sweet Jesus, that bass. If you told somebody this was a one-off demo tape from a forgotten band from 1982, they would 100% buy it, and then press it up and sell overpriced vinyl copies to record collector dudes. This band of ringers includes members from Athens/Atlanta faves like Masters of the Hemisphere, Elf Power, Iron Hero, and The Trap, and this EP is one of the best things any of them have ever played on. Listen on Bandcamp.
---
Five Good Songs
Finally, without comment, here are five songs I really loved this year that aren't on any of the albums above. I don't know if they're the best but they're all pretty damn great. Some are from EPs or singles released in 2022, others are lead singles from albums coming in 2023, but all of them have gotten a lot of play 'round these parts, so check 'em out.
Neutrals: "Gary Borthwick Says"
The Tubs: "Sniveller"
Vessel: "Whatcha Doin"
The Umbrellas: "Write It in the Sky"
Summer Flake: "One Less Thing"
---
Senior editor Garrett Martin writes about videogames, comedy, travel, theme parks, wrestling, and anything else that gets in his way. He's also on Twitter @grmartin.