Here's Every Year in Music from the 2010s, Ranked
The decade list to end all decade lists
Photos by Thomas Cooper, Taylor Hill, Kevin Mazur & Visionhaus/Getty
Music
Lists
Best Albums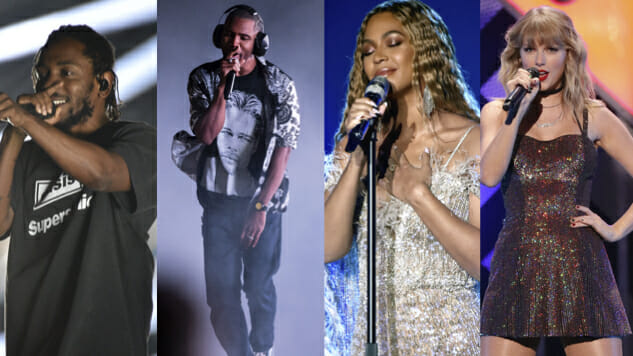 When a year wraps up or a decade winds down, people who pay attention to pop culture have an almost primal urge to rank every book, movie, song, album, TV show, traveling circus and cat meme that appeared in the time frame at hand. If you know anything about us here at Paste, you know we'll rank just about anything, from the more traditional albums and movies lists to felines in film and Mexican lagers. But why stop with the actual items that are being ranked? Why not make a decade ranking to end all decade rankings? This was my quest when compiling this potentially useless but hopefully interesting list of every year from the 2010s ranked by how good the music was in each particular 12-month span. It's arbitrary to say the least, but it's also a great chance to look back at the last 10 years and remember what each one sounded like, which ones provided us with our favorite albums and which ones were mostly forgettable. Please enjoy what we think is the most correct version of this entirely subjective ranking. Our most sincere regrets to 2011.
10. 2011
Paste's #1 Album: Bon Iver's Bon Iver
Other highlights: James Blake: James Blake, Fleet Foxes: Helplessness Blues, Drake: Take Care, Adele: 21
Overall, this decade has been an innovative, stunning 10 years for music. There wasn't an especially bad year for music releases, but for the sake of this arbitrary exercise, one year must occupy the last spot. For us, that's lowly 2011. Paste named Bon Iver's self-titled record the best of the year, and it lands just ahead of Fleet Foxes' Helplessness Blues and My Morning Jacket's Circuital—all amazing albums! But the rest of the list? It's a bit of a snooze, if we're being honest. What was a delightful year for folk and alt-country (Wilco! The Decemberists! Iron & Wine!) made for a rather drab year in hip-hop (AutoTune was gasping for air), rock (El Camino is pretty good, but was it that good?) and especially pop (thank God for Adele). At least 2011 has James Blake's debut album to save it from total damnation.
9. 2019
Paste's #1 Album: Weyes Blood's Titanic Rising
Other highlights: Lana Del Rey's Norman Fucking Rockwell!, Big Thief's U.F.O.F. & Two Hands, Julia Jacklin's Crushing, Lizzo's Cuz I Love You
It's difficult to summarize 2019 without the retrospective view we have for the other years of this decade, but, broadly speaking, this year felt like a wind-down. Hip-hop had an especially slow run of it, and many of the year's best albums came from already-familiar faces in pop and rock like Big Thief, Lana Del Rey and Carly Rae Jepsen. On the flip side, it was a bright year of transition: New faces, like Billie Eilish, Lizzo and Lil Nas X, broke molds and challenged the heck out of some norms, and gave us a few modern classics in the process. But, ultimately, 2019 was scattered and difficult to define. But that shouldn't stop you from checking out these 50 records, which we think are all winners.
8. 2014
Paste's #1 Album: The War on Drugs' Lost in the Dream
Other highlights: St. Vincent: St. Vincent, Run The Jewels: Run The Jewels 2, Alvvays: Alvvays
Five years ago, on the cusp of the decade's second half, we were blessed with The War on Drugs' career-making Lost in the Dream, Sharon Van Etten's folk-rock masterpiece Are We There and Alvvays' self-titled debut. But there wasn't an album that made the kind of roaring cultural waves we've become accustomed to in this decade, outside of Beyoncé's self-titled watermelon fest. There is absolutely nothing wrong with 2014, but in a decade where every 12 months a new album arrived to shake up the culture, there's no room to slack.
7. 2012
Paste's #1 Album: Frank Ocean's Channel Orange
Other highlights: Fiona Apple: The Idler Wheel…, Father John Misty: Fear Fun, Alabama Shakes: Boys & Girls, Taylor Swift: Red
2012: a pretty good year for music! Whether you're Team Blonde or Team Channel Orange (or even Team Endless), it's nearly a universally recognized fact that Channel Orange is a capital-G Good album. And when we first heard it back in 2014, there was no Blonde yet, only the beautifully frantic saga that is Channel Orange, which we also named the number five best album of the 2010s. However, outside of a few epic records, 2012 was considerably slow. But it still brought us Frank Ocean and Alabama Shakes, so we really can't complain.
6. 2013
Paste's #1 Album: Phosphorescent's Muchacho
Other highlights: Vampire Weekend: Modern Vampires of the City, HAIM: Days Are Gone, Jason Isbell: Southeastern, Kanye West: Yeezus
2013 was an incredible year for rock music. Vampire Weekend released their third and best album, Modern Vampires of the City, and HAIM's Days Are Gone followed a few months after. Jason Isbell also released his quintessential Southeastern, another chapter in his ever-evolving country catalogue and also a rock 'n' roll turning point. Arcade Fire dropped the not-fantastic-but-still-very-good Reflektor, and Waxahatchee delivered unto us an indie-rock classic: Cerulean Salt. But rock wasn't the only genre to thrive: Kanye West released one of the best hip-hop albums from this decade, Yeezus, and Kacey Musgraves did the same for country with her debut Same Trailer Different Park. And lest we forget Lorde, who released Pure Heroine this year, as well. I don't think I'll ever tire of the 2013 playlist.
5. 2015
Paste's #1 Album: Father John Misty's I Love You Honeybear
Other highlights: Kendrick Lamar: To Pimp A Butterfly, Courtney Barnett: Sometimes I Sit and Think and Sometimes I Just Sit, Hop Along: Painted Shut, Sufjan Stevens' Carrie & Lowell, Tame Impala: Currents, Alabama Shakes: Sound & Color
2015 isn't number one on our list, but it just may hold the title for the most classics released in a year. Kendrick Lamar released our pick for the best album of entire decade in To Pimp A Butterfly, and Courtney Barnett followed suit with Sometimes I Sit and Think and Sometimes I Just Sit. 2015 was coming up on the last year of the Obama administration, and that brought upon a false sense of wisdom that eventually led to the hopeless sense of doom we're now all experiencing. 2015 was smack in the middle of the decade, and the albums released that year are an accurate depiction of how we felt that year: more vocal than ever before and hopeful for the future, yet unaware of what horrors it would bring.
4. 2018
Paste's #1 Album: Lucy Dacus' Historian
Other highlights: Kacey Musgraves' Golden Hour, Mitski: Be the Cowboy, Janelle Monáe: Dirty Computer, Robyn: Honey
2018 was a year of movement in popular music. Much like this year, there was never a blaring consensus among critics as to which album was the number one, but more often than not, it was a toss-up between Kacey Musgraves' genre-busting Golden Hour and Janelle Monáe's funky, profound Dirty Computer. 2018 was the first full year after #MeToo's genesis, and you could tell in the music that was released. Soccer Mommy shot down abusive partners in her song "Your Dog," Camp Cope rebuked music industry sexism in "The Opener" and Courtney Barnett proclaimed "I'm Not Your Mother, I'm Not Your Bitch." For the first time in a long time, it felt like women's voices were being heard louder than anyone else's, and that was only a good thing.
3. 2017
Paste's #1 Album: Jay Som's Everybody Works
Other highlights: Kendrick Lamar: DAMN., Courtney Barnett & Kurt Vile: Lotta Sea Lice, Alvvays: Antisocialites, LCD Soundsystem: American Dream, SZA: Ctrl, Lorde: Melodrama
Remember 2017? Most of us probably try to forget. Donald Trump's first year in office was an insane one marked by political upheaval, gun violence and a host of other unfortunate events that have only seemed to increase in frequency since then. But dark times make for great art, and 2017 was a dazzling year in every single genre of music. Tyler, The Creator released Flower Boy. SZA released Ctrl. Kendrick Lamar released DAMN. Alvvays released Antisocialites, and I can hardly think of a rock album from this decade that has aged better than that one. Artists tapped into their identities and spoke with honesty and clarity. 2017 was a scary time, but it was also a loud time. These albums captured the noise and made sense of it.
2. 2010
Paste's #1 Album: LCD Soundsystem's This Is Happening
Other highlights: Kanye West: My Beautiful Dark Twisted Fantasy, Arcade Fire: The Suburbs, The Tallest Man on Earth: The Wild Hunt, Beach House: Teen Dream, Vampire Weekend: Contra
2010 was an incredible year not for the volume of all its releases, but the grandiosity of a few. At the beginning of a fresh decade, it feels almost fake to lump 2010 in with 2011 and onward—2010 is just as much related to 2009. But, in retrospect, these are still albums we associate with the 2010s. Kanye's undeniable masterwork MBDTF, LCD Soundsystem's This Is Happening, Arcade Fire's The Suburbs—these are all albums that arrived with a scope we hadn't seen (or heard) previously. Whether you consider 2010 a bookend between eras or the start of something new entirely, it was certainly something special.
1. 2016
Paste's #1 Album: David Bowie's Blackstar
Other highlights: Beyoncé: Lemonade, A Tribe Called Quest: We got it from Here… Thank You 4 Your service, Radiohead: A Moon Shaped Pool, Angel Olsen: My Woman, Kanye West: The Life Of Pablo, Frank Ocean: Blonde, Bon Iver: 22, A Million, Solange: A Seat At The Table, Chance The Rapper: Coloring Book, Anderson .Paak: Malibu, Leonard Cohen: You Want It Darker, Car Seat Headrest: Teens of Denial, Kendrick Lamar: untitled unmastered., Whitney: Light Upon The Lake
My explanation of 2016 in music is going to be overkill after reading that highlights list, but here goes: Such a high volume of generationally great artists (and a few masters from previous generations, too) released career-defining records this year that there is quite literally no competition. Frank dropped Blonde, Bey dropped Lemonade, Angel dropped My Woman, Chance dropped Coloring Book. Radiohead, Kanye, Bon Iver and Kendrick all released records, albeit not their best. David Bowie gave us his last gift, as did Leonard Cohen (though his catalog continues to unfurl). 2016 was in many ways the calm before the storm, but it was also its own tornado.