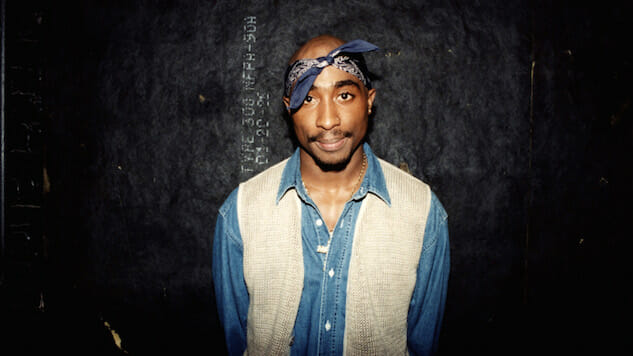 After the late Mac Miller released Circles, a collection of previously unreleased songs, last month, it was difficult hearing the ghost of a voice so many of us grew up with. But I later realized how incredibly genius this album was, maybe even one of his best yet. With his jazzy beats backing his raspy voice on a mix of singing, rapping and sampling from old school rock songs, Circles gave us an idea of just how many more tricks Miller had up his sleeve. He's not the only artist who was taken from us too soon. In fact, some artists have released some of their best work after their deaths. So, here's a list of the 20 best posthumously released records, ranked.
20. John Lennon and Yoko Ono: Milk And Honey
We want to feel bad for Yoko Ono here, because she was unfortunately left to finish Milk And Honey on her own, but here's the thing: She can't really sing. Milk and Honey was in the works while Lennon was still living, but was ultimately released four years after his tragic murder by crazed fan Mark David Chapman. Milk And Honey may have been stronger if it was just a solo album by Lennon, but the couple was so in love, enjoyed making music together and were committed to spreading peace. The album also features hit "Nobody Told Me," which made the U.K. top 10 chart.
19. Bob Marley & The Wailers: Confrontation
Reggae legend Bob Marley, who sadly died from melanoma at the young age of 36, still had music in the vaults even after his passing. Two years after his death, his loved ones compiled a collection of singles and unreleased songs in 1983, which make up the laid-back, smooth album Confrontation. The album blessed us all with "Buffalo Soldier," which remains to this day one of the most essential reggae songs of all time.
18. The Doors: An American Prayer
The Lizard King doing spoken poetry over the magical music of The Doors? I think yes. Seven years after Jim Morrison's death, the remaining members of the band reunited to record background music to accompany Morrison's spoken word. An American Prayer is definitely different from their prior material and received many mixed reviews when it was released in 1978, but even if the spoken word doesn't resonate, An American Prayer features a live version of arguably one of the band's best songs ever, "Roadhouse Blues."
17. Gram Parsons: Grievous Angel
Love hurts, but being cremated with gasoline sounds brutal as hell. Gram Parsons, famed country-rock singer/songwriter, died just days after completing his second studio album Grievous Angels. After the recording, Parsons took off to Joshua Tree, Calif., to celebrate, but maybe went a little too hard. After overdosing on morphine and tequila, Parsons was pronounced dead before reaching the hospital. But that's not even the strangest part of this story: Parsons' road manager stole the body, took it to Joshua Tree and burned it with gasoline, because apparently that's what he wished for. The album didn't spark too much attention when it was initially released, but has become a cult favorite, and who hasn't belted out "Love Hurts" at some point in their life?
16. Joy Division: Closer
Joy Division frontman Ian Curtis unfortunately took his own life after the recording of Joy Division's second and final studio album. The '80s English post-punk band was about to embark on their U.S. tour when Curtis was found hanging in his kitchen at just 23-years-old. The album is dark and twisted, and with tracks titled "Isolation" and "A Means to an End," fans and critics agree the music tapped into the mind of Curtis. Although the band's ending was tragic (at least before the remaining members formed New Order), the album did extremely well, landing spots on several charts for the posthumous release "Love Will Tear Us Apart."
15. Ray Charles: Genius Loves Company
Legendary singer Ray Charles released a duets album called Genius Loves Company. The album features Norah Jones, Willie Nelson, Elton John and Gladys Knight, among others, and was released posthumously in 2004, two months after Charles died from liver failure at 73. The album performed well, winning eight Grammy Awards.
14. Marvin Gaye: Vulnerable
A collection of soulful ballads, Vulnerable is Marvin Gaye at his most emotional for almost a half hour. The album, released in 1997, is Gaye's third posthumous release, but was recorded decades earlier in 1968. It's a complete 180 from the anti-war track "What's Going On" and definitely doesn't include seductive bedroom essentials like "Let's Get It On." Far from "Sexual Healing," Vulnerable is Gaye singing and pleading for a different kind of healing—that of the heart. Gaye was shot and killed by his own father just before his 45th birthday, and was never able to release the album during his lifetime.
13. Roy Orbison: Mystery Girl
Even if you're not too familiar with Roy Orbison, "You Got It," the first track on his album Mystery Girl, is enough to get anybody singing along. It's basically the "7 Rings" anthem of the '80s, but rather than "I see it, I like it, I want it, I got it," Orbison sang "Anything you want, you got it" well before Ariana Grande was even born. Completed a month before his death in November 1988, Mystery Girl has all the elements of a great Orbison album, like his wide range of vocal abilities (that Elvis once called the "most perfect voice") and his talent of creating bouncy guitar riffs but also beautiful ballads. Orbison also had "a little help from his friends," aka Beatles member George Harrison, Tom Petty, members of Fleetwood Mac and U2, who wrote and produced the track "She's a Mystery to Me."
12. Selena: Dreaming Of You
Making history and topping charts, even in death, is the definition of a success. Latin superstar Selena released her last album four months after she was tragically killed by Yolanda Saldívar, who, ironically enough, was the president of her fan club. The album became the first Latin album to ever debut at number one on the Billboard 200 chart in 1995. A mix of English and Spanish love songs, Dreaming Of You proved to the world that Selena's legacy would live on forever.
11. Elliott Smith: From A Basement On The Hill
Beloved singer/songwriter Elliott Smith was found dead in his home in 2003 with two stab wounds and no firm explanation to this day. Smith died at age 34, and From A Basement On The Hill was released almost a year later. The album is a collection of 15 unreleased songs compiled by former producer Rob Schnapf and Smith's ex-girlfriend Joanna Bolme. Although the cause of death isn't fully determined, the dark lyrics from tracks like "Strung Out Again" make fans and critics wonder if these 15 songs were Smith's version of a suicide letter. From A Basement On The Hill was Smith's only album to make the Billboard Top 20 album chart, coming in at number 19.
10. Johnny Cash: American IV: The Man Comes Around
The King of Country's final album revealed many truths about secret aspects of his life. Released three years after his death in 2006, the album peaked at number one on the Billboard 200 chart, Cash's first number one album in 37 years. Unfortunately, the singer, who passed away from diabetic complications at 71-years-old, wasn't around to hear the album's many praises. All of the tracks but two are covers, but the songs speak to several aspects of Cash's life, his marriage to June Carter and spiritual struggles.
9. Makavelli: The Don Killuminati: The 7 Day Theory
Originally intended to be an "underground" record, Don Killuminati: The 7 Day Theory was released two months after Tupac Shakur's death. Here he used the stage name "Makavelli" and proved to the world again that his legacy would live on. Not necessarily a critic favorite, the album still drew a lot of attention due to the fact that it was recorded in just seven days and featured a controversial album cover depicting Shakur hung on the crucifix resembling Jesus. The album was responsible for big hits like "Hail Mary" and "To Live In Die In L.A," which opens with a radio host discussing the controversial aspects of Tupac's music.
8. Otis Redding: The Dock of the Bay
Possessor of one of the best soul voices of all time, Otis Redding unfortunately passed away at the age of 26 in a plane crash. The Georgia-born singer helped define the soul genre in the '60s, and this album showcases his young vocal talents. Leading track "(Sittin' On) the Dock of the Bay" was the first ever U.S. posthumous chart topper in history.
7. 2Pac: R U Still Down?
After being shot in a drive-by shooting at the young age of 25, Shakur still had a bus-load of material—more than 200 unreleased songs. R U Still Down? is the first collection of those songs released after his death by his mother, Afeni Shakur. It's kind of a random collection of songs, but the album has all the aspects of the Tupac we all loved and adored, like street life anthems, West Coast v. East Coast feuds (featured in the song "Thug Life") and the Bobby Caldwell-sample-featuring "Do For Love".
6. J Dilla: The Shining
Busta Rhymes opens this 12-track J Dilla record with an intense emergency evacuation, screaming, "Let's barbecue these motherfuckers." Iconic. J Dilla, the Detroit-born producer, is the epitome of underrated. A man who flew under the radar, J Dilla (Jay Dee) produced beats for some of hip-hop's most beloved groups like The Pharcyde and A Tribe Called Quest. After his death due to sudden cardiac arrest in 2006, close friend Karriem Riggins put the finishing touches on The Shining and released it six months later. With his super sick beats matched to Common's lyricism and D'Angelo's seductive R&B vocals on the album's biggest hit "So Far to Go," it's no wonder this song remains a classic.
5. Amy Winehouse: Lioness: Hidden Treasures
There will never be anyone like Amy Winehouse. Truly in a class by herself, the twentysomething had an inexplicably raspy voice, and dabbled in the sounds of soul, blues and funk. These weren't exactly trending genres in her age group, but her career took the world by storm. Unfortunately, Winehouse left us in 2011 and her posthumous album was released just six months after her death. The record features a treasure trove of tracks, including a cover of "The Girl From Ipanema," and a cover of Billie Holiday's "Body And Soul" with legend Tony Bennett.
4. Jimi Hendrix: The Cry of Love
The first of many posthumous albums from Jimi Hendrix, The Cry of Love reminds us just how much more this guitar wizard could have done if he had the chance. Arguably one of the greatest—if not the greatest—guitarists of all time, Hendrix goes hard on 10 tracks of pure rock 'n' roll electric guitar magic. Tracks like "Angel" and "Ezy Ryder" could have skyrocketed his fame even further.
3. Janis Joplin: Pearl
Janis Joplin, one of the greatest singers of all time, was set to record the vocals for "Buried Alive In the Blues" the day after she died from a heroin overdose. The album just features the instrumental version, but that's part of what makes it such a success. Joplin teamed up with The Full Tilt Boogie Band to create some pretty damn good rock 'n' roll music, and "Me and Bobby McGee" became a posthumous chart topper.
2. Nirvana: MTV Unplugged In New York
Nevermind proved to the world just how hard Nirvana could rock out, but this MTV recording proved they could release an iconic acoustic project, too. MTV Unplugged was released almost a year after Kurt Cobain's suicide and includes intimate versions of songs from all their studio albums as well as a cover of David Bowie's "The Man Who Sold The World," which could be even better than the original.
1. The Notorious B.I.G.: Life After Death
The face of East Coast hip-hop, Christopher George Latore Wallace (Biggie), released Life After Death two weeks after he was fatally shot at just 24-years-old. Weirdly enough, it seems like Biggie was preparing for his murder all along. His first album was titled Ready To Die and his second, Life After Death, was released literally weeks after his death. Chart topper "Mo Money Mo Problems" features a Diana Ross sample and P.Diddy and will forever be an influential hip-hop classic. The album was certified platinum 10 times, and even if you're team 2Pac, you must admit Biggie brought life to hip-hop, even in death.