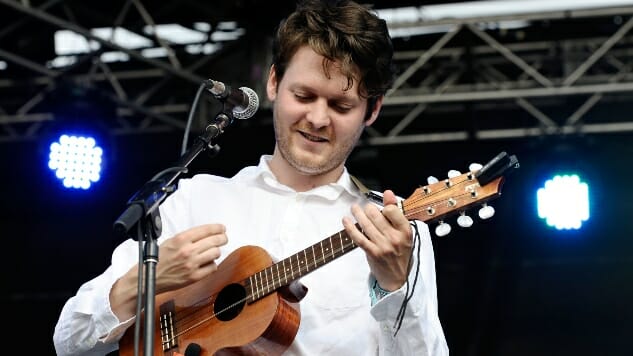 If you log onto Beirut's website today, you'll come across a giant chunk of text. We're talking eight paragraphs, 1,362 words, 7,326 characters of text—all to tease something called "Gallipoli."
Zachary Condon of Beirut begins his announcement with the statement: "Gallipoli started, in my mind, when I finally had my old Farfisa organ shipped to New York from my parent's home in Santa Fe, N.M." That leads to our natural follow-up, what is Gallipoli?—a question that is left mostly unanswered.
Instead, Condon recounts the background of his old Farfisa organ.
"I acquired the organ from my first job at the CCA; the local foreign film theater and gallery space," he writes. "A traveling circus' keyboard player (not a joke) had left it in the warehouse after certain keys and functions of the organ had broken down and stopped working."
From that point onward, the Farfisa organ lived in Condon's childhood bedroom near downtown Santa Fe. Here, sitting at the organ, Condon wrote most of his first record, Gulag Orkestar (2006), and large parts of his second record, The Flying Club Cup (2007).
When Condon moved to New York, one thing was missing: the old Farfisa organ. So Zach had it shipped across to his new home. There, sometime in late 2016, he started writing the first songs of Gallipoli. (Our first hint as to what 'Gallipoli' might be—Beirut's next album?)
Beirut, which is composed of Condon, Nick Petree (drums), Paul Collins (bass), Ben Lanz and Kyle Reznick (brass), took to the studio for a three-week session. Alongside producer Gabe Wax, Beirut began "to push every sound to its near-breaking point." Zach describes "sometimes leaving a modular synth looping in the live room at volumes so loud we had to wear headphones as earmuffs."
"I wanted every creak and groan of the instruments, every detuned note, every amp buzz and technical malfunction to be left in the cracks of the songs," Condon explains.
And, of course, the Farfisa organ made an appearance.
During this time, Condon found himself traveling back and forth between New York and Berlin for longer periods of time. "I'd always had a certain personal calling to spend my time somewhere back in Europe," Condon explains. "I had what could vaguely be called an epiphany during a cigarette break in Prenzlauerberg and I decided to just pack things up and stay for good."
Condon wrote for another half year, and then had Gabe and the others join him in Europe (specifically, in Italy) in the fall of 2017 for another extended recording session. During that time, the band came across "a medieval-fortressed island town," the peninsula of Gallipoli. Condon and the rest of the guys spent that night following a brass band procession, fronted by priests, around the town. "The next day I wrote the song I ended up calling 'Gallipoli' entirely in one sitting," Zach recalls, "pausing only to eat." New hint: "Gallipoli" is a song. And a place. And maybe an album?
"I was quite pleased with the result," Condon writes. "It felt to me like a cathartic mix of all the old and new records and seemed to return me to the old joys of music as a visceral experience. This seemed to be the guiding logic behind much of the album, of which I only realized fully at that point."